Estimated reading time: 6 minutes
When indie artists create new music, they dream about their music reaching audiences who will listen to it, love it, and ask for more. A key aspect of getting your music where it needs to be is understanding how listeners discover their next sonic obsession — and how you can leverage that process to help the right listeners find your music.
There are countless ways to promote your music, online and in the analog realm, so it effectively reaches audiences around the world, and I've got five tips to help get your music into the ears of your newest, soon-to-be-fans.
How do people find new music?
When trying to get new fans to discover your music, consider how you find new music yourself. Think about that curated playlist you stumbled upon or listening to "similar artists" mentioned with one of your favorite acts. As a fellow music lover, you can adopt the same mindset and apply that to your marketing strategy.
Online streaming platforms
There's a lot of buzz about streaming platforms not paying artists much per stream — and those are very legitimate concerns — but at the same time, if you know what you're getting yourself into and are okay with the tradeoff, streaming platforms can be powerful tools for music discovery and is something every digital music distributor provides access to. To maximize your chances of success:
Get your music where it needs to be. Get your music on Spotify, Apple Music, and all your music streaming services of choice.
Make sure your artist profile is solid. Include promo pictures, links for listeners to find out more about you, invitations to follow you on social media, and whatever band bio info you think will draw listeners in and make them engage.
Play the playlist game. Many streaming services allow you to create your own playlists that can include your music and music from other artists. Try a few different approaches and see what works; maybe a playlist that includes your top original love songs along with those penned by Taylor Swift and Leonard Cohen will delight new listeners, or perhaps a playlist of edgy rockers from you and your favorite dozen underground bands will do the trick. Experiment, track the results, and be creative.
Research high-performing playlists and use them for inspiration. Check out what the top playlists on any given streaming service are and see if they give you ideas. Does Spotify do really well with a playlist focused on meditative music to deal with stress? If you have calming, reassuring tracks, try making a similarly themed playlist that includes your best work and see if it gains traction.
Music news publications and blogs
Lots of listeners discover new music by reading mainstream publications ranging from The New York Times and Rolling Stone to Pitchfork, Consequence, and Music Connection. Plenty of others find music via Bandcamp and a multitude of niche blogs that provide music recommendations that aren't from a major record label. Do your research and find the publications that most regularly cover the type of music you make — then reach out and make a pitch with a press release.
When you craft a press release to send to writers and editors of music publications, keep things simple, straightforward, and exciting — but not over-hyped. If you've received previous praise from the press, include a quote for sure, but don't claim that your music is redefining your genre or blowing minds without real, verifiable facts to back it up.
Social media
Whether it's on Instagram, TikTok, Facebook, etc., make sure your social media accounts are up-to-date, active, and as interesting as possible in order to attract new listeners. Don't just post about new releases or upcoming shows. Giving your fans a glimpse of your daily life is one of the best ways to create a deeper connection and following. A few tips:
Focus on simple, compelling, eye-catching images. People on social media rarely have attention spans, so make sure your graphics grab attention right away.
Post regularly and engage often. You don't have to post every single day, but try to get something new up every week. And if fans message you or ask questions in your comments, engage and write back.
Get your music out there. Posting clips of your new music, short videos of your rehearsals, or anything else to make your fans feel special — and get them hooked on your sound — will pay back in dividends.
YouTube and Vimeo
As an independent artist, YouTube can be a powerful way to get your music into the ears of new listeners. Follow these tips to up your online video profile.
Put the music first. Make sure videos you post highlight your music and that your sound quality is as high as possible. If something sounds amateurish or half-baked, your listeners may move on to the next indie artist instead of diving deeper into your material.
Include relevant links on title cards and in video descriptions. Make it easy for listeners to engage with you more deeply with a single click.
Keep SEO in mind. You want your video to stand out from the crowd when people are searching for new music, so focus on the keywords and hashtags that best describe your music and vibe — and use them all the time.
Don't copycat. Just because a certain type of video did great for one artist doesn't mean it will be a home run for you. Don't base your videos on other artists' templates; instead, make something that looks, sounds, and feels like you. The more your videos turn into genuine expressions of your artistry, the more powerful and engaging they'll be.
Get out there and perform!
You've likely discovered underground music and great new artists from attending music shows. The more you play live, the more chances you'll have to draw new audiences to your music.
Start locally. When you're getting started attracting new fans to your music, go with local places that have built-in crowds and feature your style of music. Once you have momentum, branch out and expand your footprint.
Book public events. Festivals, fairs, community parties, holiday celebrations — all such gatherings are great places to have new fans hear your music, meet you, and get hooked.
Spread the word. Use social media, personal outreach, and word of mouth to make sure your entire community knows about your performance.
Let new fans take the experience home. Disc Makers can help you create CDs and vinyl LPs to sign and sell to new fans who want to keep listening to your music long after your last note fades.
Open for established artists. Opening slots were created not just to fill out an evening of music, but to give rising artists a chance to share their music with new audiences. See if you can partner with established acts to help get you in front of new crowds who might just fall in love with your music.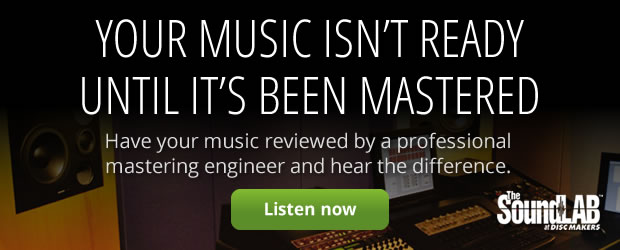 Related Posts
How to Build a Fanbase Through Music Promotion
Choosing a digital distributor for your music
How to Get Your Music on Spotify
How to Write a Music Press Release
Sell your CDs online: Stake a tent at Bandcamp