Estimated reading time: 5 minutes
In the dynamic world of live music performances, musicians are always seeking ways to elevate their shows and deliver unforgettable experiences to their audiences. One method that has gained popularity in the music industry, among solo performers and bands, is the use of backing tracks.
What are backing tracks?
Backing tracks are audio recordings of various instrumental or vocal elements of a song. They can include drum tracks, basslines, keyboards, additional harmonies, or even pre-recorded parts that are challenging to reproduce live.
Musicians use these backing tracks during their performances to fill out the sound, mimic the studio version of a song, add elements by players not on stage, or add extra layers that might be difficult to recreate with live instruments alone.
Pros and cons of using backing tracks
Pros:
Enhanced sound. Backing tracks allow musicians to achieve a fuller, more polished sound, making the live performance sound closer to the recorded studio version of the song.
Versatility. With backing tracks, musicians can play more complex arrangements and incorporate additional instruments or vocal harmonies that might not be feasible with the band's lineup or budget.
Consistency. Using backing tracks ensures that certain elements, like pre-recorded intros or specific effects, are consistent from one show to another.
Cons:
Lack of spontaneity. Relying too heavily on backing tracks can reduce the spontaneity and improvisational aspects of a live performance.
Needs more equipment. To properly play backing tracks in your live gigs, you'll need a laptop, a stereo DI box, a small mixer, and all the necessary cables. These are added expenses, more gear to take care of and lug to a show, and they add to the complexity of your input list and arrangement.
Technical issues. The use of technology in live shows can be prone to technical issues, such as playback glitches or equipment malfunctions.
Inauthenticity. Some artists hesitate to use backing tracks during live gigs because they feel that this compromises the live aspect of the live performance.
Preparing backing tracks
If you decide to incorporate backing tracks into your live performances, here are some things to keep in mind.
Choosing the right format for backing tracks
When preparing backing tracks, choosing between stereo tracks and mono tracks is one consideration. Stereo tracks might provide an immersive sound experience, while mono tracks are typically used for simpler setups or performances where instruments need to be separated for sound engineering purposes.
Creating and customizing backing tracks
Musicians have various options for obtaining backing tracks. Some purchase pre-made backing tracks from online platforms, while others create custom tracks to suit their specific performance needs. Custom tracks allow musicians to add or remove specific instrument tracks, adjust the tempo, or incorporate special effects tailored to their performance.
Syncing and playback methods
Syncing backing tracks with live performance
Musicians can use various methods to achieve synchronization, such as using a dedicated audio interface, a sound desk, or software on a computer or tablet. Many musicians also use in-ear monitors to hear the backing tracks clearly during the performance. You'll also have to get used to playing with a click track, which takes a bit of practice.
Playback options and equipment
Some musicians use dedicated media players or software on a laptop to handle the playback of backing tracks. Other performers prefer a hands-on approach with foot pedals or MIDI controllers to trigger specific sections or loops of the backing tracks during the performance.
Here are some things you'll need:
Laptop computer. MacBook Pros are the standard.
Digital Audio Workstation. Learning how to use GarageBand is great, Ableton Live is even better.
An audio interface, so your computer can send audio signals to the outputs.
In-ear monitors, so everyone can hear the backing tracks. Of course, you can pipe the backing tracks through wedges, but in-ears are going to give you more control over the mix.
Cables. You'll need additional XLRs, 1/4", and USB cables, as well as any others to interface with your computer or digital device.
Mixing backing tracks
Balancing backing tracks with live instruments
Achieving a balanced mix between live instruments and backing tracks is critical to avoid overpowering one or the other. Musicians need to consider the volume levels of each instrument and vocal track to ensure a harmonious blend that highlights the strengths of both live and pre-recorded elements.
Enhancing the sound of backing tracks
To enhance the sound of backing tracks, you can apply reverb, delay, or equalization effects, as well as adjusting the panning of stereo tracks.
Rehearsing and performing with backing tracks
Incorporating backing tracks into your live performance is something you'll need to practice in order for things to run smoothly during your gigs. Here are some tips and things to look out for.
Communication. When rehearsing and performing with backing tracks, clear cues and signals should be established to ensure smooth transitions between live playing and playback. Additionally, contingency plans should be in place in case of any technical issues during the performance.
Less is more. While backing tracks can add depth and complexity to a live performance, use them thoughtfully and purposefully. Avoid relying solely on backing tracks and incorporate live instruments and vocals to maintain the authenticity and live energy of the show.
Do you have experience using backing tracks in your performances? Share stories or advice in the comment section below.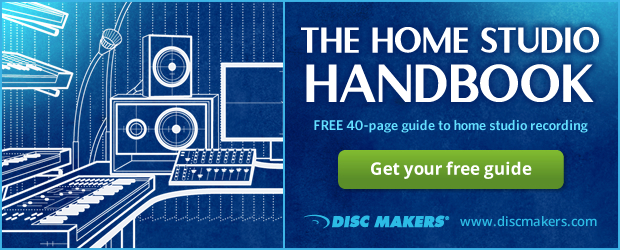 Related Posts
Using a laptop onstage (without crashing your performance)
Working with plug-ins: A beginner's guide
Combining organic and electronic sounds in your recordings
Work To Create a Killer Live Show
How to Use GarageBand in 5 Steps