Considering using a laptop onstage to enhance your sound or visuals at gigs? These basic tips can help you minimize problems and keep your shows on track.
As music technology marches into the future, laptop computers become more useful and ubiquitous tools for sonic creativity. Artists of all genres regularly use laptops for backing tracks, keyboard and synth sounds, electronic drum tones, DJ stylings, video, and more — both in the studio and on stage.
If you've never used a laptop onstage before, the prospect can seem intimidating — but making it work isn't as hard as it seems. Here are some tips to help you take advantage of the huge musical capabilities laptops can offer while minimizing the risk of crashing your gig in the process.
Keep the computer lean and clean
Before you step onstage with your laptop, try to keep your machine as internally uncluttered and uncomplicated as possible. In other words, delete unnecessary files and programs, turn off applications running in the background that don't have anything to do with your performance, make sure that the laptop is charged and has plenty of free memory and hard disc space, and clean out/turn off anything else that could potentially hinder its ability to give you the sounds you need when you need them.
Grammy-winning composer and artist Ricky Kej, who tours with five laptop computers in his regular rig, makes sure that the only software loaded on his performance laptops is the software needed for music making. "The laptops that we use for gigging are only used for gigging," he says. "We do not use them as our regular laptops."
If you're able to have a laptop that you use purely for music performance and nothing else, Kej recommends keeping it off the Internet unless absolutely necessary. "We only connect the laptops to the Internet if we need to update software or download something urgently on the day of a concert."
Even if you aren't in a position to have a laptop that is exclusively dedicated to music-making, common-sense maintenance can go a long way towards giving you the stability you need for a solid performance. Keep your music programs updated and regularly test them, well ahead of any gig, to make sure there aren't any unexpected compatibility issues with a new OS, for example. Virus and spyware protection can also go a long way towards keeping your laptop uncompromised and gig-ready.
Pack extra accessories
Power and connector cables fray and fail with regular use, so make sure to carry extras. This is especially true if you're traveling to areas where the nearest computer store might be miles or hours away.
If you're gigging internationally, make sure you have the correct plug adapters. Many laptops' power supplies can automatically handle the different currents you may encounter when gigging abroad, but make sure to check ahead and pack voltage adapters — not just plug adapters — if needed.
Finally, if you don't know exactly what you'll be plugging into each night, bring cables and adapters for all contingencies. Kej uses two laptops on a nightly basis for video, for example; he says that he carries both HDMI and VGA connectors, just in case.
Have an emergency plan
Even if you prepare your laptop perfectly, the unexpected can happen, so what happens if your computer suddenly fails before or during your gig?
In large touring acts that use computers for track playback, engineers backstage regularly have two machines running the exact same programs, playing the same music at the same time. If one suddenly crashes, all it takes is a single button press to switch to the backup machine, and the audience is none the wiser.
If you have budget and space, carrying backup laptops which fully mirror your primary gigging laptop is indeed a great way to go. When Kej tours, he brings backup laptops loaded with both his audio backing tracks and video content, so he can instantly swap a new machine in if anything goes wrong.
While many indie artists will not have the budget and capacity to do this, there are still steps you can take to give yourself a sonic safety net in case your computer fails. "My entire keyboard rig is connected to a laptop for the sounds," explains Kej. "In case the laptop fails, I can switch over to the internal sounds on the keyboards until someone gets the laptop working."
In your own performance, think about what fail-safes make sense. Can someone's smartphone handle track playback temporarily if your laptop needs to reboot? Can your drummer try to play a little more densely to fill some space if your laptop-based drum loops fail to play? Exact solutions will vary depending on the artist and music, but the important thing is to plan ahead so you're not troubleshooting in front of a live audience.
Back everything up
In case your computer encounters some catastrophic failure (or gets run over by the tour bus), it's always good to have your sounds, DJ set, or other music-related data thoroughly backed up. If possible, carry a full copy of whatever's on your laptop with you on an external hard drive.
Cloud backups are fine as well, but can be problematic in crisis situations. Say it's an hour before a gig and you suddenly have to switch to using a borrowed laptop because yours unexpectedly died. If cloud storage is your only way of accessing your backed-up data, there's not much you can do if you can't connect to the Internet.
Also, always make sure you have at least one copy, preferably two or more, safely stored somewhere else, whether it's at home, in the cloud, or both.
Make sure you can read the screen
Stage lighting can make things difficult to see on a computer screen, so keep your screen clean and free of smears and crud. Kej recommends turning the screen brightness all the way up, though often, when things are set on his laptops for an entire gig, he prefers to turn the screen off completely and focus purely on performing.
Get insurance
If you're touring with valuable gear, it makes sense to look into musical instrument insurance, and your computer is no exception. Since gigging laptops are high-value and reasonably fragile items that you use for music making, it's worth checking with your insurer to see if it can be covered. After all, it's nice not to have to worry about replacement costs if your screen gets cracked in transit or your bassist's beverage accidentally douses your laptop's keyboard.
Take baby steps
"It took me many years to start trusting laptops and using them on stage," says Kej. "Now, it's very convenient. All my sounds are on the laptop."
In your own music-making, don't feel like there's any requirement to use a laptop more quickly, or more thoroughly, than you want to. Laptops are versatile tools to support your music making as you see fit, and nothing else. If you're nervous about getting started, try putting a single, non-essential element of your show on a laptop, get comfortable using that setup on stage in a variety of contexts, and expand the laptop's role from there.
How do you manage using a laptop on the gig? Tell us in the comments below.
---
Disc Makers' regular contributor Michael Gallant's debut trio album Completely received a four-star review from DownBeat magazine and a five-star review from Critical Jazz, which stated: "This, my friends, is the future of jazz. Fresh, invigorating, progressive – there are simply not enough positive adjectives to list here." Learn more, download through iTunes, or purchase through CD Baby. Follow Michael on Twitter at @Michael_Gallant or on Facebook.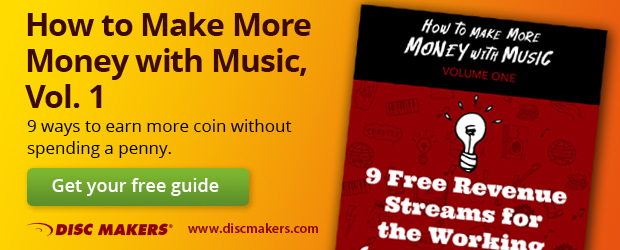 Related Posts
Working with plug-ins: A beginner's guide
Combining organic and electronic sounds in your recordings
Musician's insurance Q&A
Don't wait 'til the day after to get music instrument insurance
Acoustics and the science of how a computer hears sound