It's great when a vocal performance can be recorded in one cohesive take, but not every session will succeed with this approach. Sometimes, a modular strategy is required when tracking vocals.
Throughout my career as an indie musician, songwriter, and producer, I've had the privilege of working with a very talented array of vocalists in different recording settings. I've found that capturing the right vocal takes — and crafting the finished tracks — calls for a variety of strategies in the studio.
Sometimes, tactics are straightforward: Let the singer sing. If the vocalist (who is sometimes me) knows the song well, is in good spirits and good voice, and has the confidence to pull it off, things stay simple. We record a few takes all the way through, discuss and adjust words or phrases as needed, and record some more. When we hit a take that nails it, everyone usually feels it at the same time. We may go back and punch in a few words or phrases, or perform an edit or two, and call it done.
It's wonderful when vocal takes can be recorded this way, but not every project, singer, or song is best suited to this approach. Sometimes, a much more structured, microscopic, and modular strategy is required to get the job done. Here's an introduction to a strategy I've used recently on a number of recording projects.
It started with a difficult song
One track that I produced not long ago was not easy to sing, and the issues became apparent after the very first vocal take. The song was dense lyrically — lots of words and tricky rhythms, almost tripping over each other. The singer definitely had the talent and musicality to pull off the performance in a single go, but she had little time to learn the song before our studio date. It was unlikely that she would be able to internalize its nuances deeply enough to deliver, in a single take, the vocals that we needed in our narrow window of time together.
Going granular
Instead of having her sing the entire song from start to finish — or even full verses and choruses in one go — we went in the opposite direction, asking her to record the song phrase by phrase. In practice, this meant looping the instrumental parts underneath any given vocal phrase, giving her two bars or so of breathing room in between repetitions of the section, hitting record, and letting her sing the same phrase, over and over, until it felt like second nature. Sometimes I would interrupt with constructive feedback; other times, I would let the proverbial tape role while the singer explored the material and got into a groove with each section. This may sound like a tedious process, but it turned out to be a fascinating, fun, and productive way forward.
Benefits of breaking it up
It was intriguing to hear how the singer's interpretations changed, repetition to repetition. On simpler phrases, or ones that she immediately felt comfortable with, the first two or three takes usually sounded very good and almost identical, and she started to sound bored starting with takes three or four. Needless to say, we stopped tracking at that point. On more complex sections, by the third or fourth time through, she would start to really understand, internalize, and own the phrase and we would get to the sweet spot by take five or six. I remember more than one phrase where there was an almost amazing transformation from take one ("wow, she's barely getting the notes and words right") to take six ("that sounds perfect, like a finished record").
Downsides
Clearly, there's something wonderfully organic about a singer delivering a performance, front to back, with minimal edits or other digital prestidigitation. Such performances can have a singular cohesiveness and a sense of momentum, flow, humanity, and authenticity that you simply can't replace. If you go granular and record each phrase individually, you run the risk of sounding more synthetic and "produced" than organic, and your vocal track may lack that emotional or musical cohesiveness that full takes can convey. By going granular, you also run the risk of tiring your singer out prematurely; if you need nine takes each to get the first six phrases of a song nailed, that's already a lot of singing, and you may still have multiple verses to go. Which is to say, there are not reasons not to track this way.
Mixing it up
When deciding how to structure the vocal session, I made a point of skipping around and tracking the song very much out of order. I started with the most ballsy, aggressive part of the song, which I felt to be the best-suited for the energy of a singer coming in off the street, pumped and psyched to record. There were several parts of the song that mirrored similar melodies and moods, and we tracked all of those at the same time to capture a similar energy. Next, we moved to moderately tender moments, to match how the singer was easing into the session and warming up more to the song. Again, we did all of the parts with similar melodies and vibes in order before switching it up. Finally, when the singer was at her most relaxed and thoroughly in the groove, we hit the quietest, most emotional parts of the song.
Stitching it together
At the end of a session like this, you can end up with a nightmarishly long number of takes to go through, so we made sure to take notes of what we liked and what we didn't while recording. Jotting thoughts on paper of which takes are preferred, or turning those regions a different color in your DAW, can help document what spoke magic in the moment and save lots of time when it comes to working further on the song.
Do you record vocals phrase by phrase? Tell us about the pros and cons of your experience in the comments below.
---
Michael Gallant is a musician, writer, and entrepreneur living in New York City. His debut album for the Steinway & Sons label, Rock Rewind, features solo piano reinventions of Pearl Jam, U2, Halestorm, Janis Joplin, Bob Dylan, Radiohead, and more. Read his recent article for the National Endowment for the Arts and follow Michael on Twitter at @Michael_Gallant and Facebook.com/GallantMusic.
---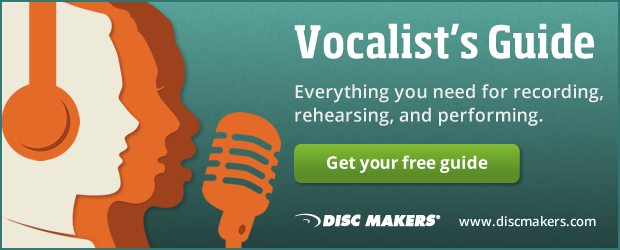 Related Posts
10 ways to lay the groundwork for an amazing vocal recording session
Creating a great composite vocal recording
Vocal recording advice for the experimental at heart
Recording vocals in a home studio
Choosing a signature vocal mic for your studio