The Hammond organ has earned its place in music history, and here are five examples of why it spans genre and time to endure.
In our recent article "Six tips for adding Hammond organ to your music", we introduced you to the sounds, mechanics, and wide tonal range of the vintage tonewheel organ — as well as some of the great musicians to play it.
As you're coming up to speed on the instrument and figuring out how best to use it in your own music, check out these examples. They show just a few of the diverse and powerful ways that the organ can be used to elevate songs of all sizes, shapes, and flavors.
Santana
Organ icon Chester Thompson lays down the signature textures and licks for this Santana classic. Check out 4:31 when Thompson brings in some rock and roll with his own solo, following Carlos Santana's guitar work; Thompson uses a ballsy, overdriven sound as well as the organ's unique ability to sustain notes endlessly, tweak its tone in real time using the drawbars, and allow players to perform dramatic and effortless slides up and down the keyboard (a.k.a. glissandi) — all to great effect here.
---
John Medeski's Mad Skillet
John Medeski is one of the most skilled organ alchemists alive today, a hugely funky player with the ability to pull diverse and effective sounds out of the instrument at the drop of a hat. Check out moments like 2:30 when he starts subtly tweaking the organ's tone and taking a percussive approach to supporting the guitar solo; the tone and approach shift from warm bedrock to sharp, burbling hits. Medeski's solo starting at 4:10 is a Hammond master class unto itself — notice the dramatic but organic shift in tone and feel of the entire song when he throws the Leslie speaker into fast rotation at 4:50, and then slows it back down at 5:06.
---
Jimmy Smith
If you need convincing as to the musical power and potential of the tonewheel organ, just watch even the first two minutes of this performance by Jimmy Smith in front of a BBC studio audience. From the constantly building intensity of Smith's playing to his tasty blues licks to the rapid-fire staccato phrases he unleashes, he shows just what the instrument is capable of.
---
Justin Timberlake And Chris Stapleton
This soulful, bluesy moonshine cocktail of "Tennessee Whiskey" and "Drink You Away" features powerful vocals from Stapleton and Timberlake — underscored by bubbling Hammond organ textures from the very beginning. Listen in particular to moments like 1:07, when the organ plays some subtle, tasty call-and-response licks with Stapleton's lead vocals.
---
Jon Lord
Deep Purple keyboardist Jon Lord is one of the godfathers of rock organ, and he brings his chops to bear in this vintage video of the song "Space Truckin." Listen to his playing from 1:02 on; in addition to pulling out masterful licks and leading the band through a grand, gritty chase, he uses the organ's drawbars to customize the right tone for the occasion — a sound that manages to penetrate even amidst the drums, bass, and distorted guitars played by the rest of the band. Also, be sure to check out the crazy sound effects he pulls out of the organ starting around 4:20, thanks to creative use of the drawbars, volume pedal, and other settings of the instrument; the organ even takes on an unexpected-but-awesome marimba-in-space sound at 5:18.
When it comes to powerful performances on B-3-style organs, these videos are just the beginning. Do you have favorite of examples of music elevated by the tasty use of tonewheel organ? Share it in the comments below!
Disc Makers' regular contributor Michael Gallant's debut trio album Completely received a four-star review from DownBeat magazine and a five-star review from Critical Jazz, which stated: "This, my friends, is the future of jazz. Fresh, invigorating, progressive – there are simply not enough positive adjectives to list here." Learn more, download through iTunes, jam along with the new JamBandit app, or purchase through CD Baby. Follow Michael on Twitter at @Michael_Gallant or on Facebook.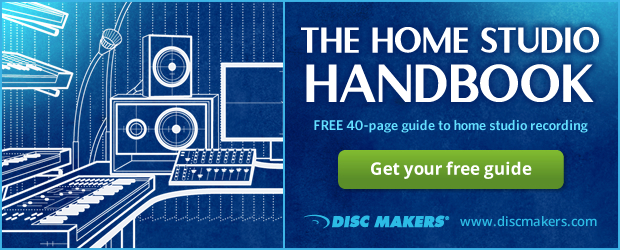 Related Posts
Experiment and get new musical sounds from your instrument
Add a little jelly to your home studio recordings
100 greatest songs and the 58 music instruments that made them [Infographic]
Butch Vig on record production
Four ways to find new sounds and energize your music