The Hammond organ is the most commonly heard type of organ in popular music. It can be a complicated and challenging instrument, so here are some tips to help you get started.
Whether it's roots rock or straight-ahead jazz, classic reggae or cutting-edge hip-hop, the sound of the Hammond organ has helped shape countless amazing songs. Hammond tonewheel organs — models B-3, C-3, and A-100, to be specific — are by far the most commonly heard types of organs in popular music, and for good reason. Under the right fingers, they can scream and rage with overdriven power or break hearts with soft, delicate tones.
The Hammond organ can be a complicated and challenging instrument, especially if you've never laid hands on one before, but don't let that stop you from experimenting. Here are some tips to help you get started making great music incorporating your own powerful Hammond sounds.
Listen to the masters
So many musicians have made beautiful music using classic tonewheel organs, it's hard to know where to begin when it comes to listening. The great Jimmy Smith, John Medeski, Billy Preston, and Jon Lord are just a few of the masters. Take some time to listen to even a few tracks by some of these players; the expressiveness and tonal variation they pull out of the instrument is amazing.
Pick the right axe
There's nothing like playing a well-maintained, original Hammond organ. That said, such vintage instruments weigh hundreds of pounds and can cost thousands of dollars, so they're clearly not practical for every situation. Luckily, there are plenty of options that provide great sounds at a fraction of the heft and price tag.
The Hammond XK series, Nord Electro series and C2D, and Roland VK-8 are just a few of the current electric keyboards that emulate Hammond sounds. Software plug-ins, all of which can be played off of your computer with the help of any MIDI keyboard, are also worthy choices — check out VB3, as well as organ simulators built into recording software suites like Logic.
Investigate the options, listen to sound samples, and give different instruments a try at your local music store. The right choice? The one that best fits your rig and budget and inspires you the most.
Learn the drawbars
Traditional Hammond organs come with two sets of nine drawbars that can vary the tone of the organ from sweet and flute-like to big and beefy. For a quick intro on how the drawbars affect the organ's tone, check out this article on the Hammond organ website.
To get familiar with the different sonic capabilities of the organ, start with all the drawbars pushed all the way in. Then, one by one, slowly pull them out while playing just one or two notes. Listen to how the tone changes with each click of a drawbar. Once you discover a combination of drawbar settings that particularly inspires you, take a screen grab or photo, or write it down for future reference. That drawbar setting can be the launch pad for your next set of sonic experiments.
Play with the Leslie
The iconic tonewheel organ sound relies partly on the Leslie, a speaker that spins at different speeds and gives the Hammond it's classic modulation and warble. Nearly any Hammond-sounding keyboard or software synthesizer will have a built-in Leslie emulator; if you're looking for a hardware speaker that produces the same effect, products from companies like Motion Sound are options as well.
Regardless of your tech specifics, experiment with Leslie settings like rotation speed and levels of gain and overdrive. Again, once you find settings that excite you, take note of them for future jamming, recording, and songwriting.
Apply a light touch — and work the volume pedal
Hammond organs are not touch sensitive — in other words, unlike the piano, regardless of how hard you press the keys, the volume of the notes you play will be the same. Given this, try to play the instrument as lightly as possible; doing so will help you conserve energy, and give you flexibility to move your fingers more quickly around the instrument.
Hammond players change the volume of their playing via a volume pedal, and as you're getting familiar with your own Hammond-style instrument, be sure to incorporate pedal work into your playing. On vintage Hammond organs, the pedal is attached; for hardware and software organ emulators, a generic plug-in volume pedal is easy to integrate.
Once you're set up, start by playing some simple phrases and vary how you lean into and pull off of the volume pedal as you go. Try to make your phrases start soft and then swell to the breaking point — and then try playing where you start loud and end in a whisper. The more comfortable you get coordinating your fingers and feet, the more expressive and nuanced your organ playing will be.
Learn more
These tips are only the very beginning when it comes to working with the Hammond organ. Here are a few additional resources to help you learn more:
Hammond B-3 Basics For Pianists (Keyboard magazine)
Hammond Organ Course (Hammond Organ Company)
Hammond Organ Complete: Tunes, Tones, and Techniques for Drawbar Keyboards (Berklee Online)
The Hammond Zone (Hammond-organ.com)
Disc Makers' regular contributor Michael Gallant's debut trio album Completely received a four-star review from DownBeat magazine and a five-star review from Critical Jazz, which stated: "This, my friends, is the future of jazz. Fresh, invigorating, progressive – there are simply not enough positive adjectives to list here." Learn more, download through iTunes, jam along with the new JamBandit app, or purchase through CD Baby. Follow Michael on Twitter at @Michael_Gallant or on Facebook.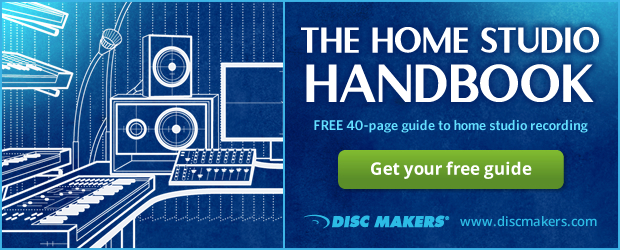 Related Posts
Experiment and get new musical sounds from your instrument
Add a little jelly to your home studio recordings
100 greatest songs and the 58 music instruments that made them [Infographic]
Butch Vig on record production
Four ways to find new sounds and energize your music