In our November Twitter chat (#DMchat), veteran vocal coach and music biz mentor Cari Cole fielded questions about how vocalists can prepare for a show as well as offering performance tips for singers to maintain your voice over the long haul.
Cari Cole is a celebrity vocal coach, artist development expert, and new music biz mentor. She has over 25 years' experience working with independent artists and A-list performers and has been a frequent contributor to the Disc Makers blog, recently posting "Performance tips for singers: My three day plan," as well as the perennial favorite, "Singing Tips – How to Sing Better Right Now."
To view the entire chat transcript, visit this link. Below is a reformatted version of our discussion. To be notified about our upcoming chats, subscribe to our Facebook events!
---
What's the biggest challenge singers face when it comes to preparing for a big performance?
Vocal health is the biggest challenge, for sure. Water, Throat Coat tea with honey, chunks of melon in water, and Vocal Eze throat spray are in my "Singers Gig Bag." Come performance time, in-ear monitors help big time! When will those sound guys get how tough a bad mix is on singers! Try arriving to the gig early in order to set yourself up better. That could make a big difference too. Stamina is best achieved by vocal training, hydration, and not just pushing air past your cords, but using the breath and abs!
For how long should a singer prepare leading up to the night of the gig?
For a big performance, try 6 months. That's how long Lady Gaga prepped for her Oscar performance. She trained every day for 6 months with her vocal coach. The same if it's a BIG televised show. If you perform regularly, prep for 2-3 weeks. If not often, then prep for 2-3 months.
Why is water so important, and how much should singers really be drinking?
Since we are all different sizes, it's best to measure your body weight and water intake, but basically eight 8-oz glasses of water. Keep in mind that most voice problems come from being dehydrated. Ricola drops are good; I use them myself sometimes. Don't do the sugar free though, as they may be toxic. I'm looking for good lozenges with stevia as an alternative. And honestly, I haven't heard good things about Clear Voice either… some suspect ingredients. Studies have shown that potassium sorbate has the potential to mess with our DNA.
In the winter months, colds are common. What remedies do you suggest for congestion?
D-Hist is a natural antihistamine that is non-toxic and effective. Also, Sinusalia by Boiron is a GREAT homeopathic remedy. Check out Organic Elderberry syrup from Honey Gardens to supercharge your immune system and avoid getting sick! And take Vitamin D, B12 sublingually (under the tongue) and a B complex – singers burn through their B Vitamins fast! B12 works wonders! My favorite B12 and Vitamin D are from barmshop.com. You'll have to sign up for a membership first, but it's worth it. Check out my post "7 Secret Vocal Wellness Weapons Used by Grammy Winners and Celeb Vocal Coaches" for more tips.
What kinds of vocal warm ups for the upper register do you recommend?
Lip trills are the best upper register quick warm-up. They wake up high notes without strain! Don't forget about cool downs too; they are a specific conditioning exercise to reduce inflammation at the vocal cords, which is essential for any singer. Shameless plug: My Singers Gift Warm-up: Warm-up Don't Wear Out.
How can in-ear monitors help singers avoid vocal strain?
In-ear monitors help you hear over the cymbals, electric guitar, keys, strings, etc., all of which drown out your vocal frequencies. When you can hear better, you strain your vocal cords less!
When your vocal problems need professional help, what kind of doctor or consultant do you recommend?
I suggest an ENT, an Ear-Nose-Throat doctor, but pick one who specializes in singers. My favorites are Dr. Kessler in NYC and Dr. Osoff from the Nashville Voice Center.
Could Kanye West, Meghan Trainor, Sam Smith & Chad Kroeger have avoided their recent vocal issues?
All vocal issues can be avoided with proper training and vocal care. There are a ton of secrets in my vocal health book coming out in 2017. The longer the performance, the shorter the warm-up. Shorter performances inherently require longer warm-ups.
Guest: I may get surgery to correct a deviated septum. Is that going to change my voice?
A deviated septum operation will most likely open up your voice considerably!
Guest: Can improper neck alignment affect vocal cords?
Absolutely. It's a big issue. Improper neck alignment can compress the nerve endings to your vocal cords, causing tension and vocal constriction.
Do you have any recommendations for further learning about vocal health for singers?
We have a ton of resources for vocal health, vocal care, vocal techniques, and vocal secrets on our blog.
Sign up at caricole.com and get our free Vocal Road Warrior 3-part series on how to stop shredding your voice. Also, singers need yoga, vocal massage, acupuncture, Feldenkrais for release of deep tensions, and the Alexander Technique for alignment. Another resource: "How to Make Your Voice Sound Better Instantly".
Never hope for it more than you work for it. The voice grows when you tend to it. You've got this!
---
Disc Makers' marketing manager Lucy Briggs conducted this interview with Cari Cole of Cari Cole Voice + Music Co. Check out Cari's Facebook page and follow her on Twitter.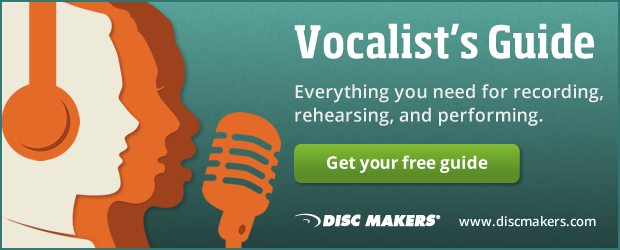 Related Posts
Performance tips for singers: My three day plan
How to sing without straining your voice – night after night
Sick for the gig? Here are tips to get through the show in one piece.
How to survive four hour marathon gigs
Singing tips for vocalists in any genre
Vocal Health Basics – How to Properly Care for Your Voice
Singing Tips – How to Sing Better Right Now
Yoga for musicians
Alexander Technique for musicians