Even when time is tight, smart listening can help you prep for your big day on stage or in the studio and help you improve as a musician.
As an active music maker, you've likely experienced the ebb and flow of a haphazard schedule, a month or two where you're barely playing on stage or in the studio – and other months where everything happens and juggling your commitments is nearly impossible.
Let's say a project of yours suddenly gets a boost and you find yourself prepping for an extended tour in bigger venues than you've ever played. Alternately, you get called last-minute to fill in for a gig and have to learn 20 original songs in a day. Or a family commitment pops up, as they do, and suddenly you find your schedule packed with non-musical activities.
As a member of multiple musical projects, I've experienced crunches like these many times, and I know I'm not alone. I've discovered that, even when you feel like you don't have time to breathe, there are still ways to move forward musically, steps you can take to put yourself in the best possible position to deliver a great performance once you step on stage or behind the glass. One of the most effective? Learn to listen.
When I was first playing jazz, blues, and other types of improvisational music, more than one teacher told me that 50 percent of my practice time should be spent listening to artists who came before me, as a way to absorb their wisdom and musicality, to learn where the music I was playing came from and what I was trying to emulate. Listening to great music, both as a focused activity and simply as something in the background, has helped me get ready for some very important musical moments in my career, even when it felt like time was not on my side.
Here are a few tips on how to use smart listening to make a big difference in your own music-making:
Listen for inspiration
If you need to write new material or pump yourself up for an upcoming recording date, listening far, long, and wide can set you on the right path.
Case in point: When I was preparing to record my debut Michael Gallant Trio album Completely in 2012, I made a point of not just listening passively to lots of music, but actively curating my listening for weeks leading up to the session, trying to fill my ears and head with the work of unique, interesting, and challenging instrumental artists. My choices included albums by Marco Benevento and George Benson, McCoy Tyner and Mary Halvorson. The point was to to combine music that I knew and loved with music that I admired but found boundary-pushing and edgy.
If you take the time to soak in a wide variety of interesting and challenging music prior to your own big day, you never know what unexpected ideas might emerge when its time for you to create your own music. Remember, the idea here is not to listen with the goal of copying anything. Rather, by letting yourself marinate in the masterful and diverse work of other artists, you can find yourself full of inspiration when it's time to make something amazing happen, ready to pour it out as soon as the lights come up or the recorder turns on.
Listen to learn tunes
If you like to work with a variety of bands and projects, you may find yourself in the position of having to learn lots of music with not much time. Especially when the amount of material is daunting and your practice time is scarce, listening can help.
Last Fall, I got a call from my friend Katie Garibaldi, a wonderful singer songwriter from California, saying that she would be playing several shows in New York City and wanted piano and keyboard support. I love playing with her and, of course, said that I'd be happy to do it. The catch? I had to learn about fifteen of her songs in a period where I had little free time to sit and practice. The answer? In addition to printing the lead sheets and playing through the tunes every time I did have a few minutes, I loaded the songs onto my phone and listened whenever I could – on the subway, while exercising, etc.
If you find yourself in a similar situation, whether you're listening while eating a meal or in transit somewhere, imagine yourself playing along and mentally jam on the chords, voicings, rhythms, and melodies. If you don't have your instrument in hand, you can still "play along" by tapping your fingers or finding the shapes you'd hold on an imaginary fret board.
If you get to a point in your listening where you can't remember what chord comes next in a given song, and can't figure out the harmonic progression from context, listen back and loop the troublesome section until you have it burned into your memory. Combined with whatever quality time you can muster at your instrument or in the rehearsal studio, this sort of listening can help you feel comfortable and in control when it comes time to perform.
Listen to nail complex arrangements
Not all songs you write, record, and perform are going to be simple and straightforward. Listening repeatedly to demos of your own material can help you get a handle on tricky sections of even trickier compositions.
As I was getting ready to perform with my trio at Levine Music in Washington, DC – a concert that would be recorded for my 2015 album Live Plus One – I made a point of recording rehearsals of the most complicated arrangement we were set to perform. The fifteen-minute piece jumped through multiple vibes and time signatures and was truly a beast to play (even though I was the one who wrote it!). That's why, on the four-hour drive between New York and Washington, DC leading up to the show, I had that rough rehearsal recording playing on loop. Tedious? A little – but it sure helped.
Just as with the previous tip, taking the time to listen and mentally play along with challenging material can help in big ways. You may find yourself nailing those 32nd-note hits in the second chorus, or cruising into the unexpected transition from 4/4 to 7/8 at the bridge, with a level of confidence and comfort you wouldn't have thought possible.
Listen to classical music
Even if you can't tell the difference between Berlioz and Beethoven and couldn't care less, listening to classical music can help your music making in any number of ways. Personally speaking, extensive classical listening has helped me not only in areas like ear-training, given the complexity and harmonic motion of many classical pieces, but also in giving me inspiration for improvisation.
Every month, I play a residency show in New York City with the Michael Gallant Trio. The performance is always heavy on improvisation, so fresh inspiration is key to a good gig. Given that, it's a very useful thing that, every night, my wife and I have New York City's classical radio station, WQXR, playing in the background. Whether it's filling our living room with Bach piano inventions or the works of Brahms or Mahler, the harmonies, melodies, and orchestrations are wonderful and stimulating to listen to.
I have no doubt that listening to so much classical music helps me in my piano improvisations – even during weeks when I barely have time to lay fingers on a keyboard. There have been times when I can directly trace a dissonant lick I pulled out, mid-improvisation, to an organ cantata I heard on the show "Pipe Dreams" the night before, a flowing phrase to a Rachmaninoff flourish listened to on "Exploring Music" earlier in the week.
Even if you're deep into progressive house, indie rock, hip-hop, or whatever other genre may be your forte, try taking in some classical repertoire as well. You may be surprised at how it pushes you and your music in unexpected – and positive – ways.
Listen to vocals
If you're aching to up your vocal game, try listening to a variety of singers who you admire, whether the genre is metal, bluegrass, opera, or big-band jazz. Focus on artists who seem to totally embody the songs that they sing and really make you feel something when you listen, singers who vocalize with a technique that seems both individual and effortless.
I had the opportunity to put this into practice while prepping for my performance with Aurical at Lincoln Center. Genre-wise, the videos I pulled up on YouTube while doing chores around the house were all over the place – Freddie Mercury and Eddie Vedder, Ramin Karimloo and Esperanza Spalding, Scott Weiland and Frank Sinatra. Even if I was washing dishes at the time, I made a point of trying to listen to each singer and focus on what he or she did best, how each used his or her natural gifts to better express the emotions behind the performance.
In your own vocal-focused listening, spend your time taking in singers who are strongest in the areas where you're the weakest. Do you have trouble maintaining pitch on high notes? Listen to vocalists who nail their intonation every time and try to understand what they do differently. Are you trying to cultivate an effortless R&B delivery? Listen to the masters who developed the genre and try to decode the phrasing, vibrato, and tonal choices that make their performances timeless.
Even if you're utterly slammed for time and your big day on stage or in the studio is tomorrow, remember that listening is a powerful musical exercise, and one that can be done nearly anywhere, in a huge variety of contexts. Every example of beneficial listening that I've mentioned above happened during very busy times in my life and was fit in and around other activities. That's part of the beauty of it.
Do you have an example of when listening helped you prepare for a big musical event in your career? Share it in the comments below.
Image via ShutterStock.com.
Disc Makers' regular contributor Michael Gallant's debut trio album Completely received a four-star review from DownBeat magazine and a five-star review from Critical Jazz, which stated: "This, my friends, is the future of jazz. Fresh, invigorating, progressive – there are simply not enough positive adjectives to list here." Learn more, download through iTunes, jam along with the new JamBandit app, or purchase through CD Baby. Follow Michael on Twitter at @Michael_Gallant or on Facebook.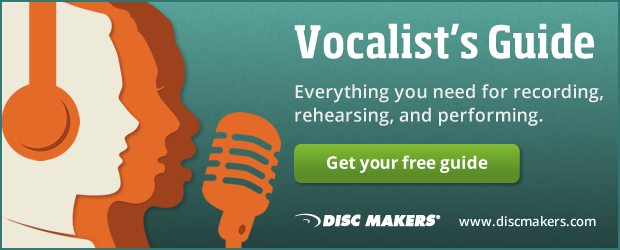 Read More
11 improvisation tips to help you make music in the moment
Elevate your vocal performance: focus on rhythm and intention
How to deliver great R&B vocals in the studio and on stage
How and when to use falsetto in R&B vocals
Anatomy of a Cover Song – Four takes on "Big Yellow Taxi"