As a vocalist, there are techniques you can employ and routines you can follow to make sure you're sounding your absolute best. Matt Ramsey gives advice on how to prepare your voice for a recording session.
The rest of the band has recorded their parts and the songs are done — except for vocals. It's time for you to record. How do you prepare for your big vocal recording session?
Here are some techniques you can employ and routines you can follow to make sure you're sounding your absolute best, no matter when you're recording.
Master the material
The first step to success is being prepared. There's no substitute for mastering the material you're going to sing before you sing it.
That may mean having additional practices with your group where the other instruments take a break and you're just working on the vocal parts. Or it could mean getting the help of an expert vocal coach to make sure you're sounding your absolute best before your recording date.
Get good rest
The night before your vocal recording session, you want to make sure you get great sleep. There's a huge difference between a singer who's gotten good rest and a singer who hasn't.
Simply put, with limited sleep, your body is going to reprioritize all the other systems that are keeping you alive and keeping your metabolism moving over singing. From an evolutionary perspective, singing is not that important, so your brain is always going to favor all those other things that are keeping you alive
Unfortunately, that means you're just not going to sound as good if you haven't had good sleep.
Hydrate
According to the Academies of Science, Engineering, and Medicine, men should be drinking about 3.5-4 liters of water a day and women should drink 3 liters of water per day. You want to make absolutely sure you're doing that on the day of the recording.
Make sure to drink water as soon as you wake up — that way you can maintain good hydration throughout the day.
In fact, according to an old singing adage, you should sing wet and pee pale. Enough said.
Eat healthy
On the day of — and even on the days leading up to your vocal recording session — it's important to mind your diet. Having a good diet is one of the easiest ways to keep your voice functioning at its absolute best. Unfortunately, many people underestimate the importance of a good diet as it relates to singing.
To keep your voice sounding its best, you're going to want to stay away from foods or drinks that are going to cause any reflux or allergies.
That means avoiding things like alcohol, caffeine, gluten, dairy, nuts, or even fried or spicy foods. Also, avoid anything that's going to make you feel heavy or weighted down. You know your body, you know what it needs.
I've had a lot of success with singers who go for a very lean-protein and high-vegetable diet. Things like the Paleo or the Keto diet tend to keep your voice functioning at its very best because you're not battling through the things that make you feel weighted down or sluggish or might cause reflux or allergies.
Smoking before your recording session is also not a good idea, but you already knew that.
Warm up
Finally, you want to make sure to warm up for your vocal recording session. I recommend a very specific vocal warm-up regimen where you warm up for a longer period earlier in the day and then do another, shorter warm-up right before you record.
The longer warm-up should take place a few hours before the recording session and last 30-45 minutes.
The second vocal warm-up should last about 15 minutes and you should do it right before you record.
You want to be warmed up for your recording, but you don't want to be too fatigued, so having a few hours between your really intense vocal warm-up earlier in the day and your actual recording will give your voice a chance to rest but still stay warm.
Final notes
It's worth mentioning that you shouldn't have anything to eat or drink, besides water, and you shouldn't take any naps or have any long rest after you do your intense vocal warm-up. That's why you don't want to wait more than 3-4 hours beforehand.
So, to recap, here's how your day should look if you're going to record vocals in the afternoon.
Get 7-8 hours of sleep.
Eat a healthy breakfast, avoiding excess dairy or caffeine.
Do an intensive vocal warm-up. 3-4 hours before the actual recording, you're going to do a pretty intensive vocal warm up that lasts about 30-45 minutes. Really dust the cobwebs off.
Eat a light, healthy, easy-to-digest lunch with nothing that's going to make you feel bloated or give you reflux. Think a spinach salad with some grilled chicken.
Do a brief vocal warm-up. Right before you go into the booth, do another 15 minutes of vocal warm-ups — you're not dusting off the cobwebs here, you're just adding some polish, so really don't overdo it.
Sing like a boss. You're going to feel strong, and you're going to notice you're not feeling nearly as fatigued as you normally would if you hadn't followed this regimen.
---
If you found these tips helpful, make sure to check out my main YouTube channel at Ramsey Voice Studio, or if you want to download 10 totally free vocal warm-ups, just visit RamseyVoice.com.
Watch more great videos on the Disc Makers YouTube channel.
---
Matt Ramsey founded Ramsey Voice Studio in Austin, TX in 2012. Matt is an Institute for Vocal Advancement-certified voice teacher, a songwriter, and a blogger. Matt has helped develop singers in nearly every genre of music, from rock to pop, jazz to musical theater, and offers lots of great videos on his Ramsey Voice Studio YouTube channel.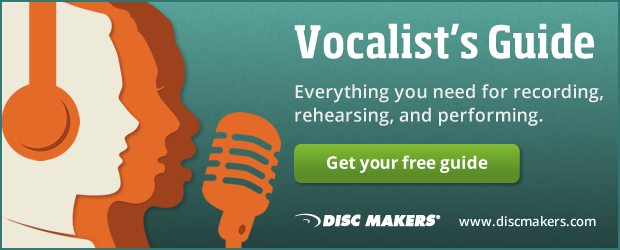 Related Posts
How to organize a set as a vocal warm-up
Picking the perfect song for your voice
Falsetto, vibrato, and other natural vocal effects you should master
Add natural vocal effects to your songs
Stage and studio advice from a vocal producer