Estimated reading time: 11 minutes
In part three of this series on digital music distribution, I want to talk to you about a few of the things that I get the most questions — and complaints — about from artists: finances, ease of use, and customer service.
First, if you missed the first two installments, I'd encourage you to read/watch "Choosing a digital distributor for your music," and "Digital music distribution: It's not just about streaming."
Digital music distribution pricing models
One thing many artists focus on when choosing a distributor is the finances. Most of the questions I get revolve around, What do they charge? In my first post, I told you that pricing for all these distributors is so close today, it doesn't matter much. They all pretty much have pricing that starts at under $50 a year.
However, I keep hearing, "my distributor takes no commissions, so I keep my music there because that's where I maximize my income." And indeed, that may be true, but it isn't always true.
Subscription vs. commission
There are two pricing models in the digital distribution game. First, there is the subscription model, where your distributor charges your credit card every year, regardless of whether you're collecting any streaming royalties. With those subscription models, there's usually no commission on streaming royalties. This is what Distrokid and Tunecore do.
The subscription model is great when you've got traction as an artist and are driving streams year in and year out from your releases. But if you're an emerging artist, or if you're like me and you just don't get that many streams, it could mean that it's costing you more to keep your music on the streaming platforms than you're making in royalties.
The second model is the one where your distributor takes a modest commission on your royalties. CD Baby does that. They charge a modest $10 upfront fee per release and take a nine percent slice of your royalties. Others take a cut too. UnitedMasters' entry-level program is free to join and takes 10 percent. Amuse has a free program that takes 15 percent of your royalties.
Which pricing model is better? That depends on the number of streams you get in a year. (I'm not going to do the math here, but I promise I'll do a separate post about that in the not-too-distant future.)
When do you get paid?
This is an area where there are real differences. Tunecore and Distrokid hold your money in your account and pay when you request it. CD Baby lets you set a pay point in your account — say $100. As soon as your account hits the pay point, they pay you automatically. Personally, I prefer that. Not being a full-time musician, I might forget there's money accumulating in my account. With this, I get a text notification when there's money on the way to me. Always nice to get that little shot of dopamine.
As an aside, it's worth noting that different types of royalties will be accounted for and credited to your account at different time intervals. Sound recording royalties are usually credited to your account the month after the royalties were earned. Publishing royalties, however, are not credited to your account until 45 days after the end of the quarter they were earned in. So… if you earned publishing royalties in January for a song of yours that was streamed, you might not see that in your account until May (if your distributor is also doing your publishing administration).
Payment splits
One final important financial question to ask of your distributor is, Do they offer payment splits? As of this writing, Tunecore and Distrokid do — CD Baby doesn't. Again, this only matters if you have collaborators with whom you'll need to split royalties — bandmates, co-writers, or a producer who is entitled to points.
Make sure to find out from your distributor if there are other fees associated with split payments. For example, most distributors charge an extra fee for each songwriter or artist with whom you want to split your royalties. And those fees can quickly cost you more than the split royalties are worth.
How easy is it to sign up for digital music distribution?
To an extent, every distributor needs to collect the same information in order to accurately deliver your music to the DSPs: they need the digital audio files, the cover image, and all the metadata. Accurate metadata is a big deal, and there's a ton of it to provide — your album and song titles, artist name, collaborators, composers, publishers, label name, copyright information, UPC and ISRC numbers, plus production and recording credits and more.
For each new release, you've got to go through the distributor's sign-up process. How clear are their instructions and materials? How many steps does it take to sign up a new title? What happens if you made a mistake with your metadata and you have to fix it later?
Every distributor will tell you their process is easy, but, you've got to do a bit of research. Talk to artists you know who've used the distributor you're leaning toward and check online reviews. Watch YouTube videos about the topic — there's plenty out there if you put just a bit of effort into it.
How is their artist and accounting dashboard?
There are significant differences in how the dashboards of various distributors work, how clear they make the data, and how easy they make it to download reports. Do they show you geographic and user stats so you can better understand where your fans are? Do they offer Spotify and Apple Music trending reports so you can get more granular usage data without having to wait three months for the DSP reports to reach your distributor?
A related factor is how good is your distributor's integration with the DSPs? Do they offer you direct access to register yourself and your music with Spotify for Artists and Apple for Artists? You can go directly to Spotify and Apple and do this yourself, but it sure is a nice convenience if your distributor can provide you this access right out of the box. FYI, the big three offer this.
How fast do they deliver your music to the streaming platform?
I see some distributors say it's instant, but really, it never is. For digital music distribution, it usually takes a few days to go live once delivered to the DSP. Some distributors say it can take a couple of weeks. Faster is typically better, but you should leave plenty of extra time after your title is delivered and before it goes live, and use that time for playlist pitching and promotion.
Customer support
I get so many complaints from artists who have a problem with their distributor, who are frustrated with the online support, and who are unable to get anyone on the phone.
Unfortunately, nowadays it's pretty much impossible to get someone on the phone at any of the digital distributors. Most of them rely on an extensive online archive of support articles and frequently asked questions, live chat — which is mostly answered by an AI chatbot these days — and email.
It's frustrating, but if all you're paying is $25 a year, frankly, the unfortunate truth is that your distributor can't afford to take your phone call. Which is why my previous point about ease of use is such a huge deal — the simpler the distributor's process, the less need for a human being you'll have.
Audio mastering and video distribution
Each of the big three distributors has a partnership with an AI mastering service, and CD Baby also offers affordable mastering by a human engineer from Disc Makers SoundLAB. CD Baby and Tunecore both offer CD duplication. And it's a nice convenience when they offer cover song licensing.
Do you need your distributor for any of this? No, you can do it yourself. But it's convenient to be able to do it through your distributor.
One nifty creator tool that Distrokid has developed is an automated Spotify Canvas creator. You know, that's the vertical video loop you see when you stream songs. Distrokid also offers video distribution, which they cleverly call DistroVid.
And many distributors also offer ways to get lyrics on Spotify and social media when your music plays, and to add credits and liner notes. Check out your preferred distributor to learn if they offer these kinds of services.
Artist development
There is one final category to consider when looking for a digital distributor. Do they have some kind of artist development program to help grow your streams and your fanbase?
Tunecore has been known to take artists who are growing fast and getting big and offer them label services through Believe, their parent company. CD Baby has what it calls its "stages" program: as you progress, they offer you more label-type services. UnitedMasters has a "partner" tier that is invite-only, which offers more custom label services.
As an emerging artist, you likely won't qualify for these programs, but there are other services that some distributors offer that are nice to have. Distrokid, for example, generates cool digital promo cards for artists that are easy to email and use in your socials.
Then there are a number of distributors that offer a webpage to artists which you can promote to your email list and social followers. Distrokid has Hyperfollow, which is quick and free. CD Baby has HearNow, which costs $3 and is fully e-commerce enabled, like a mini store. And both CD Baby and Tunecore have a partnership with Bandzoogle, the undisputed leader in music website hosting.
Marketing support
CD Baby has a pretty robust offering through its Show.co service, which allows artists to set up pre-save campaigns, Spotify audio ads, email list-building tools, and even the ability to run ads across the web and social media. Other distributors may offer some marketing services, but I haven't seen anything quite as comprehensive as CD Baby's show.co. Just remember, while most of these tools are free to CD Baby members, to actually run ad campaigns online, you'll need a marketing budget.
Playlist pitching
Some distributors claim they will put you on playlists on the streaming platforms. Now, I know there's a lot of hype around playlist pitching, and the distributors know this, so they throw out that they'll put you on a playlist and hope you'll find it sexy. But, for the average indie artist, the only way to pitch your music for playlists is to do so directly with Spotify and the other DSPs.
As far as any playlist promises your distributor makes, check carefully which playlists they'll put you on. Distrokid, for example, offers playlist placement, but it's on the playlists Distrokid has created on Spotify. Is that valuable? I mean, it won't hurt… but I'm not sure how much it helps.
— — —
Look, there's clearly a LOT of competition for your business these days. Distributors are doing all they can to make themselves look good. Your job is to figure out which of their claims are legit, which are valuable and meaningful, and which are just marketing fluff.
While I can't tell you which distributor is right for your music, I can tell you this: each of the big three distributors — CD Baby, Distrokid, and Tunecore — is a serious, ethical company where you can't go too far wrong. You just have to figure out which is best for your music and your goals.
Digital Music Distribution Checklist
To help you do just that, I created a 59-point digital distribution checklist, which covers ALL of the items I discussed in this series, and more. You'll want to have this handy when you do your distributor shopping. Click here to download your free copy.
Do you know one of the best ways to monetize your music? Sell CDs at your concert. You need 3,000 streams to make the profit you make from just one CD sale. Ordering CDs is super affordable, and it makes you look good too! If you're interested, check us out at www.discmakers.com.
---
Read the series
Choosing a digital distributor for your music: Part 1
Digital music distribution: It's not just about streaming
Digital music distribution Q&A: Pricing, payment, support, and more
---
Tony van Veen is the CEO of DIY Media Group, the parent company of Disc Makers and BookBaby. As a college student, he played in indie bands, created his own LPs, cassettes, and t-shirts, and sold them at shows. Today, he collects CDs, vinyl LPs, and concert t-shirts to support the artists he loves.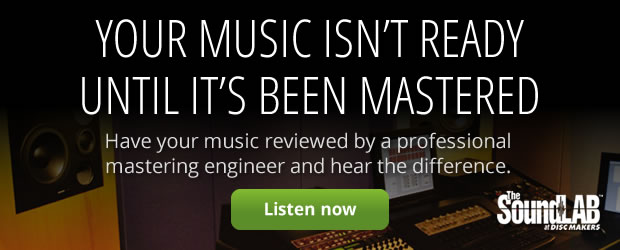 Related Posts
How Bands and Co-Writers Divide Percentage Shares in a Song
When should a producer get a publishing split?
Is a music plug-in subscription right for you?
How to use Spotify Canvas to add looping video to your streams
What's the difference between a Digipak vs. Jewel Case?