When producing a new track, try working on it — even for a very short time — every single day until it's done.
Estimated reading time: 5 minutes
In "How to produce a vocal session (when you're also the singer)," I wrote about one of my current productions-in-progress, a dance/rock song that's inspired by David Bowie, Lady Gaga, and Rage Against the Machine. For this project, I have the luxury of working without external deadlines, and I've decided to take my time and approach it differently than other productions. For the last three months, I've worked on the song every single day and will continue to do so until it's done.
Committing to working on a project every day doesn't mean having to spend hours on it each time you sit down to produce. If my schedule allows, I can certainly spend hours and hours tweaking compressor settings and layering vocal harmonies; but many days, I'll take no more than two or three minutes to work up one small element, sometimes just using my laptop speakers for reference.
In other words, the point here is not quantity, but consistency.
I've found that committing to the daily practice of producing, even in bite-sized chunks, can be rewarding, productive, and inspiring. Here are a few of the benefits I've experienced from producing music this way.
Become a master of more tools
I love using Universal Audio plug-ins, which emulate classic analog equipment like the Fairchild 660 and 670 compressors the Beatles used. When I first started my current project, I had an overall sense of how to use Fairchilds effectively, but felt far from comfortable with them. Now, after using these tools daily on so many elements of my production, I know their sound intimately and can dial up the parameters I need for any given element quickly and easily.
I record and produce in Apple Logic, and making my production a daily practice has helped me become more fluent in the software — even though I've been using it for years. DAWs like Logic are deep, complex, and powerful, and even for experienced users, there can be much to learn. By consistently engaging with the software — and often having the urgency to get something meaningful done on my song in a very short period of time — I've discovered new shortcuts and capabilities that make my production work more effective and efficient.
Manage big challenges
My track uses a lot of layered and highly-effected vocal parts, sometimes in harmonies, sometimes in counterpoint to each other. Once I recorded my raw vocals, and those of my three guest singers, I found myself with a big pile of compelling takes and interesting variations, all of which I needed to review, comp, edit, mix, and otherwise tweak as the song took shape.
This could easily have been a daunting task if I hadn't taken the "produce every day" approach. Each time I open my laptop, I focus on a single phrase or section, e.g., which of the three takes of a certain high harmony part sounded the most expressive? And when my soprano guest vocalist was improvising on the final chorus, which bits gave me chills and which didn't?
The more I chip away at the mountain of raw vocals, the more the final form of the song comes into focus and the less intimidating the whole project is.
When you commit to moving your production forward even an inch every day, be mindful of your momentum and how easy it becomes to keep whittling away at major challenges the next day, and the day after that.
Find inspiration
I make music that I'm proudest of when producing feels like a treat and not like work. By committing to producing every single day, even for a brief time, I always look forward to it and never view it as a chore or obligation.
One big reason for this is I know that I'll be producing the next day — and every day after — until the project is complete, so I never feel pressure during any given session to complete specific tasks. Instead, I get to open the project fresh and work on whatever element feels the most exciting at that moment. This keeps the entire process fresh and fun.
Let ideas percolate
One of the coolest benefits I've found producing every single day is that ideas start to flow spontaneously, and many problems begin to feel like they are solving themselves. After a few days of getting the initial structure of my song down, I found myself humming various parts as I went about daily life — developing harmonies and bass lines in my head, thinking about a trouble spot that I'd hit the previous day and brainstorming different ways of getting around it.
In your own work, once you start producing every day, pay attention to how quickly you internalize even the most subtle aspects of your track and pay attention to the ideas, inspirations, and solutions that start to pop up in your mind as a result.
---
Michael Gallant is a musician, writer, and entrepreneur living in New York City. His debut album for the Steinway & Sons label, Rock Rewind, features solo piano reinventions of Pearl Jam, U2, Halestorm, Janis Joplin, Bob Dylan, Radiohead, and more. Read his recent article for the National Endowment for the Arts and follow Michael on Twitter at @Michael_Gallant and Facebook.com/GallantMusic.
---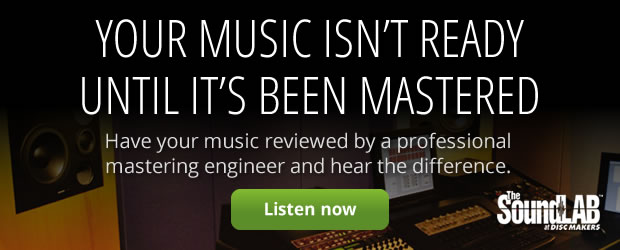 Related Posts
How to produce a vocal session (when you're also the singer)
Getting a great vocal take in the studio
Logic or Pro Tools? Which is better for you?
How to alter pre-made loops to get a customized sound
Home studio recording: How to record and mix