The genius of Paul McCartney's basslines never wavered, but his choices as a bass player post-Beatles show his focus was ever more on the song and serving the vocal melody.
In "The genius of Paul McCartney's basslines," we documented Paul McCartney's bass playing and its development during his years with the Beatles. We explored his humble beginnings as a traditional bass player mostly concerned with keeping time and outlining chords, and listened as he fully realized the power he wielded with his instrument. As the group evolved, McCartney became renowned for crafting bass lines that would come to define the sound of the Beatles' later years. Now, let's take a look at his post-Beatles years.
The previous article left off discussing selections from the Abbey Road, the final album on which the Beatles collaborated in a manner similar to their earlier records. They would break up less than a year later, an event that would end one of the most brilliant chapters of pop music history. The breakup certainly had an effect on Paul. McCartney and Lennon had shared a yin-yang relationship as creative partners since the mid-'50s when they met and started to write songs together. McCartney had grown into an upbeat, meticulous songsmith, whose melodies were instantly hummable, while Lennon pondered the deeper meanings of life, addressing drugs, loss, depression, and loneliness, favoring wild experimentation in the studio.
McCartney's basslines after the breakup
For most, Paul McCartney is known as a singer/songwriter first, and a bassist second. The post-breakup change in his songwriting approach is reflected in his bass playing as well. In examining his post-Beatles bass work, it is clear that he saw himself similarly, and focused his efforts accordingly. From here on out, his bass lines would serve the song and its vocals, not the other way around. In many ways, this is how he had mainly approached the bass, but we would see no more songs like "Come Together," a song basically built around a unique bass line. Instead, we would see a return to McCartney's original approach to his bass playing, which is more aligned with the traditional role of bass in a song: keep time and outline the chords.
This approach is evident on McCartney's first two albums released after the public announcement of the breakup: McCartney (1970) and Ram (1971). Without Lennon to ground him, both albums have a much lighter feeling than later-era Beatles recordings, due to their predominantly major-key tonalities and straightforward, airy melodies.
Lyrically, both albums also focus mostly on optimistic themes: domestic life, love, and contentedness. And while casual fans may have been surprised that Paul played virtually every note on his first solo album, (his wife, Linda, sang a few background vocals), Beatles insiders knew of his multi-instrumental abilities – the singular guitar solo on George Harrison's "Taxman" and the wonderfully inventive drums on "Dear Prudence" as just two examples of his one-man band abilities.
"Teddy Boy"
Immediately after the Beatles' break up, Paul's bass lines, like the songs themselves, are fairly simple. There are no strong counter-melodies, and little in the way of rhythmic variation. "Teddy Boy," from McCartney, is an exception. The tune was originally written for Let it Be but didn't make the album. He recorded the vocal, guitar, and bass at his home on a 4-track machine, and then brought it to the studio for additional tracks and mixing. The bass navigates the unusual chord changes with a walking line. Let's take a look. Green notes represent Paul playing the root of the chord in that measure, red notes represent him playing a third, and blue notes denote the fifth being played. Black notes are the "in-between" passing tones.
---
In these four bars of the first verse, McCartney plays a line spanning nearly the entire range of the bass, navigating the chord changes with a unique arpeggiating pattern. He includes a couple tricks that add to its brilliance. First is the way he handles the change from A to A minor by playing only the root and fifth in the second half of the measure, making for a harmonically unsteady moment when the underlying chord shifts to minor. Adding to this bit of tension is his second trick: the way he lands on the third of the E minor chord in the next measure.
On the next album, Ram, credited to Paul and Linda McCartney and recorded at New York City's A&R Recording, he brought in session drummer Denny Seiwell and studio guitarists Hugh McCracken and Dave Spinoza. More than half of the songs also feature a steady walking bass line of some sort. The other half feature either a root-fifth bass line, such as on "Monkberry Moon Delight," or a meandering bass line similar to what can be heard on "A Day in the Life," such as he played on the album's final track, "The Back Seat of My Car." It's no surprise that there is still a clear Beatles influence on both of these albums, echoes of which follow McCartney throughout his post-Beatles career.
"Silly Love Songs"
The experience of making Ram and collaborating with other musicians led McCartney to form a proper band in 1971, Wings. Joining him were his wife Linda on keyboard and vocals, guitarist Denny Laine, and drummer Denny Seiwell. Wings would be his creative outlet for the next 10 years. It was with Wings that he wrote six post-Beatles million-selling songs, including two of his most well-known works, both released in 1973: "Live and Let Die," penned for the James Bond movie mega-hit of the same title, and "Band On the Run." It was also with this band that he wrote his disco-inspired bass line to the hit song, "Silly Love Songs." Featured on the 1976 album Wings At the Speed of Sound, the part is possibly his busiest bass line ever. The groove propels the song through each verse and chorus with a funkiness that is entirely new in McCartney's recorded canon up until that time. Below is a transcription of the line.
---
The groove created on this track is entirely due to this four-bar bassline. The main vocal hook only consists of three long whole notes, so Paul's steady staccato eighth notes in the first measure keeps the otherwise slower song moving forward. In the next two measures, he sets up a groove emphasizing beats one and three by playing chord tones on beats one and three, and passing tones leading up to them on the weaker beats. The last measure and a half adds an interesting twist by flipping the groove around and emphasizing beats two and four, while also leaving out the root note and instead focusing on the fifth.
This funkier, disco-inspired side of McCartney would resurface three years later in a single entitled "Goodnight Tonight." In addition to a busy disco bass line, the song also features Paul playing chords on his bass. At this point in his career, however, bass lines like this are definitely the exception and not the rule. As he moved away from songs written during his Beatles days, and albums became entirely made up of new material, his bass lines became simpler and simpler, moving more and more towards the traditional bass role.
After Wings
As his time with Wings was coming to an end, he released his second "true" solo album in 1980, McCartney II, 10 years and one month after the arrival of the McCartney album. On the entire LP, there is only one song with a more composed bass line, a repeating one-bar phrase in the second half of "Darkroom." Experimental in nature, some songs on this album feature synth bass in place of his traditional Hofner, demonstrating that McCartney was keeping up with the latest developments in music and recording. Reportedly, he recorded the entire album at his home, without a mixing console, by plugging microphones directly into the Studer multichannel tape recorder.
After John Lennon's tragic death in December 1980, came Tug of War (1982), which was started in 1980 as another McCartney solo project with members of Wings and other musicians contributing, including Stevie Wonder. However, the album took nearly two years to finish and during its production, Wings formally disbanded. Pipes of Peace, which followed in 1983, was mostly recorded during the Tug of War sessions, with five new songs recorded in fall 1982 to fill out the LP. These two albums represented an important reunion in McCartney's recording career as the so-called "fifth Beatle," producer George Martin, helmed both efforts. They included much more refined work than had been heard on McCartney II.
Although the songs are better developed, the bass playing still sticks to the basics, working to support the song rather than add a new composed part. Now and then we do get glimpses of some inspired playing, such as can be found on Pipes of Peace tracks "Sweetest Little Show" and "Average Person." Both up-tempo tunes owe much of their energy to Paul's driving bass lines.
Beatles Anthology
His next albums would follow similar paths in terms of bass playing, until the 1995 release of The Beatles Anthology, Volumes 1, 2 and 3. This comprehensive documentary project, complete with a 10-part TV series, set of three double albums, and a book, involved McCartney reuniting over a five-year period (1990-1995) with George Harrison and Ringo Starr to recount the history of the group. This resulted in producing two new recordings with the permission of Yoko Ono, based on demos that John Lennon had started, "Free as a Bird," and "Real Love," and hours of interviews running through the history of the band for fans around the world.
The Anthology experience moved McCartney and inspired his next album release, Flaming Pie, in many ways a return to more Beatle-esque songwriting and production techniques. In the liner notes, McCartney writes, "The Beatles Anthology was very good for me because it reminded me of The Beatles standards and the standards that we reached with the songs. So in a way it was a refresher that set the course for this album." The Beatles' influence is much stronger on this album than anything he put out in the '80s. "Souvenir" sounds very much like what one might imagine The Beatles would have sounded like had they existed into the '90s. You'll even hear Paul play some of those iconic octave runs up the neck during fills he plays on bass.
"Magic"
Moving into the 21st century, McCartney continued his return to form, giving us more glimpses of what the Beatles would have become had they stuck together. In 2001, Driving Rain was released, produced by David Kahne, an American producer best known for his work with The Strokes, Fishbone, Sublime, Sugar Ray, and the Bangles. The 2001 release was recorded in just a few weeks' time at Henson Studios in LA, with a group of young session musicians who McCartney had literally just met, hired by Kahne. Two of them, Abe Laboriel, Jr., and Rusty Anderson, would become mainstays of McCartney's touring ensemble for years. There was not one single rehearsal before album recording commenced.
In an interview on The Beatles Bible, McCartney is quoted as saying, "We'd come in on Monday morning, I'd show them a song and we'd start doing it. We didn't know what was going to happen and it was a little bit into the unknown for all of us." The spontaneity and new energy that resulted was palpable in the finished recordings. Driving Rain included several songs that brought back the melodic bass lines most associated with Paul's Beatles-era playing. The song "Magic," in particular, contains a bassline during the verses that can justifiably be called a melody in its own right.
---
This melodic bass line harkens back to the days of "Something" and "A Day in the Life" in the way that it outlines the chord changes with a variety of rhythms and harmonic emphases. For the most part, it's just arpeggiating the chord, but there are a few tricks afoot. In three different instances, Paul creates a bit of harmonic unsteadiness by playing the fifth of the chord instead of the root. In the fifth and seventh measures, by doing this, he also anticipates the next chords. It creates a bit of uneasiness that adds to the nostalgic appeal of the song's story, his bass wandering around the changes like his mind wanders through his memories. The recording also has the bass clearly placed at a higher volume in the mix than his previous solo recordings, further confirming McCartney's intention to use the bass as a melodic tool rather than simply a harmonic necessity.
Chaos and Creation in The Backyard, released in 2005, is another return to form, both in songwriting and bass playing. "How Kind of You" includes the kind of lazy meandering bass lines in its intro and outro that Paul uses to give songs a dreamy characteristic reminiscent of "A Day in the Life." Both this album and 2013's New include contemporary stylings of classic McCartney approaches to songwriting. His light melodic hooks are there, with the bass bouncing along and supplying no more than necessary, yet there are also clear influences of '90s and 2000s alternative rock, in part due to his collaboration with producers such as Nigel Godrich, Mark Ronson, Paul Epworth, and Giles Martin.
Change of focus
So what do we ultimately make of Paul McCartney's development as a bass player throughout his solo career? One thing is clear from a compositional standpoint, his playing on Abbey Road was the apex of his bass-playing career. The basslines he gave us on "Something" and "Come Together" were the culmination of his development with the Beatles, and in his nearly fifty-year solo career, his bass lines never quite reached the peak of those recordings in terms of creativity and melodic function.
Does that mean his bass playing declined as his solo career went on? Not at all; he simply changed his focus.
McCartney has never been a flashy bass player. He never took bass solos on record, never pushed the limits of bass technique, and consequently is not often thought of as a technically advanced bassist. What he does have is innate musical creativity and the ability to create memorable vocal melodies and, when inspired, unique bass lines. His partnership with John Lennon allowed him more time to focus on using that talent to develop bass lines that perfectly complemented and enhanced each Beatles song.
His technique did not decline, either. The bass playing in his solo songs may be a bit more reserved than during the heyday of the Beatles, but everything he plays is rock solid. His ability to lock in a groove has never wavered, and any experienced bassist will tell you that is what matters the most. His bass parts also serve to complement each song throughout his career. If the focus of a pop song is on the vocals, then every other part should serve to support the vocals. Paul McCartney understood that, and that may be the defining characteristic of his post-Beatles basslines.
---
Keith Hatschek is author of The Real Ambassadors: Dave and Iola Brubeck and Louis Armstrong Challenge Segregation, which tells the story of Louis Armstrong, Dave Brubeck, and Iola Brubeck as they took a stand against segregation by writing and performing a jazz musical titled The Real Ambassadors. Hatschek, who directed the music management program at University of the Pacific for twenty years, has authored numerous music industry books, including The Hitchhiker's Guide to the New Music Industry, The Golden Moment: Recording Secrets from the Pros, and The Historical Dictionary of the American Music Industry.
Robert Bassett is a freelance engineer, producer and bassist living in Northern California. He teaches music while completing his degree in Music Management this spring.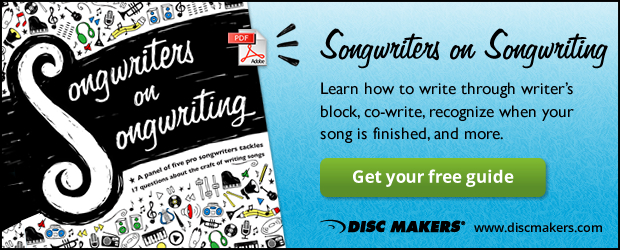 Related Posts
The genius of Paul McCartney's basslines
Songwriting tips from the Beatles' "Help!"
The major mediant chord can add an unexpected surprise
Finding inspiration for your songs
How The Beatles changed music and the world (or at least got credit for it)