With the right technology, strategies, and planning, indie artists can record and produce amazing music anywhere.
Hotel rooms, tour busses, airports, beaches, coffee shops — nearly anywhere on earth can be a recording and production studio if you're well prepared. All you need is a mobile-friendly rig and a few basic strategies to get you there.
I've produced and recorded many times while on the move and have nearly always found it highly productive and rewarding. Here are some strategies that have made things easier for me. I hope they help your mobile music-making efforts as well.
Optimize your gear for travel
When you're recording while traveling, your production rig has to be ready for the road. With that in mind, choose your gear with efficiency and effectiveness in mind.
My travel kit includes a small and lightweight MacBook Pro laptop, a pair of high definition UltraSone studio headphones that fold up nicely for travel, and a Universal Audio Apollo audio interface, which isn't the lightest thing in the world, but is still compact and robust, sounds great, and links to a number of production plug-ins I use regularly.
For MIDI control, I use a Korg MicroKey, which is small and lightweight, and has a keyboard touch that feels good under my fingers. And if I'm doing any serious production or mixing, I bring along a PreSonus FaderPort control surface. If you're not familiar, the FaderPort is a great little device that includes transport controls like Record, Play, and Stop; a master dial for panning and other automation; and a single motorized fader to let you ride volume levels as you mix and produce. I've found that having even a small tactile device for these functions is hugely more satisfying than tweaking everything from a mouse or touchpad.
Regardless of what your individual gear choices are, do your research and find equipment that's compact, durable, and does what you need it to do. As you put your rig together, be honest with yourself and bring only what you truly need as it's quite easy to overpack. The less gear you haul, the less there is to carry, set up, and break down every time you find time in your travels to create. Also, the less you bring, the less valuable equipment there is to get lost, broken, or stolen.
Protect your gear
Chaos happens and gear can break or vanish. Take the time to pack your equipment carefully before you hit the road.
Careful packing does not have to mean investing in expensive cases. While my laptop always lives in a cushioned Brenthaven sleeve that has saved it from multiple falls, my Apollo and FaderPort often travel in the FaderPort's original cardboard box, sometimes padded with pairs of clean socks. It's lightweight, easy, and keeps the gear safe in car trunks and suitcases.
Protecting your gear also means insuring it. I've found Clarion to be affordable and easy to work with, MusicPro is another major player in musician insurance, and there are quite a few other reputable options available as well. As you research, make sure to ask about policies for on-the-road replacements in case something happens to a key piece of your recording rig while you're traveling.
Have a multi-layer backup strategy
Schofield's Second Law of Computing states that if data isn't saved in three separate places, it doesn't exist — and this very much applies to indie artists who record while on the move.
Before I leave for a trip, I always back up my entire system to at least one external hard drive that doesn't come with me. I also back up anything current or time-sensitive to cloud storage services like DropBox, MediaFire, and Google Drive; that way, if a file becomes corrupted or my laptop breaks while I'm traveling, I can still access everything I need. Finally, if there's something really important I'm working on, I'll bring it backed up to a thumb drive or small external hard drive as well, just to be extra safe. As I travel, I make sure to backup my work regularly as I go, both to the cloud and to physical storage.
This is an area where it always pays to be diligent. Make sure you have multiple backups in multiple locations that are easy to access, so if disaster strikes and your files or machine are no longer viable, you still have options.
Lean into software
When you're producing and recording on the road, software is your friend. It weighs nothing and can do almost anything.
My go-to software includes Apple Logic for recording and production, Synthogy Ivory II for high-quality acoustic piano sounds, and various Universal Audio processing plug-ins, which give the sound of vintage analog gear without the weight and footprint.
If you're concerned about storing multiple gigs worth of virtual instrument sample libraries on your computer, look into cloud-based resources like Roland Cloud, which lets you access a wide range of virtual synths on demand. Also, check out this article on cloud-based production software, which can offer a different flavor of travel-friendly flexibility.
Get inspired
Are you putting together a drum groove while sipping espresso near the Spanish Steps in Rome? Let the sound of footsteps and the chatter of tourists inspire you.
Are you on a road trip to visit family and want to work on a demo for an hour before getting back in the car? See if you can channel the vastness of the forest you just drove through into your string and synth textures.
Did you just get off a nightmarish flight and never want to see an airplane again? Turn that rage into something musical and productive the next time you set up your rig for recording and production.
Regardless of your location or context, travel can be a constant creative inspiration. Use it, experiment, and see what unexpected brilliance you come up with.
---
Michael Gallant is a musician, writer, and entrepreneur living in New York City. His debut album for the Steinway & Sons label, Rock Rewind, features solo piano reinventions of Pearl Jam, U2, Halestorm, Janis Joplin, Bob Dylan, Radiohead, and more. Read his recent article for the National Endowment for the Arts and follow Michael on Twitter at @Michael_Gallant and Facebook.com/GallantMusic.
---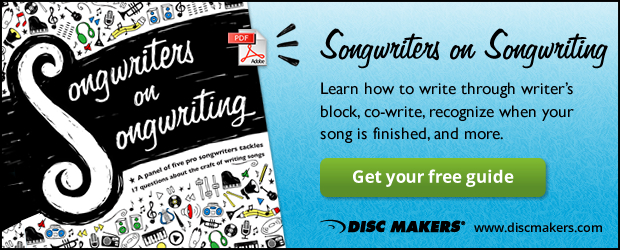 Related Posts
Logic or Pro Tools? Which is better for you?
How to prepare for a vocal recording session
How to record, release, and promote an album in 90 days
Ear fatigue: Know the signs, avoid mistakes
Adding live strings to your recording