On Episode 214 of the CLIMB podcast, "5 Things You Need Instead Of That Guitar," Johnny makes the argument that you're in the media business and you need to invest in that aspect of your music career. Read the highlights and listen to the entire podcast for more insights!
Johnny Dwinell: If you want to get noticed and you want to find success, you have to focus your energy and resources on the right things. If you buy 20 more guitars, 20 more plug-ins, a better Pro Tools system and you focus on making better product, you still have the lingering problem, this 400-pound gorilla in the room: who's going to hear it?
Brent Baxter: Well, it's like, I can spend all day making money, but if I never go to the grocery store, I'm still going to starve to death.
Johnny Dwinell: Exactly. Or, you can spend all day writing songs, but if you never make a demo and never go out and try to pitch that song, then nobody else is going to hear it. And if your intention is to get other people to cut your songs, then…
Brent Baxter: Other people have to hear your songs.
Johnny Dwinell: That's right. You know, when I hear from artists and I ask them, "Tell me three things you're struggling with," I get a lot of the same answers. "I don't know what to do next," or they've got marketing questions. So here's the thing, whether you know it or not, you're an artist, you're a songwriter, but you're also this new thing in the new music industry: you're a media company. And you're probably a crappy media company.
Brent Baxter: Well, if you're not sure you're a media company, you're definitely a crappy one.
Johnny Dwinell: How do you feel if you're listening to a radio station and it just goes to dead air?
Brent Baxter: Something must be wrong.
Johnny Dwinell: So if you're not constantly putting stuff out there and being in the feeds of people, they're going to find somewhere else to go and find somebody else to entertain them. We talked about this a little while ago about Netflix and how Netflix started out with everybody else's content and created traffic. Then it started creating its own content and people were prepared to love it and give it a shot because they were already there to watch Friends or The Office.
In the last year, Daredevil has done so much video content for our artists and our clients. It's just absolutely apparent that video content of some sort is necessary to get your name out there. And if it's video content of you singing your song and it's on your Facebook page or your Instagram page — the people who are going to see it are your friends and family. You're not getting in front of new eyeballs — you're kind of in a little bubble. The way you're going to grow your brand is by getting it in front of new eyeballs and you have to have content that they want to see. That's why I'm a big fan of cover songs where you put your artistic fingerprint on a song that is so far away from your lane, artistically, your version of it will be compelling. So what's the next step?
You need to put some of your time, energy and resources into things that will help you become a better media company than you are now. So what do you need? Number one: video camera. You need to have a decent video, and before you drop a bunch of money, try something like a GoPro. They're inexpensive, $300 brand new, video quality is good, it's got a great little mic on it. A lot of the stuff we shoot is with GoPros.
In addition to the camera, you're going to want a gimbal — it's steady-cam so you can move your hands around and pan while filming and it keeps the camera absolutely still.
Second thing: lighting. A company you can check into is Genaray — they've got some pretty good light set-ups for like $300. And these are pieces of equipment you're going to be using over and over again. If you're going to work on getting your brand and your name out there, you need to have some decent lighting on yourself.
Brent Baxter: Yeah, for Songwriting Pro, I got myself a camera that I can attach to my laptop and I bought a ring light for lighting. You've got to think about that stuff.
Johnny Dwinell: Number three: Paid coaching. You need to put some money into coaching — it could even be free. I've put a good amount of time checking out some killer video guys on YouTube. We did this thing with Alora where we wanted some ghostie effects, so I spent an hour and a half going down a rabbit hole on YouTube finding ways to do these ghostie effects — and I learned some cool stuff. But for songwriting and how to make a better record, for branding or recording, for video post-production, marketing…
A service like Daredevil Production, we're for artists who are maxed-out on efficiency. The artist has a budget, they're working, but they need a team — they can't do it themselves any more because they're too busy. That's where we come in. But until then, paid coaching for something like digital marketing is something you're going to want to have so when it comes time to engage with somebody like me, you want to inspect what you expect and you want to know what you're looking at.
Ok, number four… animated logo. You need one, Brent. And I need one! I've done 15-20 for my clients but I haven't done one for myself. What's an animated logo? It's three to nine seconds, think of the Pixar lamp, think of Castle Rock, think about Paramount Pictures, or DreamWorks, with the kid fishing off the crescent moon. It's so sticky, and this is something you'll add to every video — it doesn't matter what the content.
Finally, the last thing, and this is huge: ad buys. You've got to be pushing paid traffic. You've got to be putting your content in front of new eyeballs, and the only way to move the needle is with ad buys.
— — —
There's plenty more… listen to the entire podcast.
— — —
The CLIMB is a podcast produced by Brent Baxter (award-winning hit songwriter with cuts by Alan Jackson, Randy Travis, Lady Antebellum, Joe Nichols, and more) and Johnny Dwinell (owner of Daredevil Production) that's dedicated to helping singers, songwriters, and artists like you create leverage in the music business because that's what you're gonna need. You're gonna need some leverage, you're gonna need an audience, and you're gonna need a reason for people to stand up and salute you. It's not just about your talent – you've got to bring the business, and that's why we call it The CLIMB, it's an acronym that stands for "creating leverage in the music business."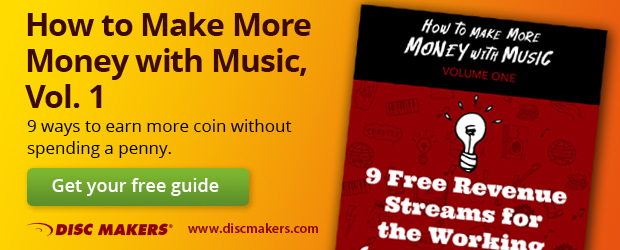 Related Posts
Easy fixes to improve the lighting in your videos
Improving the audio in your streaming broadcasts and videos
Revenue streams for the working musician
Songwriting Dos and Don'ts
Stop saying your songs are "great"