You can still play live shows during this pandemic by live streaming them to your fans. But, to make money from it, you need to build income-making methods into your show so fans can support you.
Thanks to the Internet and technology services that help connect people remotely, musicians can play shows via live streams with free options such as YouTube Live, Periscope, Twitch, and Facebook Live. What's missing are the income streams we made off of our live shows, especially since most streams are often free and open to the public, unlike a live show where there's a cover charge which goes to you. But, even during this pandemic, there are people who have money and want to help support artists and musicians. Providing methods for them to easily pay you is key to maximizing your streaming revenue.
In "Maximizing your revenue when streaming live shows," we covered five methods where you can make money as a musician through live streaming. This includes methods for collecting tips, encouraging Patreon sign-ups, collecting adshare, creating pay-per-view shows, and charging for channel memberships. In this post, we're sharing five more money-making/collecting methods to weave into your streaming concerts.
1. Charge for access to the recordings of your performances
Your streamed shows are often recorded automatically by the platforms and that recording is a valuable asset your fans might want to buy. Even better, this is true whether you chose to open your live streaming channel up to the public for free or make it a pay-per-view ticketed show (as we talked about in the first article). You can sell the video file as a digital download direct from your website by using services like Shopify, Squarespace, Woocommerce, and many others. Alternatively, you can use these recorded performances as excellent Patreon rewards if people pay you monthly. Further, you can provide the best live audio recordings for purchase. You can also distribute the audio recordings to streaming services such as Spotify, Apple Music, and others to generate royalties and even upload the best performances to your YouTube channel to generate adshare revenue.
2. Sell merchandise
Your shows aren't the only things that can go virtual: you can also bring your merch table online. If you already have a method to take orders online and ship your merch (setting up a shop page on your Facebook Artist profile is an easy way to start), you're all set to promote it on your live streaming show by providing links and displaying the merchandise during the show. (It doesn't hurt to wear the t-shirts that you're selling, or at least leave some of your merch items out in view of the camera.) Mentioning you have merch for sale online during the show and using overlays to promote the merch will boost your sales.
3. Charge for online-only exclusive shows
Rather than opening up your streaming concert for everyone, you can perform specifically for a fan or group of fans. This is the digital version of a "house concert" where, for a fee, you agree to put on a special, intimate online streaming show for the person paying you. To do this, use free video chat tools like Google Hangouts, Skype, or Zoom. Although holding an online-only streaming house concert can generate a one-time ticket or fee, it could also make a great high-end Patreon reward, so you can earn monthly revenue. Also, depending on the type of fans you have and your relationship with them, they may want to hang out with you virtually rather than just having you perform.
4. Use affiliate sales links in your live stream and in the text of the descriptions for the streams
Affiliate programs pay you a bounty or a cut of sales for each new customer you send their way when your audience clicks on special links you make for them. This is a big topic, and we cover it in detail in our book, Making Money With Music. In brief, those special links tell the online stores that you sent the customer to them so they know who to pay if that person purchases anything. Although the number of affiliate programs are almost endless, to get your own links, try affiliate aggregation sites like Commission Junction, Rakuten, Amazon Associates, or eBay. Of course, you'll want to affiliate with businesses that you're comfortable with that match your persona and music.
Once you have the affiliate links set up, include them on any surface that's within view of the camera during the show. You can also do this as an overlay (using tools like OBS) through the chat feature if the platform you're using has one or in the description text of the live stream. Alternatively, you can simply tell your viewers the code during the show (between songs and at the end of the show). This technique is similar to how podcasters and YouTubers give away special discounts and promo codes during their shows and works great for streaming performances as well.
5. Get sponsored
When you have a sizable audience or are known to have a lot of influence over a dedicated niche audience, you can monetize your streaming concerts by getting sponsors to pay to have their name, links, or ads added to the stream. Although you can always go to sponsors directly, there are also services and tools that help you do this, and you can find a lot of great info about it in our earlier post, "How To Make Money Off Your Social Media Channels (No Matter How Many Followers You Have)."
—  —  —
Each of the ten methods we discussed in this and the first article can make you more money as more fans join your shows. This means it's important to promote your shows as much as possible. Advertise and provide links to your show in the newsletters and emails you send to your mailing list and in your social media efforts.
Also, remember, you control the content of your live shows. You can decide what's in view of the camera. This includes what's in the foreground and backdrop, the overlays (which you can add if you use video software), what you say in between songs and sets, and which messages appear in the chat. All of these are valuable surfaces that your fans are paying attention to that you can use to promote your income methods. This works even better if a friend or member of your team runs the chat while you perform, since fans love interacting there.
Finally, don't get overwhelmed. Add one method at a time and see what works for you. Don't be afraid to drop what doesn't work and keep enhancing the ones that prove themselves as income generators. Just don't lose sight of the fact that you're providing something valuable to your fans: entertainment and connection during this difficult time. Many want to support you, so entice them with options to support you that they will enjoy.
---
Authors of the critically-acclaimed modern classic, The Indie Band Survival Guide, Billboard Magazine called Randy Chertkow and Jason Feehan "the ideal mentors for aspiring indie musicians who want to navigate an ever-changing music industry." Their latest book, Making Money With Music (Macmillan) and free Making Money With Music Newsletter, help all musicians — from startups to pros — build a sustainable music business so you can make money in today's tech-driven music environment.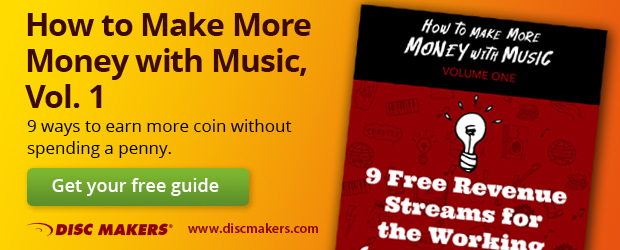 Related Posts
Maximizing your revenue when streaming live shows
Choosing the right rewards for patronage and crowdfunding campaigns
Easy fixes to improve the lighting in your videos
Improving the audio in your streaming broadcasts and videos
Stay focused on your music career during the shutdown
Broadcasting live gigs – platforms for music broadcasts reviewed