Musician and motivational speaker Joey Stuckey is proof that following the four pillars of success can help you overcome whatever obstacles are in your way.
You've really got to love creating music to persist in one of the most demanding career paths on the planet. The obstacles are endless and the rewards are meted out only to those who have the drive and talent to frame success on their own terms.
At an early age, Joey Stuckey knew that he wanted to pursue a career in music and determined that his physical challenges weren't going to keep him from this goal. Years of work mastering instruments and learning music technologies have yielded enviable results. Joey is an active performer, audio engineer, university-level music instructor, studio owner, and motivational speaker. His achievements are even more remarkable considering that a brain operation in his infancy resulted in his total blindness and his childhood was marked with health issues.
Stuckey's Shadow Sound Studio has become a locus of activity in Macon, GA and the base of operations for his production work. Notable talents he has worked with include Alan Parsons, Hughie Thomasson (Lynyrd Skynyrd), The B-52s, Trisha Yearwood, Mike Mills (REM), Chuck Leavell, and more.
Joey's experiences, adaptions to the difficult challenges of being a sightless musician, and his creative approaches to teaching, composing, and recording provide examples that any musician can draw from and apply to his/her own life.
It comes down to hard work
While music, of course, is rooted in sound, most of us rely on systems of notation that require sight. Without the ability to read or write sheet music or chord charts, I wondered how Joey writes new songs, communicates songs to his bandmates, or learns songs from other musicians. I asked if he has found shortcuts and workarounds for this.
"It all comes down to hard work," he said, "and thank God I have a good memory and a good ear. I have also spent a lot of time becoming good at what I do so it isn't too hard for me to learn a new song. That being said, I'm usually the band or session leader and I stick to my wheelhouse of improvisation and genres where that skill is prized. Can I perform with an orchestra playing Bach? Yes! But the amount of effort it would take for me to compete or be on par with my sighted counterparts (since I can't sight-read) usually isn't worth the time. There is Braille music, but it is cumbersome and you can't read it and play at the same time, so it has limited use for me."
Joey is both a music instructor (a professor of Music Technology at Mercer University and mentor for the Recording Connections School in Los Angeles) and engaged in continuing learning as a student. "I am proud to say that I am a Berklee College of Music online student working towards a master's degree!"
Stuckey's musical training began at age 17, with classical guitar lessons from Terry Cantwell and later studying with jazz guitarist Stanley Jordan. I asked what approach Joey takes in his teaching.
"I teach and use classical theory a lot, but I subscribe to jazz pedagogy as well. The main things I want students to know are their key signatures and simple and compound intervals along with chord tones and basic counterpoint. Regarding music technology and the music business, which I also teach, I am constantly evolving with the times.
"In terms of accessibility for the blind, sadly, this is an ever-changing landscape and what worked yesterday might not work today or in the near future. Basically, you should buy everything out there in regard to screen readers and scripts and other software so that between them all you have about 80 percent accessibility. I use both a Mac and a PC and, between the two, along with my trusty iPhone and Alexa, I can do quite a lot for myself."
For learning music and music technology, Stuckey recommends getting a program that can slow down music without changing pitch to be able to follow the fast phrases and hear all the notes accurately. "Say you are studying someone who plays 90 miles an hour, like John Coltrane or John Petrucci," Stuckey explains. "You've got to slow that stuff down so you can understand what they are doing. For those who want an entry point into the music biz, I recommend a great book by one of my Berklee professors, Take Care of Your Music Business, by John Kellogg. And, for those who want an easy entrance to music software, Reaper is great. Finally, for getting into some great mics and real analog gear, you can't beat Warm Audio."
Tackling tasks in the studio
I asked Joey if he could describe a typical studio workday, given the assistive technology he has at hand.
"Mostly it is my memory that saves my butt every day," he replied. "I use all analog out-board gear while recording and edit on the computer using state-of-the-art digital technology.
"Splitting clips and dragging them around a screen is very tough for me, so I usually have to find a pair of eyes to help with that. Mostly you will hear a computerized voice reading the screen to me very rapidly in the background, telling me information like what tracks are armed, and so on. I have a brain that works fast, and my hands and mind do as well. Often, I type so fast the computer lags behind me."
Joey remembers one client hearing his computer in the background reading incredibly fast and asked him what language it was. Another client was impressed that his computer was speaking Cantonese.
"I instinctively know what measure I am on. In fact, I was the official measure counter when I was participating in recording the Sorcerer's Apprentice with my friend Alan Parsons. I also can copy and paste with the best of them if we are recording to a click. I use my mind to overcome my blindness as best I can."
Daily communication is simplified by a smartphone that can read text messages to him and convert emails and Word docs using text-to-voice. PDF's and some websites can be more problematic.
Leveraging tools (and selecting favorite toys) for musicians
Stuckey is a strong proponent of using technology to create and enhance music, as well as to experiment with sounds. I asked about his favorite tools.
"From an accessibility standpoint for blind folks, Majix, Reaper, and Avid Pro Tools have done quite a lot. I am hopeful we'll see more of this kind of effort and I am working to build a coalition of people who understand that if we start with accessibility in mind from the beginning, the path to accessibility isn't an onerous one. So, if you make tools for music production, I want to speak with you so I can share real solutions that aren't unreasonable."
Close your eyes and listen
One piece of advice Stuckey offers freely: close your eyes and listen. I asked him if he thought this advice goes beyond music and suggests a fresh way to re-program the brain to perceive the world differently — almost like a form of mindful meditation.
"I do think it is a state of mindfulness. We need to get away from seeing the music, being distracted by all the pretty graphics, lights, and meters — though those things are useful. But it should come down to how the music makes you feel and what you hear!"
Motivating others to follow their dreams
Another key aspect of Joey's career is inspirational speaking; by sharing his personal story, he hopes to inspire others and help them shake off indecision and uncertainty.
"I like to speak about living a life of intention. As a blind brain tumor survivor, I understand that no matter who you are or what your story is, some days it is all you can do to just get through the day. I believe there four pillars to a successful life.
"The first is intention. In other words, having a moral compass and a set of goals and things that you value and then following those principles. It doesn't matter if other people understand or agree with you. If you live your life according to the mandate of your heart, you won't go wrong. If you have a plan and a goal you will find success. If you don't, then you are always reacting to life and in the moment of pressure, you will inevitably make mistakes. If you act according to a set of principles, you will be consistent in your decision making.
"Another of the pillars is grace. You don't have to be perfect today or even tomorrow. In fact, you will never be perfect, so do your very best and that will always be enough, because after your best, what else can you possibly give? Realize that becoming the person you want to be takes time and consistent effort, but you can achieve your dreams.
"It doesn't all have to happen now, even though that is what we unreasonable humans most often want. Part of the grace pillar is to love yourself. This is absolutely essential. I say it differently, but if you have ever watched one of me and my wife's favorite shows, RuPaul's Drag Race, you can get the 30-second version of my talk: 'If you don't love yourself, how the hell are you gonna love someone else?' This is at the heart of being successful.
"The third pillar is hard work. You can't expect to have things handed to you. You have to be willing to work hard and make some sacrifices to get where you want to be. A lot of folks in the music biz want to write a song and then expect to be famous the next day and that isn't how it works. You have to work hard — consistently — to get results. At the end of the day, your life is what you make it and it is your responsibility to make your dreams come true.
"The final pillar is honesty. You must be honest with others and, most importantly, with yourself. The truth is the truth and you have to own it. When you do something well, it is okay to be proud of it. When you make a mistake, it is okay to acknowledge that you made a mistake and say, 'I am sorry.' You must understand who you are, flaws and all. And you have to know your limitations, but not be defined by them."
Being an artist and being poor are not synonymous
As a parting message, Stuckey wanted to remind everyone to "never give up or allow someone else to make you feel like giving up. The likelihood of having a major hit record or selling out an 80,000-seat arena are slim, but you might be the one. Even if you aren't, you can live a successful life of value and joy and make good money. Being an artist and being poor are not synonymous.
"Just remember, if a blind brain tumor survivor with a metal hip and metal shoulder can do it, so can you!"
For more on Joey Stuckey's creative endeavors and to listen to his recent songs, visit joeystuckey.com.
---
Lee Purcell started out doing technical writing in the heyday of Silicon Valley innovation and ended up in a small town in Vermont, telecommuting, surrounded by 200-year old white pines. More about his technical endeavors can be discovered at lee-purcell.com.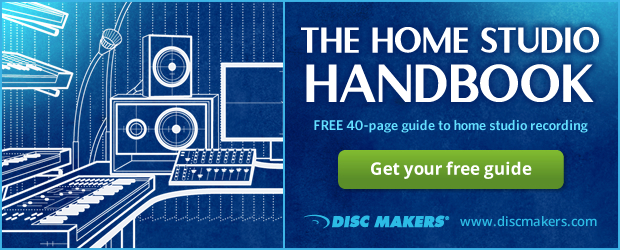 Related Posts
Songwriting tips to help you stay creative
You need to work at being creative (creativity is NOT a talent)
Use mind mapping to unlock your musical creativity
Want a career in music? Work hard, stay positive, and learn about the music business.
The importance of merch for today's working musician