You have full control over who gets on your guest list, so use it to invite bookers, journalists, bloggers, music supervisors, and businesspeople you want to influence to your shows.
If you play live or throw listening parties for your recorded music, every one of your shows and events allows you to sell merch, earn royalties, build your patronage following, build awareness/promote yourself, and much more. One of the best career tools that grows out of your live shows and events is your guest list. Because you have control of who gets listed on it, you have a chance to not only give special, free access to your show but also help create future opportunities for you and your music — from generating media coverage to getting booked for more shows and events.
The business book, Influence: The Psychology of Persuasion, explains that people feel the need to give something back when they receive a gift or favor. You can leverage this idea by giving them special status and a free show. Adding the right people to your list can help you drive press coverage, get reviews of your live events and music, increase bookings, create licensing opportunities, and more.
Using a guest list effectively is also a very tactical way to network. You won't know what's possible until you reach out and invite those people who can benefit you in the near-term.
Who to include
When you plan your next show or event, consider inviting and putting the following people on your guest list. You'll want to do this at least a couple weeks ahead of time and send a reminder a day or two before the event.
1. Local media, journalists, music reviewers, writers, and bloggers
The press and media love getting special invites and access, so contacting them to tell them that you're putting them on the guest list gives you a legitimate reason to reach out, which is one of the keys to succeeding at PR. This could motivate them to check out your event and makes them aware of you. Reaching out this way can open new relationships as well as deepen relationships with people who have already covered you.
2. Local venue, festival, and college event bookers — and city event planners
People who book bands for venues, bars, etc. are usually music lovers. In fact, when we were booking our own band around Chicago, we discovered one booker actually maintained two calendars. The first was the booking schedule for his venue and the second listed shows he wanted to see at other venues so he could assess the talent and find out who he wanted to book in the future. Reach out and invite these local bookers and add them to your guest list so they can attend for free so if they come out to your show, it increases your chances of getting booked at their venue. Also, don't forget there's a long list of bookers who can generate opportunities for you and your music. Research local and regional festival bookers, city event planners, and local or regional college music event bookers and invite them as well.
3. Local radio hosts, podcasters, streaming music station producers, potential business sponsors, and other influencers
Don't forget to include radio hosts, podcasters, streaming music station producers, and other influencers in your area who have shows that feature local music with the idea that if they see your show or attend your listening party, they may include your music in their rotation or feature a song or two. And, if you've got a great draw, invite local business people who might be potential sponsors of you and your act — people who may want to advertise and reach your audience. Doing so is a great way to introduce you, your music, and your audience to them. Plus, it's flattering to include them on the guest list. It sets you apart as a musician who acknowledges their role and business. And, if they attend your show, this gives you a natural way to talk with them and network.
4. Music supervisors
Music supervisors choose the music used in TV, film, movie trailers, advertising, and more and may also be great additions to your guest list. [If you want to understand who music supervisors are and how music licensing works, you can get a start on it by checking out Disc Makers FREE guide, Generating Revenue By Licensing Your Music. And to fully understand the process check out the Licensing and Royalties chapter of our book Making Money With Music.]
Guest list tips
When you hand your guest list to the venue for them to use at the door, ask them to tell you when one of the people on your list arrives. This gives you a chance to thank them in person for coming and allows you to build relationship and generate opportunities. Studies have shown the urge to "give something back" only lasts for a short time, so make sure to ask for something both during the event as well as a day or so after. Since you invited them to come to your show for free, don't be bashful to ask for exactly what you'd like from them.
For press/media and reviewers. See if they're interested in covering you and if they want your press/media kit or any other helpful information.
Bookers. Ask if they want to book you. If they want to see the show first, ask them to come see you after the show or schedule a call with them the next day to talk about booking.
Radio, podcasters, streaming station owners. Ask if they'd like to have you on their show and send them a high-quality version of your music.
Businesspeople. Make a sponsorship pitch and tell them to not only see the audience and the show, but show them the places on stage where you'll feature their logo or advertising.
Music supervisors. Offer your music for licensing and ask them if there are any projects they're doing that might be a good fit for your music.
Of course, to make the most of the guests who attend, it's especially useful to have someone on your team who isn't on stage to talk to them during the show to build the relationship, such as your manager. Whoever it is on your team, make sure that person has the right people, conversation, and business skills to make the most out of their time with these influencers.
— — —
Make sure to follow-up with all of the people on the guest list the next day whether they went to the show or not. Take advantage of the hidden benefit of the guest list: it generates new opportunities even if they don't go to your show or event because, by reaching out, you'll be creating yet another impression. You'll be reminding them who you are, that you're active in the scene, what your music is like, and that you did them a favor — even if they didn't go. In fact, just being on the guest list might be enough to make them decide to respond back with an opportunity. Because of this, unless they explicitly tell you to stop, keep inviting the people you want to influence and be politely persistent so you can keep your name in their heads.
It's easy to forget that being invited and added to a guest list carries status. It might be free for us as musicians to add a few names to the list, but it's a powerful tool to build your promotion, business, and bookings. As you plan your shows, get the most out of them by adding these important influencers to every event guest list you have.
---
Authors of the critically-acclaimed modern classic, The Indie Band Survival Guide, Billboard Magazine called Randy Chertkow and Jason Feehan "the ideal mentors for aspiring indie musicians who want to navigate an ever-changing music industry." Their latest book, Making Money With Music (Macmillan) and free Making Money With Music Newsletter, help all musicians — from startups to pros — build a sustainable music business so you can make money in today's tech-driven music environment.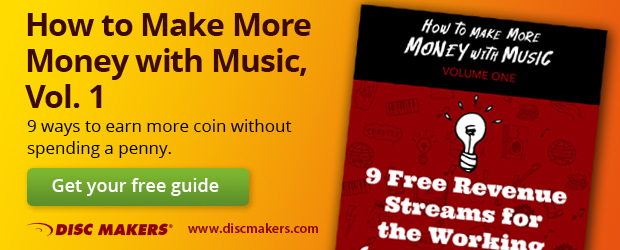 Related Posts
How to make more money at your merch table
Musician networking tips: Grow your revenue and audience
10 ways to generate publicity as a musician
How to get your music on streaming music stations
Choosing the right rewards for patronage and crowdfunding campaigns