Kick 2020 off right by making achievable goals and plans now. Use this list to help you decide where to put your time and energy to set music goals for 2020 and make it your best music year ever.
With 2019 coming to a close, it's the perfect time to set your goals and plan for 2020. As you think through what you want to achieve in the new year, we've come up with a few suggestions to consider to help you choose where to put your time and energy to help boost your music career.
Keep writing new music
You've got a whole year ahead of you, so plan at least one song, EP, or album release for this coming year. To help you create and get writing and recording, set a date so you have something to work towards. If your creative juices work best when you have some external motivation, then sign up for this year's RPM (Record Production Month) Challenge. It's a free online event that encourages you to create 10 songs or 35 minutes of original music during the month of February. By March 1, you'll have an album's worth of music recorded — which you don't have to officially release to the public just yet. Instead, you can continue to build, refine, and add to the material you created as you plan your 2020 releases.
Release multiple singles and EPs throughout the year
Once you have an album's worth of material, don't release it all at once! As we wrote in our Disc Makers Blog post, "A release strategy to fill your yearly calendar," instead of releasing one album, create a release schedule and drop music throughout the year. Break up the music on your album into singles and EPs, release these tracks at different times during the year, and make it all culminate in your big album release that pulls it all together.
Internet and streaming services are designed to recommend posts and videos from channels that make consistent and regular releases, and your fans love seeing new things from you. So give the world what it needs to boost how people listen and discover your music today. (By the way, our Disc Makers article is also available as a video. And for more detailed instructions on how to create a robust release strategy, check out our book, Making Money With Music.)
Unlock multiple revenue streams from at least one song this year
There are many revenue streams you can unlock from every song you release. There are a ton of components that make up the final track: individual instrument tracks, tweaked virtual synth sounds and effect chains, original beats, original samples you created specifically for the song, and more. Almost all aspects of the production process can be sold or licensed to create more music income. We've narrowed these down to three simple categories: products, by-products, and process extras. Check out our Disc Makers Blog post, "How to unlock dozens of revenue streams from one song," and learn what to capture in the studio this year when you start recording.
Create new merch for your fans to enjoy
Merch is one of the best and most reliable income sources for musicians, so it pays to have the right strategy. To make your merch plans for 2020, take a look at Disc Makers' new Merch Strategy Guide and come up with at least one merch item for your minnows, dolphins, and whales (take a look at the guide if you're not sure what that means!). Merch can go well beyond t-shirts, posters, and caps. There are a ton of ideas and the guide has many categories of new merch concepts that you might want to try in 2020.
Make money from your social media
In our Disc Makers Blog post, "How to make money off your social media channels (no matter how many followers you have)," there are techniques you can use to make money from your very first social media follower. Since these methods are available even if you're just starting out, adjust your social media and choose one method to start turning these platforms into revenue generators rather than just a publicity method to get new fans.
Plan your marketing and try at least one new technique
Determine how you'll market yourself this year. If there's one thing musicians are great at, it's being creative, and marketing is one of the most creative parts of the music business. Our book, Making Money With Music, goes into great detail about developing a marketing plan, but you can follow a simple process we outlined in a Disc Makers Blog post so you can build your plan from the ground up. One publicity strategy you might want to try this year is piggybacking on current trends using hashtags. Or try these seven free and effective promotion strategies which can be extremely powerful with the right mix of effort and creativity.
Target at least one new place to get your music heard
When it comes to getting your music heard this year, try focusing on at least one new place. For example, you might try getting your music on any one of the numerous streaming music stations on the web. There is an entire universe of webcasting radio stations hungry for new music to play. To get yours played, check out "How to get your music on streaming music stations."
— — —
You don't have to do everything suggested here, but know that each one is achievable and well within your reach and the related articles will give you practical info to get started turning these ideas into a reality. With a little bit of goal-setting and planning, you can make 2020 your best year yet when it comes to creating, distributing, promoting, and generating revenue from your music. So, go on, make some new music, get it out into the world, promote it, turn on those revenue streams, and start making (more) money with music.
Also, remember that you're not alone: we're with you every step of the way through our posts here on the Disc Makers Blog as well as through our free Making Money With Music newsletter.
Most of all, have a wonderful, music-filled decade starting with 2020!
---
Authors of the critically-acclaimed modern classic, The Indie Band Survival Guide, Billboard Magazine called Randy Chertkow and Jason Feehan "the ideal mentors for aspiring indie musicians who want to navigate an ever-changing music industry." Their latest book, Making Money With Music (Macmillan) and free Making Money With Music Newsletter, help all musicians — from startups to pros — build a sustainable music business so you can make money in today's tech-driven music environment.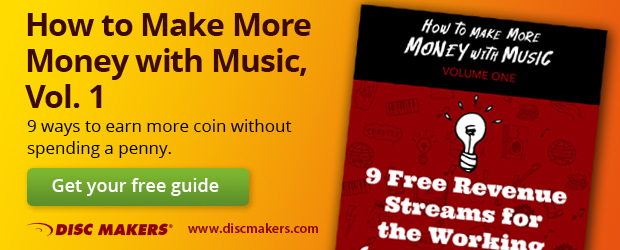 Related Posts
A release strategy to fill your yearly calendar
How to unlock dozens of revenue streams from one song
You need to sell merch — here's why
How to make money off your social media channels
How to generate music marketing, promotion, and publicity opportunities
Piggyback on current trends using hashtags
7 effective strategies to get your music noticed
How to get your music on streaming music stations