There are many reasons why finding a local, experienced vocal teacher might not work for you, so an online vocal program might be your best option. I took the "Master Your Voice" online class from Ramsey Voice Studio to get a taste of what online vocal lessons can do.
I've been singing pretty much my whole life, starting in the 4th grade when I hit the stage as Scrooge in a musical production of A Christmas Carol. In the early '90s, I was fronting a hard rock band and took my first formal singing lessons from an excellent vocal coach in north Philadelphia who specialized in rock vocals. She helped me tremendously, and while I had difficulty putting some of the techniques to work in a live context (I tended to make an aerobic exercise of performing), she grounded me in proper technique, helped expand my range, and kept me on track for the vigorous rehearsal/gig schedule we maintained.
After that band broke up, I sang in various projects, from loud original rock bands to acoustic cover duos, which kept my vocal chops honed. But for the past decade, I haven't really done much performing, so when I recently started playing in a band and putting a new acoustic project together, I was concerned when what should have been pretty simple vocal parts were difficult to sing and my range and stamina seemed very limited. I figured some of it was due to age (I'm in my 50s now) and that I'd be discovering where my new limitations are, but I also recognized that some of it was just a matter of waking up my vocal chords and singing apparatus. Over the past few months, I've been consistent with rehearsals and practice and find my voice and range returning, but I also recognized that I lacked a warm-up routine or any sort of practice ritual, which are necessary components to getting back to being able to call myself a singer.
So when vocal coach Matt Ramsey, who has recently contributed to the Disc Makers Blog, asked if I knew someone who might be interested in taking his online singing course in exchange for an honest review, it was a natural opportunity for me to test the waters. Having taken lessons in the past and really appreciated how my instructor could immediately home in on my poor technique or help me recover from fatigue and the effects of repeated live gigs, I was curious how a pre-programmed set of video lessons from an instructor who couldn't react to my voice-of-the-day would work. Here's what I found.
Challenges
Scheduling. One big challenge was working this into my schedule. I do most of my work at home, which you'd think would make this easier, but there's something about having to stop what you're doing, go to another location (like a vocal studio), and commit to a schedule. Taking online lessons from home requires a different sort of discipline, and while I have that, there's always something that NEEDS to be done with work, etc., so stopping that to take a vocal lesson at my work station sometimes felt like I was shirking my responsibilities. Also, as I'm at home, finding a place to be able to let loose and make sounds that I know are not beautiful singing meant that I either needed to wait until I was alone in the house or was in a place (mentally and physically) where I didn't care if these crazy sounds leaked out and were heard by anyone else. That's all on me, but I can't be the only one who might feel self-conscious working through vocal challenges with an audience present, so it's something to recognize and deal with.
Internet bandwidth. It didn't happen often, but at least once I had set time aside to train and experienced Internet issues, which blew up the day's plan. Something to recognize when planning your online vocal regimen.
Positives
Personality. Matt is a very personable instructor and even though this is a video class, it really did feel like it was a one-on-one session in many ways. Of course, there wasn't personal feedback or an instructor who could head off a slide into poor technique or do an on-the-spot correction, but I was genuinely impressed by how personal this felt. I often found myself responding to Matt when he'd say, "Ready to try your scales?" Maybe that's just me gone crazy.
Audio/video quality. The audio and video quality are excellent. Matt does a great job with the editing and quality of the video and audio from beginning to end.
Programming. The videos complemented and set up the audio scales/workouts. Having Matt explain why a certain vowel sound or consonant sound was causing me to sing in a certain way was helpful and made sense of what the upcoming warm-ups were intended to accomplish.
Progression. The course followed a logical line from warm-ups to chest voice to upper register to vocal effects, and it was nice to build momentum and confidence along the way. The inclusion of popular songs was a nice touch, including links to karaoke versions, and that's something I can see myself returning to later on.
Choices. At various times throughout the program, Matt includes variations on a scale or warm-up exercise that provides alternatives if there was something that was challenging or not quite resonating with the previous exercise. And even when the first idea worked fine, it was great to have other options to provide variety.
Examples. Throughout the course, during the video segments, Matt provides guidance and sings the upcoming scales in the manner you, the student, are striving to sing. The examples of the tonality and placement of the sound is key to emulating the correct technique and doing the exercises correctly.
The final 30-minute session. It's awesome that I can revisit and indeed keep taking this course over and over to continue to improve and target specific things I might want to work on on a given day. In addition to that, the course ends with a 30-minute session that incorporates everything covered in the course, so I'll have an excellent vocal lesson to go back to as a daily exercise, as a recurring warm-up, or to get myself primed for a performance.
Suggestions
Flying blind. It's great that the scales and exercises often went beyond my range — I'd often switch down an octave as I reached notes that were beyond my abilities — and then flip back as the scales descended again. But it would be helpful to know where I was on the scale to gauge where my range was on a given day and as a benchmark for future sessions.
Don't forget to breathe. In my previous life as a vocal student, I recall how often my instructor would remind me about using my breath to support notes as I got to the higher part of my range. Matt didn't repeat that so often, and I relied on some of those memories as I worked through this course. There is a section on diaphragmatic breathing and posture, and I found myself thinking consciously of that as I was warming up for later sections. But for something like the lip trills, which I was having a difficult time doing well, I had a revelation about breath support that made that exercise take a turn for the better. On a positive note, more than once, after a section or a couple of scales, Matt would say something like "you might be feeling a little fatigued at this point, and this is why…" and it was uncanny in that it was precisely something I had been thinking and feeling. It's another example of how this course has lots of personal touches even in the context of it's being a pre-recorded program. It also speaks to how Matt's experience as a teacher pays off.
Some raw notes I jotted down as I worked through the session:
Warming Up/Breath Control/Vocal Tone
I like the way the class is introduced. It feels like a private lesson. Well edited, sounds good, I'm ready to get into singing!
Lip trills. I've done these before, good advice to put your fingers on the sides of your cheeks. (15% done)
Breath Control/Vocal Tone
Lip trills are not getting any easier for me. Trying to figure out why.
I like the 15-second forward/reverse feature on the player.
Definitely doing some exercises I've never tried before. The five-tone "gug" is a new one. (26% done)
Vocal Agility
I'm using the lip trills and straw exercise (modified) as a warm-up, and I'm finding it helpful that as I'm doing the exercise, I am glancing at the lessons that come after and it's reminding me to keep my posture and breath control aligned, so I'm feeling mentally ready to go.
OK… reality check. I was having a difficult time hitting the high notes in the "male" scales when we got to the high notes. Sang some of the scales an octave lower, then jumped back up when I could hit the high notes. Listened through the female scales, I was performing some of these in the earlier sections… that ain't gonna happen.
Hitting High Notes with Power
It would be nice to have an idea as to what the lowest and highest notes are in a given exercise. I'm curious to know where I'm topping out.
This is exposing the areas where I need work. It's difficult to hold the notes as I'm getting into the higher part of my range. I'll be coming back to these exercises in the future.
Whew. I'm spent. Will circle back to the high notes and keep plowing ahead. (42%)
Lip trill breakthrough! I really worked my diaphragm, kept pushing air from the bottom of my diaphragm and didn't lose lip flapping. (53%)
Like that we have multiple choices for the sounds. The "bratty bae" was easier and more effective for me that the "bratty nae" for example. (67%)
Belting/Singing Without Strain
There is something satisfying about seeing the "percentage complete" number rise. (83%)
Vocal Effects
There is less talk about using my breath and breath control than I had heard from lessons past.
The 30-minute session is excellent. Nice to have it all served up like that in one session. I'll be using that on my way to performances and before rehearsals.
100%! Feels good. Thanks, Matt!
I don't know that there's anything better than finding an experienced local teacher who is focused on you and developing a weekly, in-person vocal program with him or her. But there are many reasons why that might not be feasible (or available). There is a glut of online lesson plans to learn everything under the sun, including music, but it's a hit-or-miss proposition.
This program was as close to a personal vocal coach as I could have expected, and with the potential to schedule a Skype lesson with Matt or contact him with questions will certainly help fill in some gaps or help you get answers to anything you might be struggling with.
Wherever you are in your journey as a vocalist, if you're considering online vocal lessons, I'd suggest Ramsey Voice Studio's "Master Your Voice" program is an excellent way to learn the ropes, hone your chops, or get your voice in shape for the next chapter in your story as a singer and performer.
---
Enrollment for Master Your Voice only opens a few times each year. To get on the waiting list and receive 10 free video singing exercises, click here to sign up.
---
Andre Calilhanna is a singer, drummer, and songwriter who manages, edits, and writes for the Disc Makers, BookBaby, and Merchly blogs.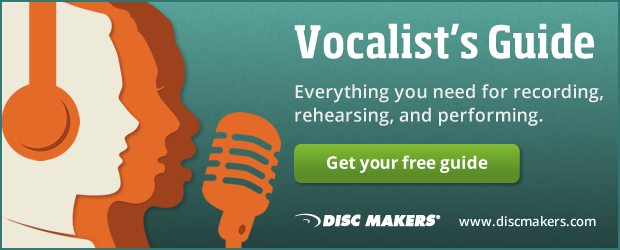 Related Posts
Falsetto, vibrato, and other natural vocal effects you should master
Add natural vocal effects to your songs
Vocal exercises – Vocal warm ups for your upper register
Singing Tips – A Vocal Warm Up Is Key To A Great Vocal Performance
Singing tips for vocalists in any genre