Your social media channels provide more than a platform to reach your fans with new music, there are many ways to make money — and these income sources can start with your very first follower.
Posting, tweeting, re-tweeting, liking, and sharing are all social media activities that don't directly generate revenue for your music business. Worse, if you don't use them strategically, these activities can waste your time when you should be creating or recording new music, booking shows, getting your music licensed, and making merch.
And yet, there are plenty of stories of how much money celebrities, social media superstars, and "influencers" make from their social media. This makes it seem like you can only hope to make revenue if you have millions of followers. But, the Internet has become very good at monetizing the long tail, and there are ways within your reach to make income from your social media presence even if you have a modest following. In fact, you can start making money from your very first follower, and with every new level of popularity, you'll have new income sources available to you.
What to do when you have between one and 1,000 followers
When you're starting out, besides simply focusing on growing your following, your social media should market and boost your existing revenue sources. These are the same revenue sources any musician has when you first build your music business, so setting these up with social media in mind can help you generate revenue as soon as you go live.
Affiliate sales
Affiliates are a free income source that can generate revenue starting with your very first follower. We cover this big topic in detail in our book, Making Money With Music, but the gist is online stores offer financial incentives for you to send them customers. They do this by giving you the ability to make special links that track where their traffic is coming from and give you a cut of whatever your referrals buy.
Even your first fans are interested in your albums and merch, so you'll want to make affiliate links for all of them at the outset. It gets better: because of how affiliate links work, you get a cut of everything your fans buy once they get to the store, not just what you provide links to! You can mention the products, gear, or music software you like or use and get a cut of whatever people buy if they use your link to purchase them.
Good affiliates to join include Amazon, iTunes, Zazzle, and eBay. You should also consider joining aggregators such as Commission Junction and Rakuten and use them to get affiliated with major retailers.
Ad-share for videos
If you sign up for YouTube's Partner Program and Facebook's Rights Manager you'll be able to generate revenue from video views. Each of these has different rules on how they work, however, ad-share programs like YouTube's ContentID work no matter who is using your music, including your own channel. If either program doesn't accept you right away, you can start monetizing your videos using CD Baby or ContentID services like Audiam, or Indentifyy.
Link to your products, merch, streams, and shows
All the above only work if you use some percentage of your social media posts to plug what you offer or sell. Don't forget when it comes to marketing yourself and your music, you should always have a goal, such as "increasing show attendance" or "generating revenue." Otherwise what you're doing isn't marketing, it's just talking.
To help generate revenue, a certain percentage of your social media posts should include links to your t-shirts, streams, ticket sale sites, and more. The key is to balance how many times you do this so your social media doesn't simply become a constant advertisement. One recommendation is for every 5-7 posts, you should include a post that focuses on what you offer — song streams, merch, live shows, and more. Remember it usually takes many mentions (sometimes seven or more) to get someone to actually act on something they've read or heard, so keep talking about your products, shows, and streams even when you talk about other topics.
What to do when you have between 1,000-5,000 followers
Besides doing all the above, when you reach 1,000 followers, you now have an audience size that other businesses want to tap. This is also known as influencer marketing and there are social media promotion services that will pay you to get access to your audience.
Although 1,000 followers might seem low, businesses like personalities who have a close relationship with their core followers. Savvy business owners know that it's effective to promote their products and services through sponsored posts, product placements, or insert ads because your followers tend to not see it as an ad but rather a trusted reference. Not every artist will feel comfortable doing this, and you'll have to decide if it's right for you. That said, you're in charge, and you can decide which products and services match your identity and persona.
Social media promotion services
You can use influencer marketing services like Famebit, Hi! share that, and Sni.ps to help monetize your channels. Know that some of these specialize in particular platforms, such as YouTube or Instagram, so you might use different ones depending on your mix of social media profiles. Keep your eyes open because more of these seem to pop up every day and they each have different rules and methods. You need to find the ones that are right for you.
What to do when you have between 5,000-10,000 followers
Once you've achieved over 5,000 followers, you can now start working on direct deals with businesses. For example, at this level you can start with local sponsorships and affiliate deals. Make sure you know your social media stats and demographics per social media channel, since having this data on hand can help you cement a deal. Keep track of your number of followers, average age, gender percentage, location, number of link clicks (engagement), and more, all of which are available through the social media platforms and social media tools. Businesses will want to know who exactly they're reaching if they pay you, so know the details since this can give you additional leverage.
Local and regional sponsorships
If you have a lot of fans in a particular area, you can start hitting up local pizza shops, bars, and retail stores. This allows you to not only monetize your social media but also offer advertising space on things like your stage backdrop.
Affiliate sponsorships
You can also start using podcast or vlogger-style episode-based sponsorships. These types of sponsorships are structured similarly to what we described with affiliate sales above, but allow you to use the sponsors' name in the middle of the podcast. It usually involves a special link that fans can use to sign up for a service, which might give you a cut of what you refer. These are usually monthly subscription programs, like Audible or Masterclass. But again, you should choose the types of services you're comfortable with and that most closely match your identity and persona.
What to do when you have 10,000+ followers
At this level, businesses will be hungry to do direct deals with you to get access to your audience. These deals are only limited by your imagination and negotiation skills. Obviously, the larger your following, the more these deals are worth. It might even pay to use an agent and lawyer at this point. Here are some ideas to fuel your work with them.
Sponsorships and endorsements
Sponsorships and endorsements are direct funding deals that can go beyond simply negotiating a fee for access to your social media followers. Instead, these deals are typically part of a broader advertising and public appearance arrangement. For example, beyond accessing your social media followers, it may include licensing your likeness for a business' advertising campaign or having you appear at events — whether to play live, talk, or just show up for photos.
Paid likes and links
When you get to this level of followers, you can start charging businesses to have you like their posts or link to their posts or products.
Product and service placements
Businesses that run their own social media channels which focus on long-form or short-form video, such as YouTube or Instagram, will pay you to include their products or services in your content. This method is best if you want to avoid direct ads in your feed but are fine with adding in sponsored products in the background of a video or picture.
Native advertising
You can also charge for advertising — allowing commercials and direct ads into your feed as part of a business deal. This can work well for musicians if you end up writing a song, or doing a commercial for a major brand. A good example of this is Pomplamoose's commercial for Hyundai.
---
Authors of the critically-acclaimed modern classic, The Indie Band Survival Guide, Billboard Magazine called Randy Chertkow and Jason Feehan "the ideal mentors for aspiring indie musicians who want to navigate an ever-changing music industry." Their latest book, Making Money With Music (Macmillan) and free Making Money With Music Newsletter, help all musicians — from startups to pros — build a sustainable music business so you can make money in today's tech-driven music environment.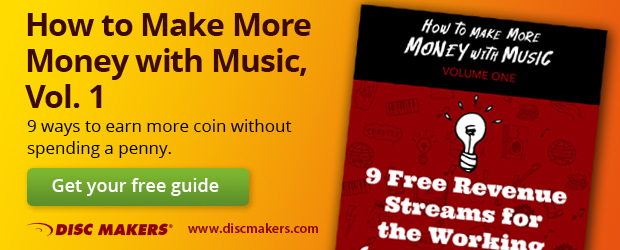 Related Posts
Five qualities to look for in an entertainment attorney
Getting the most from your entertainment attorney
How to promote on social media when you have zero followers
How to generate music marketing, promotion, and publicity opportunities
Collect everything your recorded music can earn: Pt. II