While it might be impossible to play EVERY style of music there is, you can gain confidence, experience, and new ideas playing in musical genres outside of your regular routine.
As indie musicians, we can easily define ourselves by the genres and roles in which we feel the most at home — rock guitarist, jazz bassist, R&B singer, trap producer — but I encourage you to focus more on the overall "musician" aspect and less on the descriptor that proceeds it.
The reason is that diversifying what you play and taking advantage of opportunities to perform, write, record, and rehearse all sorts of different styles of music makes you a better musician overall. Widespread experience also makes you stronger and more creative when you return to making music in your style of choice.
Without exception, the most talented, competent, and creative musicians I know are equally fluent in a wide array of genres, and I believe that their brilliance is largely a result of their omnivorous appetites when it comes to musical styles. Here are some specific benefits that come from playing all sorts of material, and not just your genre of choice.
You see parallels across styles
I grew up learning classical and jazz piano before branching out into rock, funk, and other genres. I also grew up with a taste for rock and metal ranging from Pearl Jam and Nirvana to Metallica and Tool. It wasn't until I started playing in a traditional, New Orleans-style jazz band in high school that I began to see how closely related the genres of hard rock and trad jazz were. Kick and snare patterns commonly used in early 1900s jazz grooves reminded me of the underlying drum patterns of many faster metal songs, for example. Similarly, the way Louis Armstrong-era trumpet, trombone, and clarinet interweave in tight harmony and contrapuntal lines made me think of how guitar parts interplay in standard hard rock and metal contexts. The list goes on.
You get inspired with new ideas
In preparation for a recording session with my trad jazz band, I remember struggling with my piano solo for one song in particular. I ended up launching into it with a descending, chromatic figure, played in triplets, that was inspired by similar figures I'd heard in hard rock. I'm proud to say the figure fit the context of the song very well and gave me a strong creative springboard for the rest of my improvised solo. Similarly, when I play aggressive, rock-based material on piano or keyboards — whether solo or in a group setting — I often find myself drawing ideas not necessarily from other rock material, but from my trad jazz experience. So many old-school melodic and rhythmic directions translate perfectly to a current rock context that I never find myself short of ideas.
Your musician network gets bigger
You may already know everyone in your genre's scene, but you can meet a whole new circle of talented musicians when you start rehearsing, gigging, recording, or producing in a different style. I experienced this recently when I got an unexpected call to play in a traditional Scottish band in New York City; I met some amazing instrumentalists who specialize in Scottish and Celtic music and who I never would have otherwise crossed paths with. They were great people and players, and I'm grateful to have met and worked with them.
New gig opportunities come up
Musical friends of mine have found deep and unexpected reservoirs of work playing in genres ranging from Yiddish dance to nerdcore rap. When you start playing a different genre of music — and do it with diligence, skill, and professionalism — you never know what sorts of doors for longer-term work will open for you.
You grow as a musician
When I started playing Scottish music, I was pleasantly surprised by its hidden complexity. Though the harmonic progressions and song forms for many tunes were quite straightforward, the rollicking melodies, themes and variations, and complex interplay between instruments were not. Playing with this band pushed my listening and grooving skills in a very good, productive way. As a result of having to up my game for those earliest Scottish gigs, I felt stronger and more assured the next time I sat down with my jazz trio for our bi-monthly residency show.
It can help you break out of a rut
Playing the same music or the same style over and over can make you feel stagnant. If you find yourself creatively stopped-up in your primary genre, it never hurts to go deep into a style that feels completely different. Maybe the way you have to phrase your guitar lines in your new blues jam session will help you approach your folk songwriting with fresh ideas; perhaps working on orchestral percussion for a musical theater production can give you new textures to play with when you return to the beat-making that you love.
Always stay sharp
It's hard to get bored when you're learning new styles, harmonies, chords, melodies, production techniques, and groove patterns. Biting into a wide variety of genres will keep you discovering new things and will elevate your playing, your musicianship, and your music career as a whole.
Have you seen personal benefits from playing in a wide variety of genres? Tell us in the comments below.
---
Disc Makers' regular contributor Michael Gallant's debut trio album Completely received a four-star review from DownBeat magazine and a five-star review from Critical Jazz, which stated: "This, my friends, is the future of jazz. Fresh, invigorating, progressive – there are simply not enough positive adjectives to list here." Learn more, download through iTunes, or purchase through CD Baby. Follow Michael on Twitter at @Michael_Gallant or on Facebook.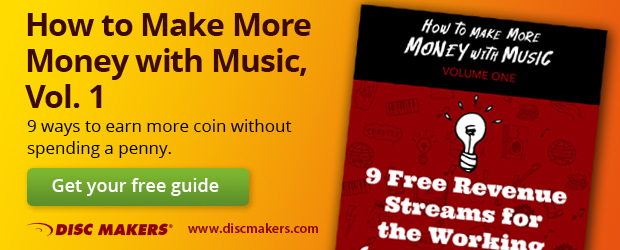 Related Posts
Why you should learn another instrument
Six things I learned watching Chris Cornell cover other people's songs
Are you too old to learn to play an instrument?
Getting out of a creative rut
Songwriting tips to help you stay creative