There's a universe of streaming music stations to explore where you can get your music played to grow your fanbase and get coverage of you and your music.
If you want to get your music heard so you can grow your fan base, there's an entire universe of webcasting radio stations waiting for you. Similar to terrestrial radio stations, these stations use the Internet to stream music to listeners. Each station might feature a regular rotation as well as specific shows you can submit to.
Although platforms like Spotify or Apple Music have streaming radio options, we're going to focus specifically on how to get played on webcasting radio stations hosted at services like Live365, SHOUTcast, and Radionomy. These are large platforms that allow anyone to create, manage, and webcast their own internet radio station, which can include music, shows, or a mix of both.
Although the cost to submit is free, there are optional pay-to-play options. With just a few hours of preparation, you can get your music played within weeks. Follow these directions to get your music on streaming music stations.
Prepare your content
Before you begin, you'll want the following at-the-ready:
MP3s and WAVs. You'll need high-quality, release-ready MP3s and WAVs of your music ready to go. Note that some stations might have specific format requirements, so be prepared to create these if necessary.
Bio. Streaming stations will have specific bio and submission requirements, but you still should share a short version of your bio.
Press/media kit materials. Some stations may want additional information about you, which you likely have at-the-ready in your press/media kits. If you are submitting to Internet radio shows where they interview and feature artists, your kit is a must.
Simple tracking system (aka spreadsheet). You'll need to keep track of who, where, and when you sent your music and any supporting material (press/media materials such as a fact sheet or your bio). A simple Excel spreadsheet works fine.
How to make money
The way to make money from getting played on streaming Internet stations is through royalties. To do this, you'll want to be a SoundExchange member and register the music you're trying to get played. It's free to sign up and since you can make money, don't skip this step and miss the performance royalty checks. (For more detailed info about how royalties work, with the full 14 registrations required to get all the money you're owed on your music, see our book, Making Money With Music.)
How to get played
Armed with your MP3s and promotion/bio materials, follow the next steps to research what stations fit your music.
1. Research internet radio stations and determine which ones match your music
At this stage, you'll be researching two things. First, you'll want to find stations in your genre and style of music that will likely add your music to their regular playlists. Second, you'll want to find stations that have shows that may feature your music or interview you. To do this, use aggregator sites like Filtermusic and Streamfinder, or platforms like Live365, SHOUTcast, or Radionomy to search for artists that sound like you.
Each station will have a format, or playlist of music, that it plays in rotation. Add any that fit your music in your spreadsheet under a column titled "Rotation." One way to do this is to find artists similar to you and find out which stations may be playing them. While researching, add a column called "submission rules" so you can keep track of what you'll need to submit and what webpage to use. Typically, these stations have websites that outline their submission instructions.
2. Research internet radio shows that match your music
Each station you discover might have 24 hours of programming and have specialty shows which might play your music even if its main rotation doesn't fit your style of music. For example, college stations are often streamed and, while the general rotation may not feature your music, they often have genre shows that will. Because of this, try to determine if any of the station's shows are possibilities for your music and if so, add this info to your spreadsheet under a column called "shows." For those shows you want to target, be sure to find out who the producer and host are since they will decide if your music will be featured. Often, shows have a webpage where they outline their submission instructions. Add this info to your spreadsheet.
3. Submit your music to your targeted station and show list
Once you've done your research and completed your target list and spreadsheet, it's time to start submitting. Be sure to follow their instructions, since not providing something or bypassing their process could get you ignored.
4. Keep tabs of the submissions
After submitting, keep track of the responses in your spreadsheet. Many are automated systems, but if a person gets back to you, be sure to use good PR techniques, like being politely persistent, to increase the likelihood of being played.
5. Track your plays
Being added to the rotation or being featured on a show doesn't necessarily mean that they will inform you if you get played. It's more likely you won't know if your music was played unless you listen to each station or they keep a log on their website. That's one reason to create alerts with your artist name and the name of the songs you submit. You can do this with services like Google Alerts.
Note that sites like Live365 have pay-to-play options as well. This allows you to submit your music once and make it available to stations on their platforms. It costs money, and there's no guarantee your music will get played, but it can be a method to get your music in front of people who run streaming stations.
Conclusion
When you get played on an internet streaming site, don't forget to share a link with your fans on social media. This ends up cross-promoting the station or show, which they appreciate. But, most importantly, don't forget to send a thank you to the radio station or show host/producer as well. Keep that station and the connections you made there on a contact list because they are the most likely places to play you again. They'll love getting sneak-peeks before your next release and often want to be part of your "insiders" who get your next track before the public hears it. Also, don't forget to add them to the guest list of any live shows you play in their area.
Finally, when you get played, be sure to publicize it and use your success as a reason to reach out to those stations and shows that haven't responded or played you yet. It's social proof people like and play your music. Also, use it as a trigger to reach out to new stations you haven't sent your music to along with a link to proof of coverage. Each play you get builds momentum and can be leveraged to convince others to give your music a spin.
---
Authors of the critically-acclaimed modern classic, The Indie Band Survival Guide, Billboard Magazine called Randy Chertkow and Jason Feehan "the ideal mentors for aspiring indie musicians who want to navigate an ever-changing music industry." Their latest book, Making Money With Music (Macmillan) and free Making Money With Music Newsletter, help all musicians — from startups to pros — build a sustainable music business so you can make money in today's tech-driven music environment.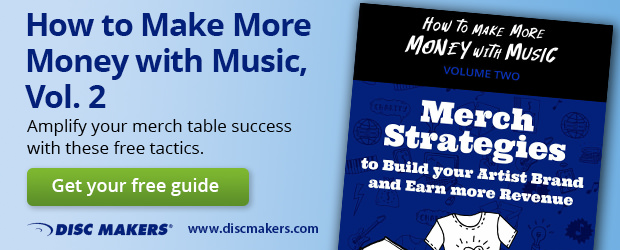 Related Posts
How Much Does Streaming Pay?
How to generate music marketing, promotion, and publicity opportunities
Collect everything your recorded music can earn: Pt. I
Collect everything your recorded music can earn: Pt. II
Craft three band bios to describe you and your music