Building relationships, knowing what a booking agent is looking for, and being prepared can help you master booking your act.
Over the years, I've worked with a lot of musicians trying to book gigs and there's one thing that seems to hold everyone back from making progress at one point or another: phone phobia. So many musicians have a fear of making important phone calls.
What's behind this phobia? Why is it so common among artists who book themselves and, more importantly, how can you overcome it?
The root of the problem
I've found that phone phobia is typically caused by three things:
Fear of rejection. This is a big one because it has the potential to make you avoid ever calling prospective bookers at all. No one likes to be rejected, and as an artist doing your own booking, it can be even more of a problem because you're so close to your work. It's easy to take a rejection for a gig as an attack on your artistry, and that hurts.
Not knowing what to say. When you're unsure what to say or how to steer the conversation, you may come off sounding scattered and unprofessional. This will certainly add to your lack of confidence in an already uncomfortable situation.
Avoiding the "hard sell." Many artists are hesitant to make booking calls because they don't like to sell themselves or "blow their own horn." I hear this so often. It can be uncomfortable to list your accomplishments in a self-promoting way.
Let's address all three issues and explore solutions you can use to improve your phone skills and be able to pitch yourself with confidence.
Make a personal connection
Many artists try to avoid the issue by sending mass emails to potential bookers and venues so they feel like they're doing work and making progress. But the reality is, this is a person-to-person business and mass emails aren't going to get you anywhere. You need to approach each booker as a relationship-building exercise and deal with each individual and their unique situation if you want to be successful.
It's important to remember that when you make the calls to venues is important too. If you call venues while they're working on their booking calendar, you'll have a much better chance of booking the gig. (We have a free guide you can download that spells out the best times to call different types of venues.)
Make "friendly calls"
Ease into the process. Start with people or contacts you already know, or who have been referred to you by people you know. Or start with calls within a close circle of contacts rather than calling large unfamiliar venues that have little chance of knowing who you are.
Create a list of venues you've played, as well as friends and acquaintances who have hosted house concerts. You might also list other bands and musicians you know or anyone else in your circle who may know someone at a venue.
Once you've compiled your list, use it to make calls about gigs. Call venues you've played before to determine if any of your connections can give you an introduction to other venues.
By starting with known contacts, you can practice your pitch, get more comfortable with the calling process, and have more of a chance of being well-received by the booking agent. This will raise your comfort level and confidence.
You'll have a much better chance of having your call received and your act considered when you say something like, "Joe Smith at ABC venue suggested I give you a call after we played there. He thought you might be interested in presenting our show at your venue since your audiences are similar." Boom! You are in and they are receptive because Joe sent you.
With time and effort, your list of connections will start to grow as you get introductions and play at new venues. This will allow you to expand outward from your home base and build a strong fanbase and network. As you expand, you create market demand, first in a concentrated area and then wider and wider, which increases the potential of being chosen and lessens your chances of rejection.
Prepare for your calls
Knowing what you are going to say when you call is only half the picture. The other half is knowing as much as possible about the venue or contact you are calling, so it's worth doing a bit of research about the venue, their schedule, their previous shows, and the community they serve.
Think for a second about how this approach is different from just sitting down with a long database of potential venue numbers and calling one after another.
By preparing for each call individually, you can focus on the venues you really want to play, which make sense for you as an artist. This reduces the number of calls and allows you to concentrate your efforts on the right calls — the ones most likely to result in a YES!
By understanding as much as you can about the venue and their programming challenges, you can formulate a conversation that focuses on the call recipient and talk about their concerns first.
Solve their problem
Understand what you have to offer the venue to help solve their programming needs. Do this, and your call comes across with a sensitivity to the venue's objectives and situation.
Think about how your act can provide something unique to their schedule that serves a segment of their audience not currently being served. Make it less about you and more about them. Programmers love that level of understanding and will be much more receptive to your pitch.
This week, pick a venue or two and prepare your calls. Do some research, plan your pitch, practice your call, and make your call with confidence. You will soon have this phone phobia under control!
Let testimonials do the selling
A big part of pitching your act to a venue is establishing your value with the person you are speaking with. They need to know you are a good investment of their time, effort, and money.
If you're uncomfortable talking about yourself, a great solution is to let others tell your story for you and use their words, not yours. With this in mind, getting testimonials and reviews is extremely important for every gig you do.
Make an effort to reach out after EVERY gig to get testimonials and quotes from previous places you've played. You might also look into inviting live music reviewers to your gigs so you can get those reviews. They may not show up right away, but be persistent. This will give you valuable feedback and comments you can use to help tell your story and establish your value in their markets. It will make it much easier for you to sell yourself when you use the words of others who the buyer will hold in high regard.
Let's say the buyer asks you why they should book you over another act. You can pull out your review in the  local paper that said, "The band delivers every time, the audiences love them." You can also pull out the testimonial from the presenter and say, "well here's what Presenter X from the ABC Performing Arts Center said about working with us," then recite the testimonial.
This method of "blowing your own horn" becomes less painful and is much more credible.
—  —  —
I hope this post gave you some practical ways to get over your phone phobia so you can get out there and book killer gigs! Remember, practice makes perfect. The more you actually pick up the phone and call venues, the more comfortable you will become. Use each call as a learning experience to improve future calls.
© 2019 Performingbiz, LLC.
---
Jeri Goldstein was an agent and manager and is now an author, music business/performing arts career coach, key-note speaker, and seminar presenter. She provides valuable resources, instruction, and coaching to those navigating their way to a successful touring career. Having worked with some of the top touring acoustic artists on the circuit for 20 years, she has booked national and international tours for artists performing in music, theater, and dance. Get her free guide, The Best Times To Book Gigs, to learn more how to book better gigs.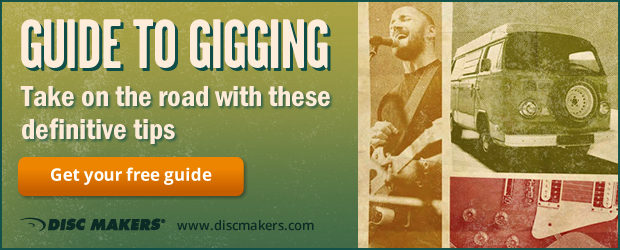 Related Posts
Develop a home base before moving to regional music venues
How to get the attention of a talent buyer or booking agent
Should you play gigs for free?
How to book high exposure music gigs as an independent artist
The Indie Artist's Guide to Gigging: Booking Strategies