Your merch table, along with the stage, is the place in the music venue representing you and your music. It's also a key source of income, so it's worth planning it out so you can make it easy for your fans to buy from you.
Your merch table is one of your most important revenue generators you have. Plus, outside of the stage, it's the only place in the music venue representing you and your music. So it's worth putting thought into it to ensure it attracts customers, encourages sales, and mirrors the image you want to project to the audience. Despite this, most musicians don't spend enough time imagining how to make the table visible, convenient, and customer-friendly to boost sales.
Your band's CDs and merch are the only physical mementos of your music your fans can take home with them. It's one of the only tangible ways they can capture the moment and the feeling they get from your live show. So, make your merch table an experience rather than an afterthought.
Here are some suggestions you can use for future live shows or appearances to improve your sales:
1. Use EL wire lights
Your merch table needs to be as friendly and inviting to your audience as possible. Use lighting to catch customers' eyes, but consider going beyond just Christmas string lights and consider EL wire lights. Besides being inexpensive, you can buy this wire in strips, which allows you to be creative about where to place it. These lights are also visible from across a dark music venue, so place your merch table in as accessible a place as you can, hang a sign above it, and frame it all with lights.
2. Don't be shy
Make it easy to view the merchandise (don't hide it all in boxes or crates) and mention your store a few times from the stage to call further attention to it. Consider putting a rug in front of your merch table so there's a visible merch area around it that invites people in.
3. Let the customers handle the merchandise
Once a customer picks up an item, they are far more likely to buy it because it's human nature to want something once we have it. Trigger this by letting them handle the merch. Wholesale vendors provide a huge number of inexpensive items you can buy cheaply in bulk which are easy to pick up and handle or wear at a merch table. For the best effect, make jewelry, bottle openers, plush toys, etc. available as your fans are waiting in line — just like the candy racks in grocery stores — so they have something to peruse while waiting.
4. Accept every type of payment method
Make it easy for your customers to pay. Besides having cash on-hand to make change, make sure you can take a customer's credit card by using services like Square or Stripe. And don't forget payment services like Venmo. Most of these are free and charge a fee for the transaction, so it's a good way to expand the number of customers who can buy from you.
5. Provide low-cost items to draw buyers in
Whether it's a $5 lighter or a $1 sticker, provide low-cost, impulse items to spark that initial interest, and once they bite, use that as a reason to upsell to try to get them to buy more. Throw in the truly low-cost items, like stickers, for free if they buy a T-shirt or poster. That way you trigger an upsell if they're about to buy the cheap item.
6. Provide expensive items for big spenders
Much of your income will come from your "whales" — high-rollers who want something expensive from your merch table. Score these big sales by making sure they have something to buy. Provide higher-end items like jackets, branded technology — like Bluetooth speakers — or other, higher-end products. Plus, these expensive items help your less expensive items seem more affordable, triggering additional sales.
7. Use pricing strategies to trigger more sales
Pricing strategies such as limited-time offers, limited-quantity offers, and discounted add-ons have a simple formula: grab people's attention, attract them to a product, and convince them they'll lose out if they don't act immediately. You can use this at your merch table by simply offering a discount or coupon and making sure it has a time limit. Also, try creating limited-quantity merch items. You get to say "while supplies last" and create an incentive to act now and make a purchase no matter what you're selling. Once you create the "fear of missing out," you trigger the impulse to buy.
Once you've gotten someone to get their wallet out, getting them to buy something more is much easier. Every time your customers are about to buy something (really, every time), offer something extra to see if you can get them to buy another item just before they check out. Whatever they're buying, offer something more expensive but tell them that for just $15 more they'll get the deluxe version. Put together bundles — buy the T-shirt AND poster for just $5 more. And don't forget impulse buys as well with smaller (often higher margin) items.
8. Keep the store open at least 30 minutes after the show
Don't just pack up your table and head off once the show is over. After the show is when a lot of your sales will happen.
9. Get someone to run your merch table
You need a team behind you if you want to sell merch during the show so you can focus on the music and not miss out on any sales when you're on stage. Get a friend to manage it or hire someone to staff the store for you.
10. Roll your T-shirts
Make it easy to transport and sell your T-shirts by rolling them with the logo and size label visible. Plus, by having them rolled, you're ready to throw them to a fan so you can make a quick sale. It's a key prep-step to do if you expect a long line and a lot of fans who want shirts.
Conclusion
All of these techniques will help you sell more, but no matter how cool your merch table is, it's your music and merch options you offer that will ultimately drive your sales. The merch you make shouldn't just represent you, the designs need to represent fans and should be something they want to wear, display, or hang on their wall. The more you can create items that they'll want to show their friends, the better you'll do at the merch table.
---
Authors of the critically-acclaimed modern classic, The Indie Band Survival Guide, Billboard Magazine called Randy Chertkow and Jason Feehan "the ideal mentors for aspiring indie musicians who want to navigate an ever-changing music industry." Their latest book, Making Money With Music (Macmillan) and free Making Money With Music Newsletter, help all musicians — from startups to pros — build a sustainable music business so you can make money in today's tech-driven music environment.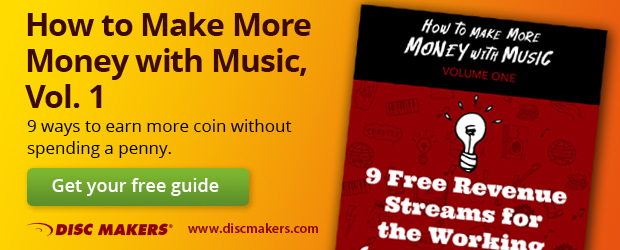 Related Posts
Give your music audience a chance to relive the moment
Are cassette USBs your next merch table hit? Indie Music Minute
Pricing merch for sales and profit
From your brand to your fans: Making music merch work for you
#TourLife hacks: CDs, merch, and fan appreciation with The Accidentals