The Disc Makers YouTube Channel has a great video series called "The Indie Music Minute" that features Tony van Veen, CEO of Disc Makers, distributing nuggets of information and actionable ideas to help you make the most of your career as an indie music artist. Here are three of our most popular videos so far, tackling the topics of being your own record label, mixing vs. mastering, and getting a mechanical license for YouTube. Like what you see? Head to our YouTube Channel and keep checking back, because there's always more to come!
How to start your own record label
I'm wearing my nice business shirt and I've got my calculator out because I'm going to talk about the business of being a record label. We have artists who are putting out a CD release and they want to know how to start their own label. If it's just you — you're the artist and it's your release — congratulations! You already are a record label. If it's a one-person business, you can just add it to your personal taxes at the end of the year with your own social security number. Track your revenues, track your expenses; at the end of the year, you can include that info with your personal taxes.
Now, I had a label — it was just me, but it had its own name, so I did have to file for a DBA (i.e. "doing business as") with my local government, with the state, and with the IRS. But still, at the end of the year, you can just file that on your personal taxes. Now if you want to build a large label, if you have dreams of having a label where you're signing other artists and you have employees and you're doing A&R — that's a whole different ballgame. Then you need funding, you need to plan, you need to be able to spot talent, you need distribution, you need promotion, etc. But there is a running joke in the music industry: "How do you make a small fortune with a record label? Start with a large fortune."
---
Mixing vs. mastering
Do you know the difference between mixing and mastering? Seasoned musicians probably do, and most of you probably understand mixing pretty well. Mixing is what you do in a recording studio at the end of the project. When you go into the studio, you record a bunch of tracks for bass, guitar, voice, keyboards, drums, etc., and you end up with 16 or 32 or even 64 tracks that have to all get mixed down to blend together — maybe with different effects on each track — to two tracks: left and right. That process is usually driven by the producer or the engineer. That's the mixing process and that results in your finished final mix.
Mastering is the next step of the creative process, and we usually recommend an independent engineer with a fresh set of ears to do this step. Mastering is where a mastering engineer listens to your recording and will add what it takes to make your final mix commercially ready. They may add bass or treble, they may compress it and limit it and raise the volume so that when your music gets played in a club or on a radio station or at some public event before or after another song, it doesn't sound like a lesser quality recording or play at a lower volume. That's mastering. We have relationships with a bunch of mastering studios nationwide that might be local to you and we have our in-house SoundLab that is very experienced at doing mastering projects for independent artists. It it doesn't matter where you do it as long as it's a good mastering studio with an experienced engineer.
---
Mechanical licenses and YouTube
When you record a cover song, you have to apply for a mechanical license to make sure the owner of the composition gets paid for every physical copy that gets made and digital copy that gets distributed. I got a question recently: "What do I do if I want to put a cover song up on YouTube?" Actually, with YouTube, it's pretty simple.
YouTube is protected by the Digital Millennium Copyright Act, so anybody can basically upload any recording of any composition and YouTube then uses their technology called "Content ID." With Content ID, YouTube can identify who owns the recording and who owns the composition, as long as it's registered. When YouTube knows those details, it can place ads on the video you've uploaded so the rights holders get paid. Our friends at CD Baby allow you to register your content so that YouTube can identify when your song is being used, so go ahead and upload your content and CD Baby can help you monetize it or get the rights holders paid if you're not the composer.
---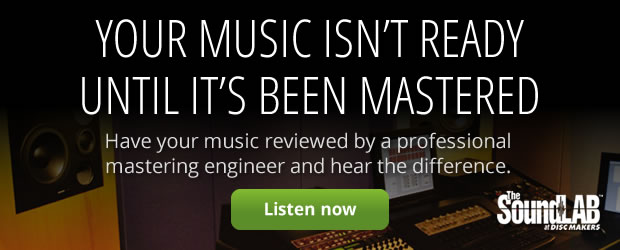 Related Posts
Running your own indie record label
How to run a successful record label (by giving away the music)
Audio Mastering – The Mysterious Post-Production Art Form
A look at the Music Modernization Act
Disc replication vs. disc duplication: The Indie Music Minute