By identifying and researching artists who are similar to you but have gotten more coverage and promotion, you'll learn exactly where to focus your own music marketing efforts. Plus, you'll learn where your potential fans are located because they've already found them for you.
When it comes to marketing your music and getting press and media coverage, it can be hard to know where to start. How should you approach your music marketing campaign? What places feature your genre? What's the best list of press and media that will most likely write and talk about you?
Fortunately, you can leverage one very efficient and effective technique to answer all these questions: let other artists do the hard work first. Find a successful artist or two who are similar to your sound or fan base, research them, and then do what they do!
The business world already employs this concept. Companies specialize in knowing their competition — and any similar businesses in their space — inside and out. For example, instead of hiring consultants to go over demographic data, Burger King had an easy way to choose the best locations for their restaurants: they figured out where McDonald's were located and built across the street from them.
There are a few steps to this technique that can boost your marketing and press/media results.
1. Identify successful artists in your space
Determine one or two successful artists with a similar sound or fan base as yours (genre, style, attitude, etc.). It's best to identify at least two: a local act who is well-known and a second one that is further along than you in your larger region (if you play live).
By researching these established artists, you'll be able to identify all the press, media, and places they've been covered, interviewed, reviewed, or mentioned — AKA, outlets that appreciate your type of music. Your marketing and promotion strategy, as well as your press and media list, begins here.
2. Do research and take notes
Do a web search on these artists to find out where they're talked about. Experiment with misspellings, keywords, and other search engine tools so you can dive deep. Carve out an afternoon so you can check way beyond the first page of search results and to explore articles, forums, and other sites that turn up. But your search should go beyond just the press and media since nearly every aspect of what they do can be explored and recreated.
Categorize every place these artists are covered, including:
Articles. Create a document to track music reviews and other articles about these acts. Include the publication name that covered them as well as the names and contact details of the journalists who wrote the articles as sometimes they are freelancers and drift between multiple publications. If you've found a similar artist, these publications and journalists are the most likely to cover your own music and are the best place to start generating publicity.
Venues. List all the venues they've played and then find out who the talent buyer/booking agent is for those venues. You can also research who books that artist since they are already familiar with your genre.
Websites. Take a look at the artists' websites and take notes on how they describe themselves, the press info they share, and how they present themselves and their music. Use this research to spark ideas and enhance your own website.
Social media. Note all of the social media profiles these bands maintain (and which ones they don't), as you likely will want to be in the same places. Also, get a feel for how they interact with and engage their fans. Make note of what works and see about adapting those techniques for yourself.
Ancillary websites. Track any music or other websites that list or refer to the artists. These could include credit database sites you should be registered with, such as AllMusic/Rovi, Gracenote, MusicBrainz, FreeDB, and Wikipedia. These are all places you should target to get listed or mentioned.
Message boards and discussion sites. Make a list of all the message boards and discussion sites where their fans hang out, such as Reddit. You'll want to subscribe to the major ones so you can use these forums to understand what people want and promote yourself.
Your goal with this search is to conduct a complete survey of the artists' coverage on the web. Time spent now will pay off down the road, since each place you find theses artists can be somewhere you could get coverage with the proper outreach.
(We've compiled 45 categories of places to get your music heard in our book Making Money With Music which can provide great places to start, such as MP3 blogs, streaming radio sites, and more. Most of these places have search bars which can help you find where these similar artists are getting played.)
3. Take action
Once you have your research completed, create a plan to modify your website and social media presences and another focused on your marketing, promotion, and publicity. When reaching out for press and reviews, mention the similar artist(s) in your email and cite their prior articles so they know why they'd be interested in your music. For example, "I noticed you wrote about Artist ABC, and since you liked them, I think you'll appreciate my music as well…"
Remember, promotion and publicity aren't "one and done" exercises, so expect to do follow-ups and additional outreach over the next few weeks. And be sure to "go to a no:" don't give up if you don't get a response right away. The press and media are notoriously busy and juggling multiple things at once, so be politely persistent. Also, once you get some coverage, use that when reaching back out to the outlets that haven't covered you as well as in your social media feeds.
4. Track your work and react when necessary
Use web and media monitoring tools like Google Alerts and Mention to track your own artist name, common misspellings, album names, and other identifiers so you can stay up on how well your promotion and publicity campaigns are working. These services will notify you via email of recent coverage and activity for the keywords you watch. Getting these alerts will give you a constant stream of fresh ideas as you piggyback on your own successes. Finally, don't forget to use these tools to track the artists you researched — when they get new coverage, you get a new target to aim for.
Conclusion
Although you should start this technique with one or two artists that are like you, you don't have to stop there. You can broaden your research to include topics or niches that are related to your music or lyrics. For example, if you do research to deeply understand your fan base in your region, you can get ideas on where they hang out, what they read and watch, and what they like. This can give you new or more effective ways to promote yourself or lead to new places to get your music covered in the press and media. Videos can be posted to any type of social media, so if your fans like skateboarding and one of your songs relates to this, you can post music videos to publications and outlets that are focused on skateboarding and skateboarding culture that might want to talk about your music. Think broadly, but find out where your fans already are and bring your music to them.
---
Authors of the critically-acclaimed modern classic, The Indie Band Survival Guide, Billboard Magazine called Randy Chertkow and Jason Feehan "the ideal mentors for aspiring indie musicians who want to navigate an ever-changing music industry." Their latest book, Making Money With Music (Macmillan) and free Making Money With Music Newsletter, help all musicians — from startups to pros — build a sustainable music business so you can make money in today's tech-driven music environment.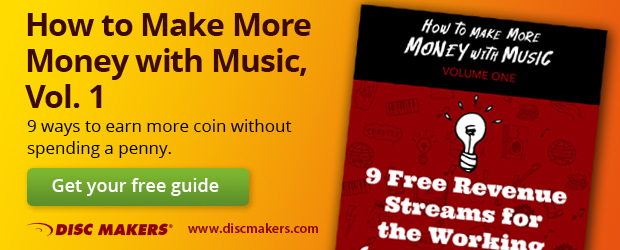 Related Posts
How to get the attention of a talent buyer or booking agent
Give away your CD (and make money doing it!)
Define your persona, find your voice, and build your artist brand
Tips for growing your mailing list at the gig
To make money with music, make sure you're easy to find