The parallels between the changes in the music industry and the publishing industry are striking. Just as the music industry tilted to give independent artists a fighting chance two decades ago, writers are enjoying the same power to bring their books to market as independent authors.
The mid-'90s marked the beginning of a massive paradigm shift in the music industry. Not only were CDs beginning to dominate the market, digital recording was becoming more affordable and portable, and within the span of a few years, with the help of companies like Disc Makers, being an independent musician meant you could actually record and control your releases and achieve legitimate career success without the need of a record label or a six-digit advance.
Of course, that didn't mean it was easy, and many artists did (and do) use their self-releases as a means of garnering label attention and support. But the legitimization of independent music artists as real, bona-fine players in the business was a tectonic shift in the music industry that changed things forever.
In the past decade, the book publishing industry has seen a similar shift as there has been a decentralization of power. It began with the ease and relatively inexpensive process of writing, converting, and distributing eBooks. All of a sudden, authors didn't need traditional publishers to bring their work to market. Now, with advances in digital printing, companies like BookBaby — the literary sibling of Disc Makers — are helping independent authors produce professional printed books and eBooks and get them to market without the need of a publishing house.
There are differences, of course. Along with the digitization of music and the ubiquity of the Internet, file sharing and streaming changed music distribution, as singles and albums could be easily transported, shared, and accessed through the cloud. Even with eBooks, the book industry doesn't have that same parallel, and in fact, physical printed books — which were predicted to be obsolete and dead by some industry insiders just five years ago — have solidified their position at the top of the food chain in the publishing industry. eBooks have their place, for sure, but the notion that eBooks will eclipse and diminish the printed book's relevance seems quaint in 2019.
Modern Listener Guide: Jimi Hendrix
Last year, I was part of a BookBaby video team that met a local author (local to our offices in Pennsauken, NJ) named Frank Moriarty. Frank has published over a dozen books to date, most of them through traditional publishing houses, but his latest book, Modern Listener Guide: Jimi Hendrix, is a sprawling, big, beautiful bit of self-published work that takes you on a guided tour of Jimi Hendrix's recorded output and injects history and context to your listening experience.
We had the pleasure of interviewing Frank during the final stages of writing the book and into book production to get a taste of his experiences as a traditionally published author, learn about the journey that led to creating this new book, and to hear his thoughts about publishing and why he chose to self publish this book.
Do you have a fictional story you've been working on? Tales of excess and endurance on the road? Brushes with famous musicians who shaped your career? A deep knowledge and collection of musical instruments? Lyrics and poetry you'd like to publish?
Well, the road lies before you. Here's more of Frank's story for inspiration, and I highly recommend this book. It's a comprehensive deep dive into Jimi Hendrix's musical catalog, including decades of posthumous releases. It's hard to believe, but last month marked the 50th anniversary of the last live show the original Jimi Hendrix Experience group ever played.
Hi, I'm Frank Moriarty, I'm a published author, I've written 16 published books, and now I have a new book coming out about Jimi Hendrix: Modern Listener Guide: Jimi Hendrix, and I'm going to release this book through BookBaby
Having traditionally published so many books in the past, I'm aware of problems that happen with authors losing creative control. That can be anything from the content of the interior and the way the book looks to the cover design, to the number of images and how the images are laid out. Having self published a few books previously, it seemed to me that BookBaby had taken all the concerns I had had with other times I self published and resolved those issues.
I've been a musician for quite a few years, and in that time we've seen the record industry go through all kinds of upheaval as musicians have been able to empower themselves to control their own releases. I was one of those musicians and have released a number of projects — with CDs manufactured by Disc Makers and distribution through CD Baby — so I thought that was a fantastic model for musicians to be able to control their creative destinies.
When I learned about BookBaby, I was very excited, because I figured those concepts were carrying over from the music industry into the publishing industry — which is also a field I've had a lot of experience in and itself has been undergoing revolutionary changes. The further I investigated what BookBaby was offering, the more excited I became, and I was thrilled to see the different services that BookBaby offers authors, such as interior formatting, cover design, editing — I mean, it's really a one-stop location for any author looking to self publish a book.
---
Frank Moriarty has been writing professionally for decades, beginning with music reviews and interviews with artists ranging from Grace Slick to Robin Trower in the 1970s. In the years since, he's expanded his fields of interest to include motorsports, the national space program, and other realms as an author, columnist, and writer. His latest book, Modern Listener Guide: Jimi Hendrix is now available at BookBaby's BookShop.
---
A musician, writer, and marketer, Andre Calilhanna manages and edits the Disc Makers and BookBaby Blogs. Email Andre at andre@discmakers.com.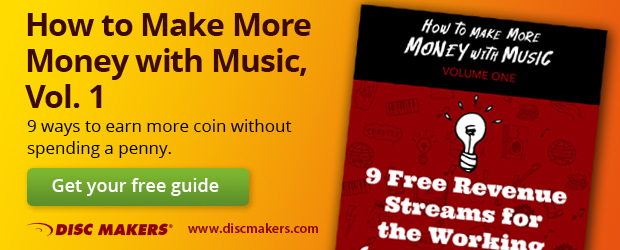 Related Posts
Fully independent, and damn proud of it!
12 noteworthy posthumous record releases
Finding your place in the music industry
What music industry career matches your personality? [Infographic]
Musicians who died in 2018