As the music industry evolves ever more toward streaming, the role of physical media – and CDs in particular – is changing, and so is the way artists are thinking about physical product.
Today, there are five main reasons to create and sell physical product:
It's a souvenir at your concerts. Fans love it when you autograph a CD or vinyl record, which they can add to their collection to remember and brag that "they knew you when…"
Hand out (or mail) as a demo. Yes, you can email someone a link, but when you're face to face with a potential fan or industry insider, you can't hand them a stream to listen to.
Pick up every last morsel of revenue. You never know which fans may still like to own physical product. If you don't make your music available on disc, you can miss out on those fans' purchases.
Define your brand as an artist. Your physical product – CDs and vinyl in particular, but merch like T-shirts too – creates an impression in a fan's mind of who you are as an artist in a way that no stream or download ever can.
Produce a high-fidelity product. Fact is, your music simply sounds better on CD.
---
---
At present there are two ways artists think about physical product for their music.
There's one type of artist who wants something really basic and affordable. They know some fans want physical CDs, but they may have a tight budget and want to take an economically conservative approach. We have a great solution for those artists: it's the disc in a jacket.
Our jackets are very affordable, they look great with their super high gloss (or silky matte) finish, and they come fully retail-ready, poly-wrapped with a barcode. Perhaps best of all, they're available in quantities as low as 100 units. In short, the jacket is a professional product that's highly affordable – a great solution for emerging artists on a tight budget.
The other type of artist realizes that their discs, their physical product, and the merch they have available for sale, is essential to defining their brand and image. These artists realize that how you present yourself makes a huge difference in how the market views you, and they go premium when it comes time to packaging their discs.

Disc Makers offers image-conscious artists a wide range of premium packaging solutions. For example, this product initially looks like a standard wallet, but it folds out to a luxurious six-panel wallet with beautiful space for images, plenty of space for credits, and a really nice matching full-color disc. (For full impact of all these samples, check out the video above).
A less common – but even more impactful – packaging option is a custom folder. This package was ordered by the Emerald Empire Band, a band that does a lot of weddings and parties. They use this package as their demo piece and press kit.
It's a beautiful premium folder with ample space for credits, song lists, band history, contact info, and more. If you are looking to book a band for a wedding, how could you not want to book an act that presents itself in such a premium manner?
The popular digipak
ranges from affordable options for budget-conscious artists, like the standard 4-panel digipak, to super-premium packages like an 8-panel digipak — which provides space for beautiful imagery, 4 CDs, and lots of room for credits. If you're unsure where to start, consider our CD digipak printing services as the perfect solution for your disc packaging needs.
If you products like these on an artist's merch table, how could you not be blown away by the artist and have to own a physical copy?
And that, after all, is one of the roles of your disc packaging: to get fans to want to buy it (don't forget, discs continue to represent a significant and important part of the independent artist's revenue mix). And a premium product, which builds your brand, is likely to drive more revenue for you.
The way you choose to go with your physical product as an artist – basic or premium – depends on the brand image you want to create.
Whichever way you go, we're here to help.
---
"The Indie Music Minute" is a video series featuring Tony van Veen, CEO of Disc Makers, distributing bite-sized nuggets of information and actionable ideas to help you make the most of your career as an indie music artist. See more on the Disc Makers YouTube Channel.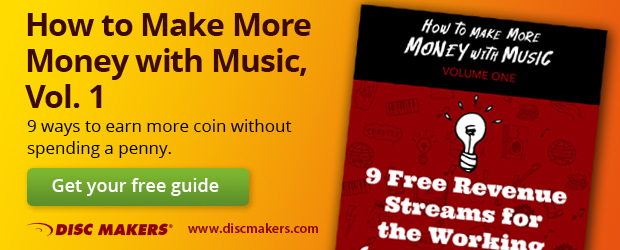 Related Posts
CDs just sound better
Fully independent, and damn proud of it!
Disc replication vs. disc duplication: The Indie Music Minute
Why indie musicians make CDs [Infographic]
Are high-res audio and $60 CDs the future of music?