How did a forgotten 1965 B-side become a 1981 smash? "Tainted Love" had hidden elements that Soft Cell unlocked to turn it into an enduring (and often covered) hit song.
Estimated reading time: 7 minutes
Updated March 2023.
What makes a song a hit? Spoiler alert: I have no idea; but I, like millions of other music fans and creators, am constantly in search of the answer. Most hit songs offer little insight into the mystery. They're original creations, and all we can say is that they became hits thanks to some mystical combination of the right song/artist/producer/marketing/timing. But every once in a while we get a song that gives us a glimpse of the underlying secret, like when a cover of an unsuccessful song becomes a global smash.
My next two posts are going to feature two such songs with the hope that we'll inspire you to take a song that you know should have been a bigger hit than it was and figure out how to make it sing. This week, we're focusing on "Tainted Love."
A hit by any other name…
Before we go any further, let me clarify my terms. A "hit song" is one that charted in Billboard. I'm not saying hit songs are "better" than songs that are not hits. Some of the best, most-beloved songs of all time were never hits and some of the biggest hits are just flat-out terrible. Most musicians want to create music they can be proud of. If those songs become hits, that's icing on the cake. So, I'm not trying to tell you how to create something that sounds mass-produced, antiseptic, or insincere. I'm just trying to investigate the mystery of why some songs become hits and some don't.
Sometimes there's no mystery to why a cover became a bigger hit than the original. The cover artist takes already-stripped down material, like a blues or folk song, and simply dresses it up in whatever style is currently in vogue. Sometimes the cover artist (or producer) totally owns their version of the original, like Natalie Imbruglia's cover of Ednaswap's "Torn," Sinead O'Conner's cover of The Family's "Nothing Compares 2 U," or Cyndi Lauper's cover of Robert Hazard's "Girls Just Wanna Have Fun."
On the other extreme, sometimes a hit cover is so close to the original material, one is left wondering why the original didn't become a smash hit. Case in point, Joan Jett and the Blackheart's1982 cover of The Arrows' 1975 original, "I Love Rock 'n' Roll." Why did Jett's version become such a huge success? The production? Her singing? Timing?
But there are other cases where the cover artist finds a way to unlock the true potential of a song in a way that is perhaps instructive for the rest of us. That brings us to "Tainted Love."
Gloria Jones's Tainted Love
The song was originally written by Ed Cobb, a former member of the Four Preps (he's the tall one in this video). After leaving the Preps, Cobb became involved with songwriting and production. (He wrote and produced "Dirty Water" by the Standells.) In 1964, he discovered R&B singer Gloria Jones and he wrote and produced her first hit, the killer "Heartbeat" (the song starts at 1:10 in this video). In 1965, "Tainted Love" was released as a B-side to "My Bad Boy's Comin' Home."
Here's Jones' original 1965 version of "Tainted Love."
It's a pretty typical mid-sixties up-tempo R&B tune. Horns, backup singers, handclaps, a driving riff, breathless vocals … it might seem to have all the makings of a hit. And yet … it wasn't. Although the riff is catchy, there are no hooks, and there's almost no dynamic range. The song starts hard and keeps on hitting throughout, even during the "Once I ran from you" bit. There's just no room for the song to breathe.
Jones's version – take 2
That, seemingly, was that for the song. Jones wound up meeting Marc Bolan and in the early '70s became a backup singer in T. Rex. Soon after she began dating Bolan and they had a son together.
Meanwhile, a British DJ named Richard Searling found a copy of Jones' song and started playing it in "Northern Soul" clubs in the U.K. The hard-hitting song became quite popular in the clubs, leading Jones to try re-recording it in 1976.
This version, produced by Bolan, is slightly faster than the original, but with a drier, more frenetic production.
The re-make adds one of the most enduring hooks of the song: "Sometimes I feel I have to" [bam! bam!] "run away…" Also, there's an added dynamic shift in the "Once I ran to you" section, thanks to the drawn-out horn notes.
Mike Thorne, who went on to produce Soft Cell's version, had this to say about Jones' second version: "You could smell the coke on that second, Northern Soul version, it was really so over-ramped and so frantic. It was good for the dance floor, but I didn't like the record…"
It was this version that Marc Almond of Soft Cell heard, which led the band to begin performing the song in their act.
Soft Cell's "Tainted Love"
Soft Cell introduced three key elements to the song. First, and most crucially, they slowed the song down, which not only gives the music a chance to breathe, it adds an extra bounce to the melody. At this tempo, the song finally swings. Slowing it down also adds a certain menace to the music. While the second Jones' version might have sounded coke-fueled, Soft Cell's version is much more paranoid.
Second, they added that iconic, syncopated beeping G note. It's the first thing you hear, and it comes in just ahead of the downbeat. It's amazing, but less than one second into the song and your ears can already pick up that this is a hit. So critical is that note, it became the focus of this famous Spike-Jones-directed Levi's commercial.
Third, they add dynamics. During the pre-chorus "Once I ran to you" section, they build up the dramatic tension by raising the background notes (You can barely hear this in Jones' original, but in the Bolan-Jones version, that background note is held throughout the first half of that section.) Thus, when we finally get to the chorus in the cover, it's much more of a release than in either of the first two versions.
Other things that make Soft Cell's version so great:
Even though the hook was added in Jones' remake, it's not highlighted nearly as much as it is in Soft Cell's version. The band (or producer) rightly made this an essential part of the song. I defy you to listen to this version and not hit something during that bit. It's just as irresistible as the bum-bum-bum section of Neil Diamond's "Sweet Caroline."
The main riff in this version is much more subdued than in previous releases, but I think it's more effective and here it adds to the song's menacing atmosphere, rather than being the focal point of the song.
With all of that going for it, no wonder the song spent 43 weeks in the Billboard Hot 100.
And even more versions…
Thanks to Soft Cell's success with the song, "Tainted Love" would go on to be covered again by Marilyn Manson (meh) and be featured in Rihanna's 2006 hit "SOS."
OK, so to sum up the keys to unlocking "Tainted Love":
Slow it down (how many more-successful-covers are slower than the original?)
Add hooks
Increase dramatic tension
Easy, right?
---
Scott McCormick is a musician and the author of the Mr. Pants series of graphic novels for kids. His new audiobook, Rivals! Frenemies Who Changed the World, has been described as "drunk history for middle-grade kids" and is available on Audible. Scott can be reached at storybookediting@gmail.com.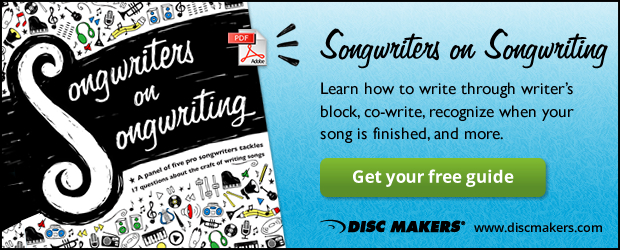 Related Posts
Anatomy of a Cover Song – Four takes on "Big Yellow Taxi"
Three approaches to recording and performing cover songs
Mystery chords in "A Hard Day's Night" and "London Calling"
The art of music arrangement: an interview with Dr. Richard Niles
From demo to classic: She Said She Said