When you take the stage, the music comes first — but wearing the right outfit can play a small (or not so small) part in helping you give a performance your music deserves.
For every live music performance you play, the right outfit can help create a vibe, set the atmosphere, and build a story around your music, enhancing your performance and entertaining your audience. Wearing the right clothes can also get you in the right headspace to deliver an unforgettable show.
You don't need to know anything about fashion, or care about it in the slightest, to use your clothing choices to set you up for musical success. Here are some simple strategies to help you don the right clothes for any gig.
Understand expectations
If you're being hired for a show — whether it's filling in as a backing singer with a great touring neo-soul act or playing bass in a jazz-Zydeco trio for a fancy wedding — make sure to ask about dress code ahead of time. Your bandleader, party planner, client, music director, or other point person should be able to tell you whether you're expected to show up in a tux, casual all black, or something else entirely. And even if the response you get is "just look good," you'll earn points for having the professionalism to ask in the first place.
Keep it functional
When you're thinking about what to wear for a show, it can be easy to put looks before comfort, so remember that your top goal at any gig is to make great music. Any clothing that interferes with that goal is clothing you should leave at home.
If you're a singer, in particular, regardless of how good it may look, don't wear shirts, pants, dresses, or anything else that hampers your breathing, unless you've rehearsed extensively wearing that very outfit and know how to deal with any physical restrictions in a high-pressure performance situation.
Similarly, regardless of your role at the gig, don't wear shoes that are going to make it hard to stay centered on your kick pedal, trigger your guitar stompboxes, or strut the stage while you sing, no matter how cool the footwear may look.
A personal example — I have a sports coat that looks wonderful and makes me feel great when I wear it. At the same time, it's a snug fit and can make my shoulders feel a little tight and constrained. If I'm the frontman on a gig, or am playing limited keyboard parts that don't require a lot of finger-based fireworks, wearing it isn't an issue. But if I'm leading a three-hour trio gig where it's high-intensity piano and keyboard work from top to bottom, that little bit of fabric resistance can turn into a big deal after a couple of songs, so I make sure to set it aside before I start playing — or wear something else entirely.
Regardless of the details, remember that making music can be a rigorous athletic activity, so make sure your clothes put you in the best position possible to let your body do what it needs to do.
Think about the setting
When choosing what to wear to your next gig, be mindful of the physical climate, natural or man-made, you'll be performing in.
Are you going to be playing in a large auditorium that will be kept cold ahead of time, so it doesn't overheat when hundreds of people pack in? If so, make sure you wear plenty of layers so you don't freeze during soundcheck and then overheat during your set.
Are you playing outside in the fall with overcast, windy weather predicted? Make sure you dress with plenty of insulation so you're not shivering the whole time. (This may seem like common sense, but I've played any number of outdoor gigs where musicians show up woefully under-dressed for frigid conditions).
Is your next gig at a summer festival in the desert, and you just found out you'll have zero shade for your blistering, two-hour metal performance? Leave the jeans, vinyl, and leather at home and find something that will put you in the performance zone without giving you heatstroke.
Are you going to be part of an intricately produced stage show? It can get awfully hot under intense stage lighting, so factor that into your decision-making as well.
As you're deciding what outfit to bring, protect your most valuable assets for the gig. If you're a keyboardist or bassist playing outside in less than warm weather, for example, make sure your arms and upper body stay plenty warm, and consider experimenting with gloves that cover much of the hand but keep the fingers exposed. Likewise, for singers in cold weather, a warm hat and scarf can be lifesavers.
Independent of individual items of clothing or preparations, the last thing you want to do is take the stage cold (physically or metaphorically) or overheated and dehydrated, so choose your clothing accordingly and set yourself up for success.
Don't forget recording
Just because you don't have a packed audience in the studio with you doesn't mean clothing should be ignored when it's time to record. After all, a recording session is still a performance — and mindfully choosing your outfit can help you deliver one that you'll be proud of.
As with a live gig, make sure to wear clothes that don't restrict your movement or breathing — and that are temperature appropriate — and avoid putting on anything that may distract you from your music-making in any way.
Beyond that, think about what will put you in the best emotional space to deliver a great performance. Is your top goal to feel utterly relaxed when you sing, so your performance comes off as warm and intimate? Maybe a favorite pair of pajamas makes you feel that way, or there's a hoodie you've had for years and always wear on lazy Sundays. Alternately, do you want your performance to feel elevated, energetic, and polished, as if you were on stage at Carnegie Hall? If so, then maybe donning a three-piece suit or sequined ball gown will get you in the headspace you need.
Keep in mind that you never need to dress a certain way when you record, plus there are no audience members to entertain, so your clothing choices are purely about what will make you feel the most inspired. Whether it's white tie or super casual, tie-dyed flower-child or street clothes, make sure that whatever you wear helps you get in the zone you need to make the music you want to make.
How do you approach dressing for a performance, whether on stage or in the studio? Tell us in the comments below.
---
Disc Makers' regular contributor Michael Gallant's debut trio album Completely received a four-star review from DownBeat magazine and a five-star review from Critical Jazz, which stated: "This, my friends, is the future of jazz. Fresh, invigorating, progressive – there are simply not enough positive adjectives to list here." Learn more, download through iTunes, or purchase through CD Baby. Follow Michael on Twitter at @Michael_Gallant or on Facebook.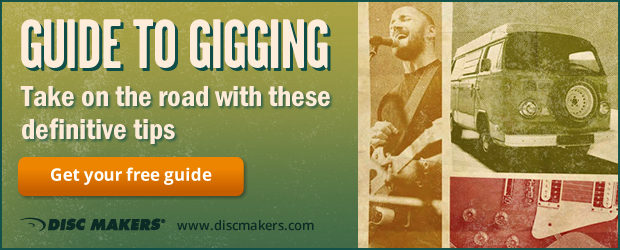 Related Posts
Mirror, mirror: How watching yourself perform can elevate your music
Performance tips for singers: My three day plan
The art of detachment: Managing music performance anxiety
A Great Live Music Performance Requires More Than Being Rehearsed
Playing at Carnegie Hall … with five days' notice