Making money with music through booking, licensing, and media opportunities can only happen if people know how to contact you. Follow this checklist so you don't miss any money-making and publicity-generating opportunities.
When it comes to making money with music, the number one rule is: be easy to contact. While you grow your fan base, build word-of-mouth, and generate plays across streaming services and YouTube, some of your biggest money-making and publicity opportunities will come from businesses: including music supervisors, bookers, agents, journalists, and music reviewers. In fact, many music supervisors — the people who license music for film, TV, and commercials — say they skip over perfectly good tracks if they have no idea how to contact the artist. If they find your song and decide it's the right one, can they find you?
Fortunately, being easy to contact isn't difficult today if you cover all the bases, make sure your contact info is accurate, and are easy to get in touch with. For example, our band ended up licensing music to Disney for a nationwide commercial campaign for a TV series. It all started with an email that showed up from our "contact us" page.
Luckily, we had our music tagged correctly, made sure we were active on critical social media sites, and had a dedicated contact page with a valid email. But it's more than being easy to contact — you need to monitor your inbox, your direct messages, and texts. Music supervisors work under extremely tight deadlines, sometimes needing to license music in a matter of hours, so if we hadn't checked our email regularly or didn't immediately respond to engage them and start the process, we would have missed out on the opportunity and lucrative license fees.
To ensure you don't miss any opportunities, use this checklist so you can be responsive and easy to find:
Your website
Your website is the one place you have complete control of online: it doesn't run the risk of disappearing like a social network (remember MySpace and Google+?) and it's a site where you control all the messaging.
"Contact Us" page. Business people will use your website differently than fans, so make it easy for bookers, music supervisors, and the press/media to find you by including a top-level menu item on your website labeled "Contact Us." You should also include a link to this critical page at the bottom of your site in the footer. Add a call to action as well, such as "Contact us for booking, licensing, press, and other questions." Include an email address (or an email webform) that forwards to an inbox you check regularly. We also recommend including a phone number, since people with potentially lucrative opportunities might need to contact you immediately.
Booking, fact sheets, and press kits. You should have your contact information (email, phone number, and link to your website/contact page) on the header or footer of every single page of your downloadable or printed booking kits, fact sheets, and press kits.
Social media. Most social media platforms include private messaging, which needs to be monitored. You can also help funnel requests to your "Contact Us" page by including a link to it within your description. Depending on how many social media sites you're on, you may benefit from a social media manager such as HootSuite, SocialOomph, Falcon.io, or SocialPilot.
Music and videos
YouTube and other video sites. Similar to social media, if you manage a channel on YouTube or other video site, be sure to include your contact info in your channel's description. This should mirror what you use on your "Contact Us" page. Also, for each video you upload, add a link to your contact page in the video description. You can also add a simple call to action, such as "Booking? Licensing? Press? Write us here [link to your Contact Us page]."
Streaming sites and online stores. Every music supervisor we've interviewed uses different methods to find the music they license. But one common thread between them was they all surf streaming sites like Spotify, Apple Music, and even iTunes to find music for their clients' films, TV shows, commercials, and trailers. Add a link to your "Contact Us" page to your descriptions whenever you can. If links aren't allowed, add your email address. Many of these streaming sites rely on music databases for their band bios, so you will want to submit your music bios to those sites, which includes your website so they can contact you.
MP3 ID3 tags. If you release your songs as MP3 files, don't forget to fill out all of the ID3 tags. In fact, the music supervisors we talked to even suggested that you put your phone number and email address in the comments section of the ID3 fields.
Physical Product, merch, and more
CDs, vinyl, and other physical product. Include your contact information in your liner notes. You may also want to include a call to action broadcasting that you're available for booking, licensing, and more.
Promotional material. While every flyer, poster, sticker, or merch you use as giveaways doesn't have to have your contact info (although you should do it if you feel comfortable), they should at least contain your web address. This should be a no-brainer, but one additional step you can take is to include a QR code to make it even easier for someone to use their phone to automatically bring up your website. Use free QR code services such as QRCode-Monkey or Qrstuff to generate the code images to include.
Personal
Your email signature. Every email you send should promote your music with links to your latest single, video, or album. It's also a perfect place to remind the reader you're open to booking, press, and licensing opportunities and they can contact you directly or through your "Contact Us" page.
Business cards. Business cards? Yep! If you want to work with the business side of the music industry, business cards are a necessary part of getting your contact info into the hands of the people you network with. Keep in mind they don't have to be corporate and boring, there are plenty of services (Moo, Vistaprint, and OvernightPrints that allow you to create exciting cards to align with your persona, image, and brand. Don't forget to add all your contact info: your name, artist name, website, phone, and email.
Getting your contact info right may seem an obvious point, but it's often not done well by indie artists. A big part of your income will flow through your contact forms, emails, and phone, so there's every reason to take it seriously. And the business side of today's music world moves fast: if someone can't immediately contact you to book you, license your music for a TV show, or write a story about you before deadline, they'll move on and talk with someone else who is responsive and available. Go through this checklist to make sure you're the one getting everything you've worked so hard to generate.
---
Authors of the critically-acclaimed modern classic, The Indie Band Survival Guide, Billboard Magazine called Randy Chertkow and Jason Feehan "the ideal mentors for aspiring indie musicians who want to navigate an ever-changing music industry." Their latest book, Making Money With Music (Macmillan) and free Making Money With Music Newsletter, help all musicians — from startups to pros — build a sustainable music business so you can make money in today's tech-driven music environment.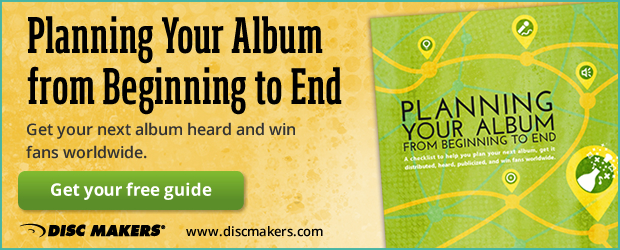 Related Posts
How to submit your songs to music blogs, record labels, radio, and press
Writing a business plan for your music career
5 tips to make your mobile music marketing sing
Want to make more money with music? Here's How.
Six (more) ways to make more money with your music