The fade out, the cold ending, the endless loop, the key modulation… there are so many approaches to an ending. — so, how are you gonna end your song?
Now that we've looked at how to wow 'em with your song intro, it's time to look at how to bring it home with your song ending.
For indie artists, creating an immediately captivating song intro is vital to success. After all, if listeners don't stick around after the first few seconds … well, they obviously won't hear the rest of your material. So for that reason, how your song ends isn't nearly as important. But if you want people to keep listening, you'd better bring it home with your song ending. I've asked myself countless times in a writing session "How do I end this song?" Here are some strategies you can try.
Cold ending
The cold ending is the most common way to end your song today, and — bonus points — the easiest to replicate live. Usually, this is done during the chorus.
Leave 'em hanging
Few things startle listeners more than just suddenly pulling the cord. "I Want You (She's So Heavy)" wins the award for "Ending Most Likely to Make People Fall Over." You don't have to go to the extremes that the Beatles did to achieve a startling effect. Just don't end on the root chord. "Somebody That I Used to Know" ends on a bVII chord, which makes you want to want to start listening to that groove all over again.
A cappella
It's become something of a cliché to end your song with a cappella, but it can help wring out every ounce of emotion. I honestly don't care much for Passenger's "Let Her Go," but damn, that ending is devastating.
Fade to black
The fade used to be omnipresent. In 1985, every single top ten hit had a fade. Lately though? Not so much. Since 2009 (or thereabouts), the number of Top 10 hits that feature a fade hovers between zero and one. Why the hate? Well, for one thing, people often think of it as lazy. "What? Couldn't write a real ending?" they say. There's also the fact that people listen to music differently now. It's so easy to skip to the next song, why wait for those remaining few, progressively quieter seconds?
But the fade can still be a pretty interesting way to end your song. The Talking Heads' "Life During Wartime" ends with David Byrne still singing new lyrics. You might find yourself leaning closer to the speaker to hear what he saying.
One of my favorite fades is this one from Traffic. I just love how they land on the most beautiful ugly chord of all time and let it ring to infinity.
Note: If you're putting together an album, you don't want every song ending with a fade. That gets old really quick.
Partial fade out
You can fade out certain elements of your music in order to highlight the rest of the mix. Fade out the music and keep the vocals ring, or vice versa. "No Conclusion" by Of Montreal offers a nice change of pace, where they fade out the vocals and main instruments in order to highlight the backing strings and then end the song.
To infinity and beyond!
Endings? We don't need no stinkin' endings! While the fade hints that a song lasts forever, some artists have actually tried to make it happen. On vinyl, Sonic Youth's "Expressway to Yr Skull" actually did last forever, as the record featured a locked groove. Liars' "This Dust Makes That Mud," does the next best thing, making full use of the amount of time allowable on a CD. Although the song is listed as 30 minutes long, the "actual" song ends around the 8-minute mark. The rest is a glorious loop. And yes, I frequently listen to it all the way through.
Key change! (Don't do it!)
In "Key change! How to wow 'em with a chorus modulation," I took a look at approaches to changing keys for your chorus as a way to highlight the emotional depths of your song. That's cool. Change keys for your chorus. But please, please, please don't use the Truck Driver's Gear Change for your ending. The TDGC is when you just jump up a half or whole step at the end of your song. It's so over-used and unimaginative, and it often is just used as a way for the singer to show off without actually doing anything interesting.
BUT! If you can find an unusual key to modulate to (as we saw in the DM Post on "Owner of a Lonely Heart") that can provide an unexpected joy.
Whitney Houston's "How Will I Know" subverts convention by actually shifting down a third.
The left turn
To hell with traditional endings, you say? Screw key changes! Let's go for broke and throw something completely unexpected at the listener! I'm right there with you. I love it when songs suddenly take crazy left turns, and it's one of the reasons why I find the music of Kanye West so fascinating, as he makes use of this technique all the time. This is maybe my favorite example.
Of course, this can be hard to pull off — especially if you're not recording a hip hop song, where you can easily just switch gears with a sample. But if done right, it can be a remarkable achievement. (Cue "Layla.")
Go out with a bang
Save the best for last, amirite? Look, if you've got a big juicy hook, I know it's tempting to use it as your chorus. But there's no denying the power of building up to a big finale.
Or, you know, you could always just hire Steve Vai and Billy Sheehan to end your song…
---
Scott McCormick is a musician and the author of the Mr. Pants series of graphic novels for kids. His new audiobook, Rivals! Frenemies Who Changed the World, has been described as "drunk history for middle-grade kids" and is available on Audible. Scott can be reached at storybookediting@gmail.com.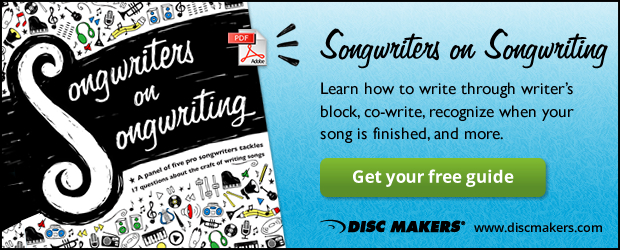 Related Posts
The power of a trash can ending
Wow 'em with your song intro
Key change! How to wow 'em with a chorus modulation.
From demo to hit single: Owner of a Lonely Heart
Subverting song structures: Roy Orbison and Kendrick Lamar