Music arrangement might be the invisible art, but the results can spell the difference between a smash hit and a "nice" song. Dr. Richard Niles has a storied history as a music arranger and shares some thoughts and insights in this interview.
I get a lot of emails from people who read my articles and offer up comments or ask questions. (It's great. I love hearing from you. Email me any time at storybookediting@gmail.com.) Recently, Dr. Richard Niles emailed me in response to my article on James Brown. I confess, I didn't know who Dr. Niles was, but after a quick search, I knew he would make for a great interview and offer a ton of insight. Here Dr. Niles talks about the art of music arrangement.
You've worked with an impressive list of musicians, including Paul McCartney, Ray Charles, Cher, Kylie Minogue, Tina Turner, Mariah Carey, Joe Cocker, and Pet Shop Boys. Who usually communicates what they want from you, the artist? The producer?
I typically get the call from the producer but the artist usually has something to say. Though, these days, 90% of the time they say very little to me because they don't want an arrangement; they want Richard Niles. I became known as the guy who knew how to make a song catchier, more radio-friendly, more commercial. Just recently, a great artist who I've done a lot of work for did their new album without me. But when they couldn't get radio to play it, they came back to me to arrange five songs.
Your book, The Invisible Artist: Arrangers in Popular Music (1950-2000), highlights what is maybe the least understood role in music. Arrangers are often responsible for the most iconic moments in music — the opening horns in "Dancing in the Street" or the strings in "Yesterday" — yet they usually go uncredited. In the book, you analyze dozens of songs from 50 years of music, highlighting the work of the most important arrangers in the business. What was your inspiration to write this?
So much of what we love in our favorite tracks, so much of the personality that differentiates one style from another — the feeling, the message — is actually due to the arrangement. A great painting in the wrong frame will not be as effective. Most people don't understand what an arranger does. That's why I wrote The Invisible Artist, I wanted to explain this incredibly sophisticated art that is invisible to the public. I took a small but representative group of the artists who really influenced the most creative period of popular music, interviewed as many as I could, and analyzed the life and work of the others. The book has rare, behind-the-scenes information about how some of the greatest tracks of all time were created, with 222 musical transcriptions and analysis of the arrangements.
What's your favorite Richard Niles arrangement? Are you known for a particular sound or approach to arrangements?
My "greatest hits" would include "Slave to the Rhythm" (Grace Jones), "Blue Sway" (Paul McCartney), "Left To My Own Devices" and "Go West" (Pet Shop Boys), "Sex Me Talk Me" (Berlin), "Breakout" (Swing Out Sister), and "It's A Man's, Man's, Man's World" (Cher). I have always believed strings and brass on pop records should be like inviting Eric Clapton to guest on the record. They need to play catchy riffs, to take exciting solos, to add chili and garlic to the sound. If you want simple pads and high pedal points, probably better to get someone else.
Is there a particular favorite cover song that surpassed the original thanks to its arrangement?
The word "surpassed" requires a value judgment. But Richard Carpenter gave me a great example. Burt Bacharach, a brilliant songwriter AND arranger, did a version of "Close To You" with Dionne Warwick that was not successful.
Carpenter's arrangement was a massive hit. He told me, "Burt is a big influence on everyone. But no one's perfect, and Burt missed 'Close To You.' He usually knew exactly what to do with songs, but his arrangement for Dionne Warwick was put out in '63 and didn't happen. So it's a hit song, a hit singer, and a hit arranger. But for some reason, he wasn't his usual perfect self." I commented that Bacharach himself had, in fact, called his own arrangement of the song "a mess." Richard more politely concluded, "It's a NICE arrangement, it's just not the right arrangement."
You contacted me about my article on James Brown. You worked with Pee Wee Ellis and interviewed Fred Wesley — two men who collaborated with James Brown. These guys were on the front lines of the creation of funk. Do you recall any of their funk-creation anecdotes?
Pee Wee and Fred both told me the concept of funk was Brown's, but he needed help conveying this "brand new bag" to the other musicians. Brown's idea was creating a polyrhythmic jigsaw puzzle where every instrument plays interlocking rhythms. They told me that a lot of it came from jazz. Brown was a huge jazz fan and every night after the gig, he would spend the rest of the night in jazz clubs. This was confirmed when I worked with Brown – I found him passionate and knowledgeable about the jazz world.
In 1967, jazz-trained Alfred "Pee Wee" Ellis took over from Nat Jones as musical director for James Brown. Ellis emulated Brown's vocalizations with his rhythm and brass arrangements. The result was 1967's "Cold Sweat," considered by many to be the first funk record. It was inspired by Brown's favorite Miles Davis tune, "So What." I found it interesting that Miles influenced James Brown – who later influenced Miles Davis!
Contrapuntal funk, like a Bach fugue, is fascinating to listen to because the ear can find pleasure following any one line of music. Ellis explained, "My theory was that everybody had a lane to drive in, going in the same direction while not bumping into each other. Kind of like a puzzle, an interlocking grid. Each part had an attachment to the next part, which fit and complemented each other. For instance, the guitar part crosses paths with the bass line at one point and goes away again and comes back. So it's a kind of hypnotic effect."
Fred Wesley once said he was a "frustrated jazz man" who "only took the job with James for the money. Later on, I realized I was doing something special… With James Brown, I arranged his outlandish ideas! They were non-musical things, considered impossible, which I would help put together to make a song."
Wesley and Brown created funk by orchestrating the rhythms of a drum kit. "Get On The Good Foot," with its contrapuntal rhythmic organization, the accuracy of its brass, its abrupt changes in tempo, its powerful tutti hits and its virtuosic bass and drum breaks, goes beyond funk to approach the level of sophisticated jazz. Wesley told me, "None of these parts really goes together! But I still use it as a model to make some funk!"
You arranged music for James Brown when he appeared on a TV show in London. Tell me about that.
In 1994, I was Musical Director for a TV series featuring British musical star, Michael Ball. As MD, I had a say in what guest stars I wanted and the words "James Brown" came flooding out of my mouth. I also got to choose what songs he did.
I called his office to find out what size band he was bringing and what songs he wanted to do.
The gravelly voice on the phone said, "I can't say. He'll probably have some cats with him." I enquired how many and what instruments they might play, and the voice grunted, "I can't say." After an embarrassed silence, I asked, "Well, I have my 35-piece orchestra here, BANDZILLA. Is Mr. Brown bringing his arrangements with him?" The voice hollered, "'Rangements? Hell, they ain't no 'rangements! They's just a bunch o' funk up in there!" and hung up.
I chose, "I Feel Good", "Papa's Got a Brand New Bag," and "It's A Man's, Man's, Man's World." The string arrangement by Sammy Lowe was a major inspiration for me because Lowe was blending the sophistication of Nelson Riddle to the gritty feel of soul.
As it happened, Brown arrived with his rhythm section and three horns. Hearing my arrangements, he added some of my people to his, my six brass, 20 strings, and keyboard player. He worked quickly and expertly with the band and the result was a strange amalgam of the classic records with new elements that made the songs sound as if they were being played for the first time. Brown was charming and philosophical.
Slapping me on the back, he said, "Richard! Those 'rangements are BAD! We' got something NEW with the mix of your thing and my thing… You and I had it easy because the music business was different back then. It was based on talent and soul and performance. Now, young people don't get a chance to see real performers. It's up to us older folk to show them that it's really all about music, and music comes from the human heart! It's the only chance they've got!"
Do you have any guidelines for independent artists who do their own arrangements? Things to keep in mind, approaches to try, some industry-known rules that newbies wouldn't know?
Always support the song. Add only what will make it better, more fun to listen to, catchier. The arranger creates events. You have under four minutes to tell a story. Make each second count. And if the lyrics are interesting (meaning not just a collection of mindless clichés), write to the lyric!
Everyone thinks they are an arranger, and in a way, they are. We arrange sentences in a certain order when we speak. We may do a little introduction for a song before we sing it. But a professional arranger does so much more. It's the difference between painting with three colors or 50. I would recommend any independent artists, if they can afford it, to seek the advice and help of someone with an established track record of success.
Are there any arranging considerations when performing live as opposed to a studio setting?
There are certain things you can't do live, but if you are doing well-paid gigs, almost anything is possible. Many singers take the songs down a key for live work, because that high note they sang on their biggest hit was sung when they were 22, not 56.
Tell me about your recent album, Bandzilla Rises!!! Is arranging your own compositions different from arranging those of others?
When I used a big band on "Slave to the Rhythm" (1985), I formed my jazz-fusion orchestra, BANDZILLA. We've performed and recorded with Ray Charles, James Brown, Deniece Williams, Paul McCartney, and Michael McDonald.
Last year, I released Bandzilla Rises!!!, featuring an incredible array of talents from all over the world, including '70s pop star Leo Sayer and jazz icon Randy Brecker. It is a fusion of sweaty funk with romantic textures and a lot of humor. There are so many exciting sounds to discover. BANDZILLA gives me a chance to do that with no restrictions. You can see our videos on our YouTube channel.
When I arrange my own music, every note is an integral part of my composition, there is no line between the composition and the arrangement. When I wrote that catchy brass line in "Breakout," that is considered, in law, the property of the songwriters.
My approach to writing songs is explained in my book, Songwriting — The 11-Point Plan. You get everything and more here:
If you liked this interview with music arranger Dr. Richard Niles, check out this interview with Keith Hatschek on finding your place in the music industry.
Dr. Richard Niles is based in Southern California; gives masterclasses on music production, mixing, songwriting, and arranging; and teaches privately.
---
Scott McCormick is a musician and the author of the Mr. Pants series of graphic novels for kids. His new audiobook, Rivals! Frenemies Who Changed the World, has been described as "drunk history for middle-grade kids" and is available on Audible. Scott can be reached at storybookediting@gmail.com.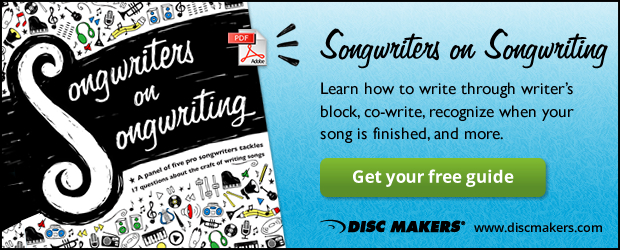 Related Posts
James Brown and the invention of funk music
How to get better results mixing in your home studio
From demo to hit single: Owner of a Lonely Heart
Home studio recording: How to record and mix
From demo to classic: She Said She Said