As an independent music artist, you've got a few seconds — at most — to reel a listener in to your single or lead-off track. Here are some strategies to craft a song intro that will make your listeners pay attention.
Maybe you've got what you think is a finished song. The lyrics, vocals, and music are all just the way you want them to be and you're ready to record. But before you step into the studio, take time to really pay attention to those opening seconds, because if your song intro isn't amazing, people may not make it to the rest of your track. Here are some strategies other artists have used. Perhaps they will help you.
Get to the goods
A common fault of indie artists is that they take way too long to get to the goods. And by "the goods" I mean the thing that makes your music special. If you've got a great guitarist or drummer or singer, get to that as quickly as possible.
A great example: The Everly Brothers' "Sleepless Nights." The Everly Brothers had a lot of great elements at their disposal at this point in their career, including amazing songs by Felice and Boudleaux Bryant and the best producers and musicians in Nashville. But there's no denying that what made the Everlys special was their heavenly harmonies. That's why in most of their songs, the brothers start singing 6-7 seconds into the tune. Here, they come right at you right off the bat.
Start with the chorus
Got a killer chorus? (I hope so!) Why not put your best foot forward and start with that? It's a gambit used by countless artists for a reason.
"Heathens" by twenty one pilots is a great example.
Stevie Nicks delays getting to the chorus of "Edge of Seventeen" by eight seconds, but we'll forgive her because that guitar sound is so killer.
Grab 'em with a hook
Sometimes you've got a verse where the lyrics and the music just come together in a way that makes it the catchiest part of your song. Great: Lead with it and do whatever you can to make it iconic. Check out how The Outfield and Kesha both strip away everything but the essentials to make their intros classics.
---
Create a special intro
Back in the days of Tin Pan Alley, songs would regularly begin with intros that would never reappear. That fad fell out of favor by the 50s, but that may be more of a reason to bring it back.
Toni Basil has perhaps the most famous intro in pop music. (Although, perhaps realizing it's the catchiest part of the song, she does bring it back as a bridge later.)
Speaking of the '80s, Missing Persons created a special intro to "Destination Unknown" by tweaking their chorus.
Smack 'em with a riff
It's the oldest trick in the book, but it's still super effective. If you've got a great riff or hook, there's no reason not to just put that right up front and center. Think "Sweet Child of Mine," or "Satisfaction," or this classic by the Old 97s.
Chords!
I'm not talking about running through a chord progression, but if you've some catchy chords — real earworm stuff — then let 'em rip. "Start Me Up," "You've Really Got Me," "Owner of a Lonely Heart," "What I Like About You," or this Wire tune, whose intro was so catchy it was stolen by Elastica.
Tricky rhythms
Sometimes it's fun to catch your listeners off balance with syncopation a la AC/DC's "Highway to Hell." Because those opening chords are isolated, it's hard for listeners to grok the beat until the drums kick in.
Try finding the one on Stevie Wonder's "I Wish." Bonus points for beginning with the bass!
Sound effects
Maybe you've created an otherworldly soundscape that you know will catch listeners' attention. "Baba O'Riley" by the Who is the premier example, but I've always loved the beginning of Beth Orton's "She Cries Your Name" for its promise of something ethereal.
PRhyme is a group that excels at creating gorgeous, cinematic, lush, and epic openings for their songs (though much of the credit goes to the artists they sample, namely Adrian Younge or, in this case, AntMan Wonder). This intro isn't cinematic, lush, or epic as much as it's startling and catchy.
A cappella
So many songs start with instruments that a nice a cappella opening can cut through the clutter, especially if you've got a great singer. Think of how powerful the opening line of "Bohemian Rhapsody" is, or even Bon Jovi's "You Give Love a Bad Name." Elvis Costello uses this trick a lot ("Accidents Will Happen" is a great example), On "No Action," that opening, naked line makes the band's intro that much more powerful.
An a cappella intro can make for a great way to begin a ballad as well. Check out this cool, extended a cappella intro by the Zombies' Colin Blunstone. Interestingly, when the band does come in, it's with great restraint.
Or, start off with a surreal revelation:
Or, one of my favorites:
Or… well, whatever this is:
Subvert expectations
One way to make your listeners perk up their ears is to hit them with something they're not expecting. Try starting your next metal song with a banjo or your next country anthem with a kazoo. "You Can't Always Get What You Want," offers a classic counterintuitive opening.
Kanye West has made a career out of using odd samples. In a genre so dominated by funk, West regularly samples oddities like King Crimson, Steely Dan, or Hungarian rock bands. You could almost pick any one of his songs as an example of his keen ability to subvert expectations, but I like the tender simplicity of "I Wonder," featuring British folk singer Labi Siffre.
Because sampling is the core of hip-hop, and songs so often begin with orchestral breaks or fiddles or sound effects or movie samples, it's harder and harder to open with something startling. So, if you are a hip-hop artist and subverting expectations with your intro is your goal, you almost have to get meta. Cue "Accordion" by Madvillain. Opening a hip-hop track with an accordion is pretty gutsy in and of itself, but I like to think the intro for this song is almost an anti-intro. You keep expecting the music to change or the beat to drop — because that's the norm — and it never does. The intro is the entire song. It's a very understated backing track (another subversion in a genre that loves the bombastic). This allows the listener to focus on MF Doom's mad rhymes.
The Fake Out
Another way to subvert expectations is to start out one way and then make a sudden left turn. Check out "Man Out of Time" by Elvis Costello (yes, Elvis again). The raucous beginning makes that crashing opening chord of the "real" song that much more startling.
The mysterious gestalt
Gestalt is German for the whole being greater than the sum of its parts. Sometimes artists find amazing ways to combine sound effects, voices, instruments, etc. in a way that create a sonic landscape that is effective and unique.
I can think of no better example of this than "Come Together" by the Beatles. Few songs have an opening as distinct as this one, and yet it's hard to tell exactly what's going on. In reality, the guitar and bass are playing a simple blues lick (D-G-A-(D)F, with the bass hitting an extra D note), John is saying "Shoot me" so low it's hard to hear what he's actually singing, and clapping. The drums are perhaps the least intuitive part, with Ringo hitting the hi-hat four times and playing triplets on the toms. Take it apart and there's nothing there. Put it all together and it's a timeless, iconic intro.
"Monkey Man" by the Rolling Stones is another great example. The tinkling piano. The reverb. That cracking Keith Richards guitar part. None of this is really necessary for the structure of the song, but it makes for a rather cinematic and unforgettable intro.
For a more modern example, check out "I Was Never Young" by Of Montreal.
Hopefully, these examples will inspire you to make your intro over in a way that grabs the listener. Even if you have what you consider a finished song, it will be worth your time to treat your intro the way an author crafts their opening sentence. Take it apart, rework it, rinse, repeat. In many ways, those opening few seconds are the most important part of your song.
---
Scott McCormick is a musician and the author of the Mr. Pants series of graphic novels for kids. His new audiobook, Rivals! Frenemies Who Changed the World, has been described as "drunk history for middle-grade kids" and is available on Audible. Scott can be reached at storybookediting@gmail.com.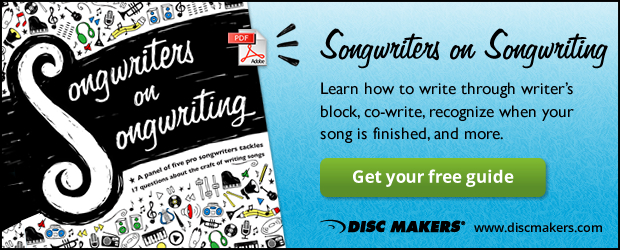 Related Posts
Focus on song intros for your live performances
The power of a trash can ending
Key change! How to wow 'em with a chorus modulation
Subverting song structures: Roy Orbison and Kendrick Lamar
Breaking down two iconic songs from the Rolling Stones