Tom Petersson (bassist, Cheap Trick) and his wife Alison's lives were transformed by their experiences with their autistic son, Liam. They created Rock Your Speech, an organization aimed at helping children with ASD connect to the world via music.
For musicians who become successful, there is often a "what now?" moment. Having achieved artistic and commercial recognition for their music, many use their good fortune to give back and serve a greater good.
Sometimes artists are moved to social activism due to their increasing awareness, like Willie Nelson's creation of Farm Aid and Peter Gabriel's work with Amnesty International. Others — like Sting, U2, Paul McCartney, and Bruce Springsteen — have a lifelong history of contributing to social causes.
Sometimes, activism is provoked by a specific event, like Bob Geldof's viewing of a BBC news report on the famine in Ethiopia which precipitated the Band Aid single, "Do They Know It's Christmas?" and the subsequent Live Aid / Live 8 concerts.
For Tom Petersson, Cheap Trick's bassist, and his wife Alison, their lives were transformed by their experiences with their autistic son, Liam. Liam had spent many years in intensive speech therapy to overcome a speech disorder associated with ASD (autism spectrum disorder) when his parents had the idea to try to incorporate music into the speech and language lessons. This led to their formation of Rock Your Speech, an organization aimed at helping children with autism connect to the world via music.
The beginning
The genesis of Rock Your Speech began when Tom and Alison noticed that Liam wasn't hitting his developmental milestones and didn't show interest in other children or playing with toys.
"He was totally nonverbal," says Alison, "and we were just beginning our journey of recognizing there was a major delay and trying to figure out what it was."
Then, one day, Liam became very interested in the Elton John song "Blue Eyes" after his mother's offhand comment that it reminded her of him. He learned how to find it on the computer and not only played it repeatedly but also learned some of the song's lyrics.
From a clinical perspective, it's not surprising that Liam began to connect to the larger world through music. Repeated studies show that music therapy and instruction help children develop new brain connections and enhance language skills. This is accomplished through a phenomenon known as neuroplasticity, the brain's ability to physically change and rewire itself in response to external stimuli. These kinds of connections are even more important for autistic children, who are at a disadvantage with a reduced ability to connect.
Of course, every individual diagnosed with ASD responds to various therapies in different ways, and it can be very challenging to know what the right approach might be. The Peterssons had enrolled Liam in an early intervention program, where he received speech and occupational therapy, while he was still too young to receive a formal diagnosis. Then, one night, when the family was watching Dancing With The Stars, Liam began singing along with the show's theme. "It was just sounds," Alison recalls, "'dah dah dah dah,' and I jumped up with excitement because I'd never heard him sing before."
That's when the couple began to formulate their idea of creating music aimed at helping their son connect to the world around him. Tom wrote a song called "What's Your Name?" and was ecstatic when Liam asked a cashier at the grocery store what her name was shortly thereafter. From there, he enlisted a number of his musical comrades and associates (along with his very talented 12-year-old daughter, Lilah) to record Rock Your Speech Volume 1, 10 songs with simple language aimed at helping Liam understand language and concepts backed by the kind of power-pop arrangements Cheap Trick fans would especially enjoy.
Rock your speech
Tom's goal with the CD was to use rock music as the backing for the kid-oriented lyrics, not the kinder, gentler light sounds often found on traditional kids' records. The lyrics are simple and repetitive, aimed at getting Liam and other children like him to sing along.
"Blue" is an introduction to the color and where it might be found in the outside world: "The sky is blue and so the ocean blue." With lead vocals by Leticia Wolf from The Dead Deads, the song has a relaxed '90s indie pop feel. "Alphabet City" is a Cheap Trick-like reworking of the classic alphabet song, and "I'm Going Places" is a touching declaration from Liam's sister about all the places she'd like to travel with him — London, Paris, Vegas, Hollywood, New York, and San Francisco — and what mode of transportation they might take to get there.
The Rock Your Speech team has also created three music videos, their goal being to turn the first CD into an entire educational program with lyric videos, chord charts, and vocal exercises so viewers can practice each individual sound and syllable in the songs. All three videos are available on the Rock Your Speech YouTube channel along with a video from Lilah for "All The Same," a song written for her brother.
Rock Your Speech Volume 1 was financed with a PledgeMusic campaign which included incentives such as signed posters, handwritten lyrics, and, for the highest contribution level, one of Tom's famous 12-string basses from the road! Released in the spring of 2016, the album and organization got some solid media coverage, and there are a number of testimonials on the Rock Your Speech website that give weight to the effectiveness of their approach.
Maegan Morrow, a board-certified music therapist, endorses RYS wholeheartedly:
As a musician I believe in the power of rock and roll. It has changed my life and helped shape who I am today. As a music therapist, I believe in the power of music to make wrongs right and to make a way where there wasn't one before.
Rock Your Speech is a tool designed to engage the human brain, body, and spirit to communicate through singing initially. Singing is the way that every human being on this planet learned to how to speak. It is intrinsic to sing and be changed through music. It is true that some children need more time or a different way to learn the basics in life. Rock Your Speech skillfully and cleverly uses specific instrumentation and composition to help those that are limited in communication.
Laurie C of the organization Learning Integrations says:
Music and the voice are powerful tools that I use in all of my therapy sessions. Music is processed throughout the brain. Because of the concept of neuroplasticity, I can use music, (melody, rhythm, and lyrics), to facilitate such things as movement, meaning and emotion in literally EVERY area of the brain. I have been able to use Rock Your Speech with students of all ages to address my goals in the areas of focus and attention, sensory integration, social skills, organization, receptive and expressive listening and communication, and improved bilateral integration and motor function.
The present
While there hasn't been a lot of activity on the Rock Your Speech front of late (I guess Cheap Trick still tours a lot!), Tom did mention Rock Your Speech in an October 2018 interview with Jon Liebman from the website For Bass Players Only. In it, he discusses a possible change of focus for the organization to a broader music-therapy approach rather than keeping the program exclusive to autism, as people with other conditions like traumatic brain injury people recovering from strokes could also benefit from Rock Your Speech's materials.
"They really don't have a lot of music to choose from," Petersson says, "they've got kids, adults, older people — and really all they have are little children's songs. 'Jimmy Crack Corn' … how many times can you hear that? Once!"
Rock Your Speech is not a nonprofit; they consider themselves a "social entrepreneurship" and see their cause best served by partnering with existing charities that best serve special needs causes. So it can be assumed that money given to Rock Your Speech or items purchased could also go to help the Petersson family directly.
---
Chris Huff has been a professional singer, multi-instrumentalist, songwriter, and producer for over 20 years. He has worked as a sideman with Peter Yarrow (Peter, Paul, and Mary), Echo and the Bunnymen, Chuck Hammer (David Bowie, Lou Reed), and Tom Kitt (Broadway composer of Next To Normal). Chris also wrote liner notes for David Bowie's Live And Well CD, and has two full-length albums of original music available on iTunes.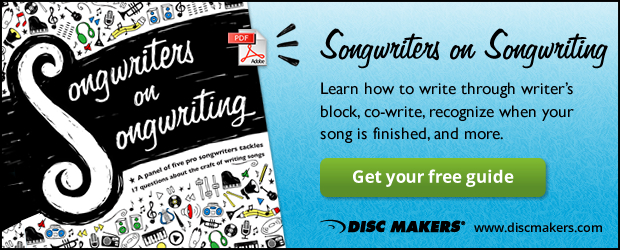 Related Posts
A look at the Music Modernization Act
Don't miss out on SoundExchange royalties
Want to work in music? Consider these offstage music careers.
Finding the balance between creativity and business
Selling your music on USB drives: Tips from I Fight Dragons' Brian Mazzaferri