For someone to quote lyrics in a book, or liner notes, it requires special permission and is not covered by the set fees or processes of music licensing.
As you know, when you record a song written by someone else and previously released by another artist, that's called a cover (though some take umbrage with the term). As a music artist, you don't need permission to record and release a previously recorded song, but you do need to license the song and pay royalties for every copy you make. Note that's every copy you "make," not every copy you "sell."
So if your band covers "Natural," by Imagine Dragons, and you're making 1,000 CDs (initially, of course, 'cause you're gonna blow up and sell 100,000), you pay 9.1¢ per CD copy made for the song — that's $91 paid to the copyright owner, typically through the publishing company. When your album does blow up, and and you need to reorder 100,000 copies, that'll put $9,100 in the Dragon's pocket (or their publishing company's bank account). If you only sell 25 copies of the initial pressing, you still need to pay for the right to include the recording on the other 975 copies sitting in your basement.
Now that's all well and good, you've paid for the right to release the recorded version of the song, but it does NOT give you permission to reprint the song's lyrics in your liner notes. For that, you need express permission from the copyright owner, and there's no guarantee you will get it or how long the process of soliciting approval will take.
This is why, as you may have noticed, the lyrics to cover songs are often not included in an album's liner notes, even though all the artist's original song lyrics are. Technically, you as the artist need to get permission from yourself to print the lyrics on your album (seriously). Anything already published is protected by copyright and that means you need to seek permission to republish.
Which brings us to books
If an author wants to print the lyrics of a popular song (including yours!) in his/her book to use as a lead-in for each chapter, set a mood for a scene, have a character sing along with the radio, etc., he/she needs permission from the copyright owner(s). The writers and publishers with the rights to the lyrics are entitled, by law, to:
Deny the right to quote the lyrics.
Grant permission, set the terms of use, and ask whatever fee they believe is appropriate.
Ignore the inquiry entirely, leaving the requester wondering why songwriters are so freakin' difficult.
Now, if the author is self-publishing, he may think he can just get away with sticking your lyrics in his novel and no one will be the wiser (which is also the route some indies who are self-releasing CDs try with pirated lyrics and cover songs). And he may be right. Maybe you'll never find out.
BUT, let's say you're an author who does this and you catch the attention of the content owner (songwriter, publisher) because you wrote a hell of a good book and make the best-seller list, or because Sir Mick Jagger just happened upon it to find his lyrics to "Ruby Tuesday" included sans permission, or because music publishers can be aggressive when it comes to policing the content they have the rights to. In these cases, you as the author will be in violation of the law and may be forced to pay a fine, destroy all the unsold copies of your book, and generally land yourself in a lousy situation.
Which is why the first bit of advice authors might find when searching for answers to the question of whether to use lyrics in their books is a simple, "Don't quote song lyrics in your book." An author can reference the song, but not the actual lyrics, or print a song's title (there's no law against that), though using a song title as a book's title can run afoul of trademark law.
But of course, there is a way to reprint the lyrics to a specific song in a book (or your liner notes), and here's how.
Track down the publisher of the song.*
*Note: In the US, all works published before 1923 are in the public domain, which means you are free to quote, reprint, perform, and record them without having to get permission. You can learn more by reading the US Copyright Office's Duration of Copyright.
But, beware, many classic songs presumed to be in the public domain are, in fact, copyrighted, so double-check your sources before deciding a track is public domain. PD Info Online is an excellent starting point if the liner notes and copyright information are hard to find. In addition, a simple Google search with "written by" and "published" or "copyright date" alongside the song title often presents information related to the song's initial copyright date. This is by no means an exhaustive method for determining public domain, but can be helpful.
To find the publisher, you can also search for sheet music, which should list the copyright and publisher information. Then go to the publisher's website and search for information related to licensing and permissions. The Music Publishers Association has a directory of music publishers, and you can learn more about music publishers at ASCAP's website. Sony/ATV and Hal Leonard are the industry's biggest music publishers and their websites gives you a pretty good idea of how the process works if you're seeking permission. Easy Song Licensing is another resource that can help you track down the permissions you're looking for.
As a songwriter/copyright owner, making this information readily available has a lot of benefits, including making it easier for interested parties to pay you for the use of your song as a recorded cover or for licensing for all sorts of creative endeavors — including the use of your lyrics in a book.
---
A musician, writer, and marketer, Andre Calilhanna manages and edits the Disc Makers and BookBaby Blogs. Email Andre at andre@discmakers.com.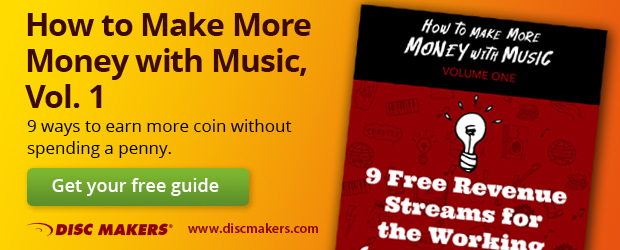 Related Posts
Breaking down two iconic songs from the Rolling Stones
"The Sound of Silence" – How Disturbed's cover version hits all the right notes
Three approaches to recording and performing cover songs
Six things I learned watching Chris Cornell cover other people's songs
Stop Playing My Song! Music, Licensing, and the Loss of Control.