If you've never tried to play slide guitar, all you need is a metal or glass slide, some patience, and to apply a few basic tips, as presented in these six slide guitar tutorial videos
You've heard the sound on countless recordings, from David Lindley's iconic slide guitar on Jackson Browne's "Running on Empty" to jams by Warren Haynes with Government Mule and Derek Trucks in the Tedeschi/Trucks Band. Slide guitar adds a unique sonic element to any song — on stage or in the studio.
If you've never tried to play slide guitar, it's not that difficult to get started. All you need is a metal or glass slide, some patience, and to apply a few basic tips, as presented here. While you may not be ready to unseat Eric Clapton or Derek Trucks from the list of top-ranking slide players, adding some acoustic or electric slide guitar to a few songs in your live set or recordings can add a new dimension to your sound.
For this slide guitar tutorial, I invited Northern California guitarist Bill Stevens to stop by our campus recording studio to demonstrate some basic slide techniques that will hopefully inspire you to spend a few dollars on a slide and experiment to add this guitar technique to your own musical toolkit.
The start of the slide guitar
No one knows for certain who the first musician was to play the slide guitar. In the late 1800s, Hawaiian musicians were using a steel bar against the guitar strings to develop their own particular flavor of slide guitar, which back in the day was referred to as "Hawaiian guitar playing." At the same time, African American musicians in the south, particularly in Mississippi, were using the guitar to accompany themselves when they sang early blues songs. In 1903, the famous composer W.C. Handy noted hearing a blues musician busking in a train station and playing slide by pressing a knife on the strings and emulating the sound popularized earlier by Hawaiian guitarists.
Delta blues musicians such as Robert Johnson, Tampa Red, Charley Patton, and Son House each made seminal early recordings in the 1920s and 30s that helped define bottleneck guitar style and broadened the interest in slide guitar. It was around this time that slide guitar playing divided into two paths: one set of musicians who played bottleneck style, that is holding the guitar while standing and using a glass or metal slide placed over one finger; and lap steel style, where the slide guitar is most often an instrument modified or designed from scratch to be played horizontally on the musician's lap or on a stand, using a steel bar or metal slide.
In the following sequence of videos, Bill Stevens will give a few tutorials on guitar slide fundamentals on four different guitars: acoustic, electric, dobro, and lap steel, and offer a few tips on getting started. You'll also find links at the end of this article to a number of other slide guitar resources and information. Today's demos will all be played using an open G tuning, but Bill points out that many slide guitar players also use open D, open E and open A tunings, depending on the sound and licks they want to use.
G blues on acoustic slide guitar tutorial
Bill started off our session with a basic 12-bar blues in the key of G, for which he recorded one complete progression playing the rhythm part into his loop station. Then, he'll take us through re-tuning his guitar to an open G tuning, before playing some basic slide licks over the blues chord progression.
Non-slide picking: Open G tuning
Once you have your guitar in an open tuning, it's interesting to play around a bit with some non-slide chording. Bill demonstrates a simple variation on a typical blues while in the open G tuning in the next clip.
String gauge and glass vs. metal slides
Most of us have our guitars set up to be as easy as possible to play, meaning the action is fairly low and we may have a light gauge set of strings on our instrument. In this next segment, Bill explains how moving up to a slightly heavier gauge of strings can improve the sound of your slide guitar playing, along with the differences between glass and metal bottlenecks.
Dobro in open G tuning
Next, Bill switches from his Taylor guitar to a vintage 1930s Regal dobro, similar to the guitars some of the Delta blues pioneers would have likely played. Dobros are specially constructed guitars that usually feature a metal resonator in place of the normal sound hole to help project its brighter sound over a noisy club or the other musicians accompanying the guitar/vocalist on the bandstand.
Electric slide guitar tutorial video
It's time to switch over to the electric guitar and Bill uses his workhorse Fender Stratocaster to demo a little electric slide.
Lap Steel Slide Guitar tutorial video
Last up for our slide guitar tutorial is the lap steel. Bill brought in his Gretsch "Electromatic" lap steel (street price $349) and shows off the different sound it provides compared to a regular bottleneck electric.
Adding some slide guitar to your repertoire can give you greater variety in your live show and recorded tracks. It's worth taking the leap and learning a bit about the now 100-plus-year-old art form to broaden your musical horizons.
Correction: This post originally noted Ry Cooder as playing on Jackson Browne's "Running On Empty." Thanks to our commenters for correcting us.
---
Special thanks to videographer Hunter Reusche, recording studio manager Jeff Crawford, and guitarist Bill Stevens for their assistance in creating this article.
Read More
"10 'Essential Listening' Slide Guitar Songs" (Guitar World)
"Sleepwalk" (Santo & Johnny)
Here's a link to a video showing Santo & Johnny playing their 1959 Number One hit "Sleepwalk." Notice how he uses the much heavier solid steel bar, the same as pedal steel guitar players use, and how he uses left-hand vibrato to make each note have a life of its own.
"Walking Blues" (Roy Rogers)
Roy Rogers is a CA-based master of the slide guitar. Check out this live video of him doing "Walking Blues" using his electrified 12-string dobro. Here's a link to purchase a 90-minute instructional video, titled "Slide Guitar for Rock and Blues," that Roy produced which covers all the fundamentals of slide playing including picking approaches and how to develop a strong vibrato.
"Setting Up Your Guitar for Slide" (Gibson Guitars)
This 2013 article offers some good advice on setting an electric guitar up specifically to play bottleneck-style slide guitar. The article explains why raising your guitar's action is the simplest way to eliminate the sound of your bottleneck hitting the guitar frets, which can negatively affect your slide sound and tone.
---
Keith Hatschek is a regular contributor to the Disc Makers Blog and directs the Music Management Program at University of the Pacific. He has also written two music industry books, How to Get a Job in the Music Industry, which just came out in its third edition, and The Golden Moment: Recording Secrets from the Pros His latest book, The Historical Dictionary of the American Music Industry, has just been published in fall 2018. Keith was recently featured offering a range of music industry career advice in Episode #33 of the Scharff Brothers' Mentoring for the Modern Musician Podcast.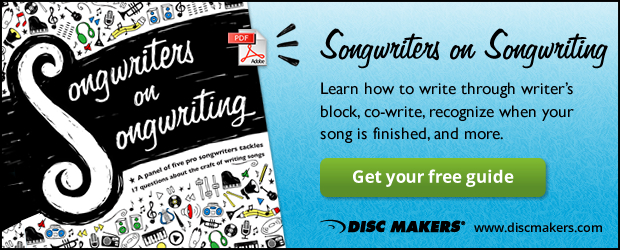 Related Posts
Guitar riffs, sonic hooks, and the Rolling Stones' iconic sound
Breaking down two iconic songs from the Rolling Stones
Guitar icons and the Gibson Flying V guitar
A study in record production: Miranda Lambert and Beck
Ninth chords add space, dissonance, and ambiance to your arrangements