If you're having trouble making the numbers work as you're planning to hit the road with your band, think creatively about ways to earn more money on tour.
If you've ever organized your own tour, you know that the costs can add up (read "Calculating a tour budget" for more on that) — but that doesn't mean you shouldn't do it.
If you're having trouble making the numbers work for an upcoming outing — whether it's a week-long swing through local cities or a multi-month international extravaganza — it can help to think creatively about ways to earn more money on tour. In addition to selling CDs, USBs, and merch at your shows, here are a few suggestions for augmenting your revenue while out on the road.
Give lessons
Do any fans in the places you'll visit play the same instruments you do? Have any expressed admiration for your songwriting or production chops? You can always reach out directly, let such folks know you'll be in the area, and see if they're interested in a private lesson or two while you're in town.
Busking
Traveling to new areas means opportunities to introduce your music to new audiences — and busking can be a great way to do that. Check out our interview with veteran busker Natalie Gelman for some tips, do your due diligence when it comes to local regulations regarding impromptu performances, and dive in. Even if you only have a few free hours between soundcheck and showtime, a well-placed busking session in a park or transit center can not only earn you extra money, but possibly grow your audience for your big show.
Recording sessions
Once you have your travel dates confirmed, tap your musician networks in the areas you'll be visiting to see if anyone is tracking and could use your help. I know a number of fellow New York-based indie musicians who regularly go to California for gigs, fill the space in between with studio dates, and earn a nice paycheck in the process.
Private events and house concerts
Just because you're playing a big public show one evening doesn't mean you can't play a well-paying private gig the next. Look at your free time in each place you're traveling to and see if it makes sense to offer to provide music for parties, weddings, or private house concerts. Reach out to select members of your local fanbase to determine if there's interest, or try cold-calling local entertainment agencies or event planners about opportunities.
Workshops and master classes
Depending on your musical specialties and the nature of your regional fanbases, you might be able to rally interest for educational events before or after your big local show. Can you host a songwriting roundtable, or teach a master class in funk drumming? It might take some hours to organize the event, nail down a venue, and line up a good number of participants, but such activities can help you make additional money on tour and strengthen your connection with your fans in a new way.
School and museum performances
Public or private, religious or secular, elementary or university level: educational institutions often have budgets and a need for interesting performances, so don't hesitate to research organizations and reach out in the places you'll be touring. Be ready to send promo materials and be sure to do your outreach as early as possible, as educational institutions often plan events months or years in advance.
Do you have any tips for earning extra money while on tour? Tell us in the comments below.
---
Disc Makers' regular contributor Michael Gallant's debut trio album Completely received a four-star review from DownBeat magazine and a five-star review from Critical Jazz, which stated: "This, my friends, is the future of jazz. Fresh, invigorating, progressive – there are simply not enough positive adjectives to list here." Learn more, download through iTunes, or purchase through CD Baby. Follow Michael on Twitter at @Michael_Gallant or on Facebook.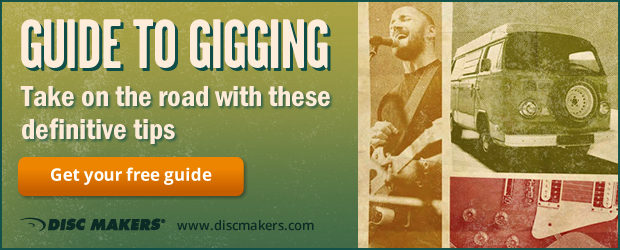 Related Posts
Calculating a tour budget
The indie artist's guide to gigging and touring
Taking it to the Streets – Busking Tips From Veteran Street Performers
Work For Hire agreements: The producer's perspective
A new release strategy for a new music economy