Great rock music is a combination of explosive energy and an explosive message, which makes the Riot Grrrl movement one of music's more potent pills.
In 1991, a group of women from Washington, DC and Olympia, Washington met to discuss how to address sexism in the punk scene. Taking their cue from a recent antiracist riot in the Mount Pleasant neighborhood of DC, Jen Smith of the band Bratmobile used the phrase "girl riot" in a letter to bandmate Allison Wolfe to describe the restless, angry atmosphere among this group of women. Soon afterward, the fanzine Riot Grrrl was born, giving voice to women who felt a strong pull to punk rock music but actively alienated from the testosterone-laden, male-dominated scenes.
Riot Grrrl spurred a nationwide movement that, depending on who you talk to, either died with the Spice Girls' appropriation of the "girl power" message or continues to this day, alive in the spirit of bands like Pussy Riot and many others in the US and abroad.
The Riot Grrrl ethos
From its inception, punk shows had an atrocious history of violence and degradation of women. In the documentary Don't Need You: The Herstory of Riot Grrrl, Madigan Shive of the band Tattle Tale talks about going to punk shows with all the girls standing on the perimeter holding the coats of the boys who were playing and dancing. She overheard someone say, "Oh, those are the coat hangers." Beyond simple insults like that, the violence of the mosh pits and general male hegemony of the scenes were extremely alienating to women who loved the music but felt unsafe and not allowed to participate.
The Riot Grrrl movement aimed to turn that paradigm upside down. Kathleen Hanna, creator of the fanzine Bikini Kill and founder of the band with the same name, wrote "The Riot Grrrl Manifesto" to articulate her vision for this new movement. It set up a vision of music and a scene by girls, for girls, and with girls at the helm: anti-capitalist; extremely concerned with social, racial, and sexual justice; and hell-bent on breaking all gender expectations of what society (men especially) had deemed as "acceptable" for women to say, do, think, and create. To accomplish this vision, Hanna and her collaborators used the backdrop of punk music and its DIY work ethic to create fanzines, records, and shows where women's' concerns were front and center.
Riot Grrrl is also associated with the rise of third-wave feminism, a more personal brand of feminist theory focused on diversity and the effects of the cultural representations of women. The grrr added to "girl" was a reclamation of the passive, derogatory use of the word, which became especially important to their adolescent girl audience who were just learning the challenges of a woman's place in society.
"The Riot Grrrl Manifesto" was meant to be a starting point, not a rigid rulebook. Hanna said in a 1996 interview that "part of the whole idea about Riot Grrrl was that you couldn't define it: each person defined it as it happened … we didn't have one way to dress or look … Riot Grrrl is three-dimensional, not just one thing."
Bikini Kill
Bikini Kill formed in Olympia, Washington in November 1990. Front-woman Kathleen Hanna had tried her hand at spoken word and formed a couple of short-lived bands before connecting with drummer Tobi Vail, with whom she formed Bikini Kill's eponymous fanzine. Adding bassist Kathi Wilcox and guitarist Billy Karren, the quartet released their first EP, Revolution Girl Style Now! independently. Cut in one afternoon after playing a house party the night before, they sold self-dubbed cassettes of the eight-song demo at shows and through the mail.
Bikini Kill's live shows became a chance to create the new community Hanna had outlined in her manifesto. Asking men to move to the back so that women could stand in the front, Bikini Kill would hand out lyric sheets and sing about rape, sexual assault, incest, and eating disorders. The subject matter alone puts them in unique territory as fearless songwriting pioneers.
Daddy comes into her room at night
He's got more than talking on his mind
My sister pulls the covers down
She reaches over, flicks on the light
She says to him
Suck my left one
  — "Suck My Left One"
I can sell my body if I want to
God knows you already sold your mind
I may sell my body for money sometimes
You can't stop the fire that burns inside of me
  — "Jigsaw Youth"
The feminocentric environment Bikini Kill created did achieve Hanna's goals to an extent, though she was still subjected to verbal abuse and sometimes physical threats and assaults from male audience members. Often, she would jump into the crowd to remove the offender herself. The band did attract a male audience, and as the crowds grew larger and the ticket prices increased, the shows became more populated with true fans of the band. However, the heckling, threats, and objects thrown at them did continue throughout their career.
Bikini Kill was signed to Kill Rock Stars Records for their second EP, which featured some of the previous demo's songs re-recorded. Ian MacKaye of Fugazi produced the record, and the band's audience grew. 1993 saw them release two records: a split album with British Riot Grrrl band Huggy Bear, and a debut full-length album, Pussy Whipped.
Pussy Whipped received great critical acclaim and now rests on many "best-of" lists from the major music magazines. The single version of "Rebel Girl" (included on the album) was produced by Joan Jett, and it seemed Bikini Kill was arriving on the world stage. The momentum wouldn't last long, though, as they only released one more album in 1996 before breaking up in 1997. The challenges of staying together with no manager, no booking agent, and no tour support (not even a roadie) were too much. Hanna left one of the most influential rock bands in America with $400 to her name.
Bratmobile
On the scene from the very beginning, Bratmobile represented the DIY ethos completely as the core members Allison Wolfe and Molly Neuman learned their instruments solely for the purpose of being in a band. Splitting their time between DC and the Northwest, Wolfe and Neuman had already published an influential feminist fanzine called Girl Germs. Calvin Johnson of K Records booked them for a gig opening for Bikini Kill and Some Velvet Sidewalk before they had even played a note of music!
"We had been traveling up to Olympia on weekends and telling everyone we were in a band called Bratmobile," says Wolfe. Not being an actual band, they were forced to get their act together quickly. Wolfe said, "We went to our friend Robert Christie and were like, 'What do we do?' He loaned us his practice space and let us use their equipment but we didn't know how to write songs. He said to listen to a bunch of Ramones records, but I thought if all bands listen to the Ramones in order to start bands, then I wouldn't and I vowed to never listen to them."
Wolfe did listen to a lot of female rap and hip hop artists such as Salt n' Pepa, Yo Yo, Bytches with Problems, and TLC before the band started. "That was a big influence on us, all these really awesome, kinda goofy but politicized women in rap and hip hop that weren't commercialized yet. They had messages that were pretty important. Also, the first Batman movie had come out and Prince did the soundtrack and the Batmobile was an influence on us naming the band Bratmobile."
They played that first gig as a duo, but quickly added Jen Smith and Christina Billotte to the lineup for a demo tape entitled Bratmobile DC. After a few months, they returned to Olympia, having been introduced to guitarist Erin Smith, and from then on played as a trio. This lineup played at the International Pop Underground Convention in 1991, the only band to appear twice. Bratmobile released one album, Pottymouth, and one EP, The Real Janelle, on Kill Rock Stars. They then recorded a Peel Session with legendary British DJ John Peel before publicly breaking up onstage in 1994. Bratmobile did reunite for a second album, Ladies, Women, and Girls in 2000 and a third, Girls Get Busy, in 2002.
Not as aggressive musically as Bikini Kill, lyrically they were even more confrontational:
You like to stab me
And f**k the wounds
You got to stab me
And f**k the wounds
You know where I've been
You want to stick it in
You wanna tie me up
You f**ked me up!
  — "Stab," Pottymouth
Make me miss amerika (don't care don't care)
rip it when we're 6 yeah (don't care don't care)
lock her in her room now (don't care don't care)
tell me it's my birthday (don't care don't care)
i don't care.
rub her face in glass Dad (don't care don't care)
try to kick some ass Dad (don't care don't care)
tell me who's insane man (don't care don't care)
throw up every other day (don't care don't care)
i don't care.
  — "And I Live in a Town Where the Boys Amputate Their Hearts," The Real Janelle
More Riot Grrrl
Other bands involved in the original Riot Grrrl movement and scene were Heavens to Betsy, Excuse 17, Emily's Sassy Lime, Third Sex, and, in the UK, Huggy Bear and Skinned Teen. After the dissolution of their respective bands, Corin Tucker of Heavens to Betsy and Carrie Brownstein of Excuse 17 went on to form Sleater-Kinney and became one of the most popular punk indie bands of the early 2000s and arguably the first "post Riot Grrrl" group.
There were also a number of women-fronted bands not technically Riot Grrrl that were lumped into the scene by the media: L7 (who actually preceded Riot Grrrl), Babes in Toyland, Hole, and 7 Year Bitch, to name a few. The term Riot Grrrl was applied very broadly in the mid '90s to any angry woman-fronted group singing about women's experiences, but the actual term applies to a specific group of bands centered around Olympia, WA, Washington, DC, and London in a very specific time period.
Riot Grrrl's impact
When Nirvana and grunge brought the Pacific Northwest music scene into the international spotlight, the force of Riot Grrrl became a powerful influence. Hanna was actually the person who spray-painted "Kurt smells like teen spirit" on Kurt Cobain's wall, inadvertently inspiring the smash hit that launched Nirvana into the stratosphere. More mainstream acts adopted an "angry woman" persona, such as Alanis Morrissette (especially "You Oughta Know" in 1995), Tracy Bonham, Meredith Brooks, and Fiona Apple. On the alternative side, PJ Harvey, Liz Phair, Veruca Salt, and The Breeders sang about similar subjects as the Riot Grrrls but were less confrontational and political.
Beyond the confrontations at their live shows, the original Riot Grrrls also endured humiliation from the national press. Newsweek wrote a condescending article about Riot Grrrl: "There's no telling whether this enthusiasm or the Riot Grrrls' catchy passion for 'Revolution Girl Style' will evaporate when it hits the adult real world. Most of the Grrrls are still in the shelters of home or college — a far cry from what they'll face in the competitive job market or as they start to form their own families." Seventeen Magazine basically told them to tone down the anger if anyone was going to like them, especially boys. All of this attention and the multiple levels of misunderstanding led some to abandon the movement, and the evaporation of the Riot Grrrl influence on pop may have coincided with the cooptation of the slogan "Girl Power" by Britpop group The Spice Girls, who were not threatening to the mainstream establishment in any way.
The Riot Grrrl movement encouraged self-expression and active participation in music, feminism, and one's own life. In her article, "The History of Riot Grrrls in Music" (The Feminist eZine), Kristen Schlit argues that the Riot Grrrls were even more challenging than their male punk counterparts as they were operating outside of the sphere of pop music and commercial entertainment where women were traditionally associated.
Schilt doesn't discount the positive impact the "angry women" and post-Riot Grrrl pop stars could have — "If one girl feels empowered by the Spice Girls' 'girl power' slogan or Alanis Morissette's angry tirade, then something positive can occur" — but the commercialization diluted the radical feminist message and thwarted the DIY ethos and sense of non-hierarchical community Riot Grrrl had set out to create.
The bands in the Riot Grrrl scene set out to have an impact on the women and girls around them. Most of them fizzled out due to lack of support and funding, although several of the key participants are still in bands and are extremely politically active. It's important to note what a labor of love the initial explosion was and how large an impact it had.
Bob Dylan said that music will be good in any era if the creators have "a pure heart and something to say." While the Riot Grrrl bands certainly don't — and never did — need a man's blessing, these words perfectly apply to them.
---
Chris Huff has been a professional singer, multi-instrumentalist, songwriter, and producer for over 20 years. He has worked as a sideman with Peter Yarrow (Peter, Paul, and Mary), Echo and the Bunnymen, Chuck Hammer (David Bowie, Lou Reed), and Tom Kitt (Broadway composer of Next To Normal). Chris also wrote liner notes for David Bowie's Live And Well CD, and has two full-length albums of original music available on iTunes.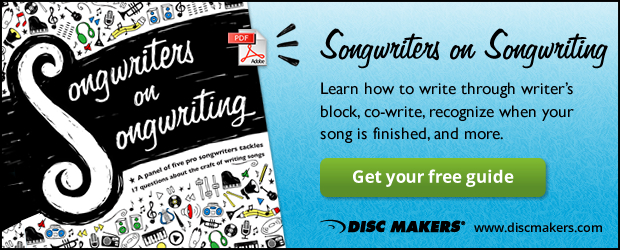 Related Posts
Women in rock — three luminaries who made their mark
How The Beatles changed music and the world (or at least got credit for it)
Berry, Domino & Little Richard: Three rock 'n roll pioneers
Take risks with your music
Want music success? You've got to love the grind.