Dealing with money may be the most unexciting aspect of tracking your project in a studio, but budgeting for your recording session can go a long way to achieving success.
If you're new to studio recording — even if you're a seasoned veteran — the recording process can be wildly exciting, if not intimidating, especially when it comes to matters of logistics, planning, and money.
Dealing with the latter may be the single most unexciting aspect of tracking your new project in the studio, but it's also one of the most important and needs to be handled professionally and proactively. The last thing you want is to get halfway through a project and realize you don't have enough cash to finish things up. Basic budgeting, done conscientiously and as far ahead of time as possible, can help you spend within your means and stop money-based problems before they start.
As soon as I start planning a new session, I open up a basic spreadsheet and chart out a list of categories with expected cost per item, then program a cell at the bottom to calculate the sum of all expenses. This way, I have an idea of how much the entire project will cost, from first phone call to finished track. Here are some of the key categories I always include.
Studio rental
If you're renting an external studio, what is the hourly rate, and does that include an engineer? Are there special pieces of gear (vintage mics and compressors, for example) or instruments (boutique amps or grand pianos) that the studio charges extra for? If you are using an acoustic piano, will you need to pay extra to have it tuned day-of? These are all details you want to find out about ahead of time and budget for as you're making your plans. If you're booking longer sessions or multiple days, ask about block rates for full-day or half-day sessions as you might be able to save a few bucks that way.
Mixing
Will you be hiring professional engineers to mix your project? If so, try to nail down, or at least estimate, the costs ahead of time. Different engineers can charge very different amounts for recording/mixing projects.
Mastering
Same as above. If the project calls for a professional mastering engineer, it's important to include the costs in your budget breakdown.
Instrumentalist and singer fees
Are you tracking everything yourself, or will you be hiring a professional session bassist, drummer, and backup vocalist to help flesh things out? If session musicians are part of the equation, establish or estimate how much you'll need to pay each of them for their time and expertise. I recommend estimating liberally, including money for at least an extra hour or more in case recording takes longer than expected.
Arranging, orchestrating, and production
Sometimes I work with a great vocal producer here in New York City to help track strong leads and compelling harmonies, so when I budget, I make sure to include his fees. Similarly, if you're hiring someone to arrange strings for you or program fresh beats, figure those costs into your overall budget.
Food
As I wrote in "Food and the Recording Studio – A Serious Recording Tip," providing food and drink for everyone involved in your session can make a notable difference when it comes to attitude and performance quality. You don't need to offer lobster and caviar, but do figure in enough money to provide a reasonable amount of healthy nourishment for your team.
Transportation
Will you have to deal with paid parking, train or Uber fares, or hiring a man-with-a-van to help you haul your Marshall stacks to the studio and back? These are all costs that you might not automatically think of, but they're important to factor in when calculating the overall cost of your session.
Hard drive
If you're recording digitally, you're absolutely going to want an external hard drive or other data storage device so you can walk away with your session and tracks in hand. I'm a fan of Glyph drives, but there are plenty of other good options. If you don't already have a drive handy with enough free GBs on it to store massive amounts of multi-tracked audio, price out data storage options online and add it to your budget.
Miscellaneous
Chances are you'll forget something, so try to leave a few extra bucks to cover unexpected, last minute needs.
As you fill in numbers for all of these categories, keep an eye on the total. If expenses exceed what you're able to pay, look for creative ways to cut without compromising your vision — perhaps you could use a single string player overdubbing several parts rather than hiring a full string section, for example. Recording all of your vocals in one full-day session, rather than breaking it up into multiple shorter sessions, could reduce your costs without reducing your creative output.
Regardless of your style of music and independent of whether you have the budget to hire a small project studio or Skywalker Sound, the key is to avoid surprises when it comes to money. Even if spreadsheets are absolutely not your thing, I encourage you to spend at least a few minutes sketching out a rough budget, using categories like those mentioned above, long before you hit "record." The less you have to worry about money once you enter the studio, the more you can focus on the reason you're there: to make great music.
---
Disc Makers' regular contributor Michael Gallant's debut trio album Completely received a four-star review from DownBeat magazine and a five-star review from Critical Jazz, which stated: "This, my friends, is the future of jazz. Fresh, invigorating, progressive – there are simply not enough positive adjectives to list here." Learn more, download through iTunes, or purchase through CD Baby. Follow Michael on Twitter at @Michael_Gallant or on Facebook.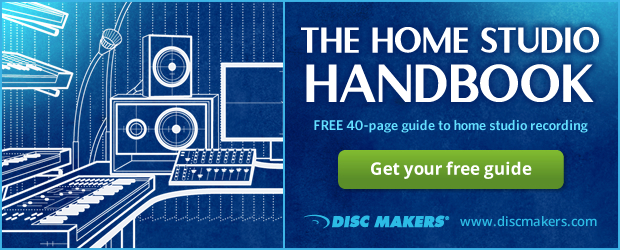 Related Posts
Seven things to consider when shopping recording studios
Preparing to record in a professional recording studio
Prepping for the recording studio, Part II
Food and the Recording Studio – A Serious Recording Tip
How to choose a recording studio