Among the great writers, performers, and trailblazers in rock music, women who have advanced the cause hold a special place. We look at three women in rock whose music still resonates as they continue to influence modern music artists.
From its inception, rock and roll music was a field dominated by men, holding the vast majority of industry and performance positions. The role of women, according to patriarchal society, was to be in the audience, though it was women, in fact, buying records and screaming at concerts that propelled rock into the worldwide music it became. Despite this societal relegation, women rock performers did take the stage and often had to work twice as hard to be perceived as "extraordinary" by the male music establishment and merit consideration.
Here are three women in rock who broke through the glass ceiling and changed music for the better.
Janis Joplin
Janis Joplin was a freak to the "normal" people of late '50s/early '60s Texas where she grew up. "They laughed me out of class, out of town, and out of the state," said Joplin to Dick Cavett about the kids with whom she went to high school. Magnetically drawn to the blues, Janis was an off-stage introvert with a fire in her soul. Blues music — especially the music of Bessie Smith, Ma Rainey, Billie Holiday, and Leadbelly — lit that fire and kept it lit.
A profile in her college newspaper described her like so: "She goes barefooted when she feels like it, wears Levis to class because they're more comfortable, and carries her autoharp with her everywhere she goes so that in case she gets the urge to break into song, it will be handy." She was voted "Ugliest Man On Campus" at that same school in a stunning display of teenage nastiness. But she persevered, with her inner pilot light pushing her onwards. In a very '60s move, she and a friend hitchhiked to San Francisco, and it was there that she found her artistic community and the freedom to pursue her artistic vision.
Big Brother and the Holding Company was an established rock band, the house band at the Avalon Ballroom, when Janis auditioned in 1966. "We were doing this woman a favor to even let her come and sing with us," said guitarist Sam Andrew. "She didn't look like a hippie, she looked like my mother, who is also from Texas." But she was good, passed the audition, and became the band's lead singer. It took a good year of gigging and rehearsing for her to get used to singing with an electric band, having mostly accompanied herself on acoustic guitar up to that point.
The greatest rock music of the '60s was a confluence of blues, country, rock n' roll, and the new experimentalism of the psychedelic movement. Joplin's music fit squarely in the middle of all that, and she was in its epicenter, San Francisco. While it was a transition for the psychedelic group to get more bluesy, the change brought them increased popularity, culminating in the legendary performance at the Monterey Pop Festival in the summer of 1967. This festival introduced Joplin, Jimi Hendrix, and Otis Redding to the larger world simultaneously — not too shabby! Joplin and Big Brother were signed to Columbia Records after Monterey, and their debut major label release, Cheap Thrills, unleashed the fury and power of Joplin's vocals on the world.
Without a doubt, Joplin's voice is her greatest artistic legacy. The combination of its raspy tone, the unashamed raw emotion, her utter fearlessness to push it to its absolute limits, and her incredible dynamic range set her apart then, and now. Joplin also understood that the screaming was nothing without the contrasting ability to sing quietly and get the message across like her blues idols.
Not much has been said about the legacy of Joplin's writing, perhaps because most of her greatest and most popular recordings are covers. Every record of hers has at least a handful of songs she wrote or co-wrote, though, and had she lived past the sadly ubiquitous rock death age of 27, surely her writing would have grown and developed. The cover songs Joplin did perform were so indelibly stamped by her that most people identify a song like "Me And Bobby McGee" with her more than with its writer and original performer, Kris Kristofferson.
Like all the great blues singers, the well fueling Joplin's art was filled with pain: the pain of her childhood and never feeling good enough or accepted was a large part of that. It was great for her art, but Janis's artistic fearlessness quickly extended to her personal life. According to writer Kim France: "Once she became famous, Joplin cursed like a truck driver, did not believe in wearing undergarments, was rarely seen without her bottle of Southern Comfort, and delighted in playing the role of sexual predator." Sadly, the booze and drugs denied the world the chance to see what that artistic fearlessness would have brought in the decades to follow.
Along with her contemporary Grace Slick, Joplin is credited with opening doors for women in rock who would follow her in the music business. Stevie Nicks, in particular, often mentions Joplin's influence on her in terms of her voice, her look, and bringing that "dangerous, sexy, rock and roll edge" to every song. Music journalist Ellen Wills noted, "Joplin belonged to that select group of pop figures who mattered as much for themselves as for their music. Among American rock performers, she was second only to Bob Dylan in importance as a creator-recorder-embodiment of her generation's mythology."
I would add that while much ado is made about how Hendrix's guitar tone and use of feedback and effects changed the blues forever, not much attention is paid to Joplin's equally groundbreaking vocal tone (which has its own built-in distortion). She amped up the blues in a similar way, pushing it into theatrical, larger-than-life territory which many artists would emulate in the years to come.
Joni Mitchell
It's simplistic to call Joni Mitchell from Saskatoon, Saskatchewan a rock artist, except that rock is probably the most encompassing of the categories to which she could belong. Her work transcends genre and defies category, hopping fluidly back and forth from folk to rock to country to jazz to blues to pop and then back again. Not only are her songs exquisitely well-crafted, they follow a unique style, rhythm, and structure all their own.
Mitchell describes herself as "a painter who writes songs" with "a little helium voice," and she has articulated numerous times in interviews that one of her main songwriting goals is to stretch the thematic boundaries of what pop music finds acceptable. Indeed, her songs often follow drifters and outsiders, both male and female, who struggle to find their place outside societal boundaries.
No regrets Coyote
We just come from such different sets of circumstance
I'm up all night in the studios
And you're up early on your ranch
You'll be brushing up the brood mare's tail
While the sun is ascending
And I'll just be getting home with my reel-to-reel
—Coyote, 1976
Mitchell herself traveled an outsider's path, but perhaps more importantly, drew great inspiration from observing the outsiders around her. Her songs have an underlying theme of rootlessness and restlessness, which makes sense, considering her mostly nomadic, wandering, constantly touring lifestyle as a younger artist.
Mitchell's life and personal drama is comparatively much quieter than Janis Joplin's was, though the painful parts are not any less real. She gave up a baby for adoption long before she ever released a record, and a brush with polio as a child left her left hand permanently weakened (which led to her using many open tunings on her stringed instruments in adulthood).
Perhaps equally as important as her ability to translate her own personal emotional life into music is her capacity for empathy and ability to translate others' feelings into song. This makes her more emotionally literate and deeper than the other confessional singer/songwriters of her era (most of whom were men). Nowhere is this more evident than her 1971 masterpiece, Blue.
Blue's resonance and extraordinary excellence led to the male-dominated music world's first real acknowledgment of her greatness. Blue was also an artistic turning point for Mitchell, as she said in an interview in 1977: "The Blue album, there's hardly a dishonest note in the vocals. At that period of my life, I had no personal defenses. I felt like a cellophane wrapper on a pack of cigarettes. I felt like I had absolutely no secrets from the world and I couldn't pretend in my life to be strong. Or to be happy. But the advantage of it in the music was that there were no defenses there either."
Blue
Songs are like tattoos
You know I've been to sea before
Crown and anchor me
Or let me sail away
—Blue, 1971
Mitchell opened doors for countless female artists who picked up guitars and played pianos and followed in her confessional footsteps. Feminist scholars have posited that her stories of sexual freedom blended with emerging social practices and helped legitimize the new choices available to young women in the sexual liberation of the '60s. Whereas Joplin did that with her outlandish life and brash style on and off stage, Mitchell did it with words and stories.
Many comparisons have been drawn between Mitchell and Bob Dylan: both are innovators in song form and used words to carve out new territory for songwriters and performers after them. The two have toured together, and Dylan has often complemented Mitchell publicly. But while Dylan has always received massive amounts of attention from the music establishment, Mitchell has remained largely out of the spotlight despite some chart successes. She has expressed both her admiration for Dylan and called him out as a "fake" and a "plagiarist" at different moments.
While nothing can truly ease the frustration of the basic sexism of the music industry (among others), Mitchell's influence is one of the first to truly cut across gender lines. Artists as diverse as Prince, Dylan, Bjork, Taylor Swift, Herbie Hancock, Annie Lennox, Chaka Khan, and Maynard James Keenan (Tool, A Perfect Circle) have cited her as an influence and/or covered one of her exquisite songs.
Patti Smith
"Jesus died for somebody's sins, but not mine," intones Patti Smith on the first line of her first album — possibly the greatest and most powerful lyric from a new artist in recorded history. Often called the "punk poet laureate," Smith's fusion of rock and poetry was both groundbreaking and confrontational, inspiring countless alternative rockers in her wake.
Originally from the Philadelphia suburbs, Smith moved to New York City in 1967 and became a fixture in the downtown poetry, music, and art scenes. She acted in plays, painted, and wrote poems, lyrics, and articles for Rolling Stone and Creem. And here's a little-known fact: Smith was almost the lead singer for the band Blue Öyster Cult, for which she wrote the lyrics to several songs.
By 1974, Smith had formed the nucleus of her band and released her first single, "Hey Joe." The B-side, "Piss Factory," is acknowledged by some as the first punk record. After Bob Dylan attended one of her gigs, Clive Davis signed her to Arista Records; her debut album, Horses, received massive critical acclaim and even charted at 47 on the Billboard 200. She released three more albums in the late '70s before retiring from music for the next eight years to raise her children.
Rock n' roll had had its share of poets by the late 1970s, but none as in your face as Patti Smith. Equally influenced by the French symbolist and Beat poets, as well as Bob Dylan, Jim Morrison, and Lou Reed, she brought visionary language and high intellect to the street-level CBGB punk ethos. Most punk was a rejection of the acid-drenched visions of psychedelia, and while Smith wasn't chasing tiny purple fishes laughing through her fingers, she was exploring the edges of consciousness.
Didn't we laugh and dance for hours
We were having fun as we built the tower
I saw it spiraling up into his electric eye
I felt it go in and started to cry
Oh God are you afraid
—Poppies, 1978
And he started to drift, drift to the belly of a ship
Let the ship slide open, and he went inside of it
And saw his daddy 'hind the control board streamin' beads of light
He saw his daddy 'hind the control board
And he was very different tonight
Cause he was not human, he was not human
—Birdland, 1976
Despite being such an artistic trailblazer and classic example of how women can rock just as hard as men — if not harder — Smith decidedly does not consider herself a feminist. "The French poet, Rimbaud, predicted that the next great crop of writers would be women," she said. "And I believe in that completely. But hung-up women can't produce anything but mediocre art, and there ain't no room for mediocre art."
Smith has repeatedly asserted "the right to create, without apology, from a stance beyond gender or social definition but not beyond the responsibility to create something of worth." Nonetheless, feminist writers have lauded her for her stated intention of merging masculinity and femininity within herself (as well as in her music and visual presentation) and thus reconstituting ideas of gender. This was reflected in her audience, where men and women began to dress in white shirts with black ties like her iconic Horses outfit. Patti is also one of the first female artists to acknowledge that her influences are almost exclusively male, and the fearlessness with which she appropriated her male influences opened a space for women after her to do the same. Smith cut her own path and never tried to fulfill any kind of gender-based societal expectations.
Smith also extended her three chord songs way past the confines of a pop song and verbally riffed her verses, rhymes, and chaotic stories into forms all their own. Like Mitchell, she let her songs find their own structures, though unlike Mitchell, Smith's music is the servant of the words and sprawls out underneath them, droning its garage rock pulse like some kind of downtown shaman.
Smith's unapologetic voice croons away and she occasionally doubles her singing with background spoken word a la Velvet Underground. Her band forms itself perfectly around her words, and longtime bandmates Lenny Kaye and Jay Dee Daugherty know exactly where to fill in and when to lay back. Punk in the classic New York sense was a wide umbrella, encompassing the poppy Ramones and Blondie; the freaky guitar-gods of Television; the arty, angular Talking Heads; and the intellectual yet aggressive Patti Smith Group. What linked them all was an emphasis on content over flash and a minimalist, primitive production value. Patti took all her influences from the past, combined it with the NYC proto-punk energy around her, and distilled it into a heady brew that was both new, innovative, and intoxicating.
Women in rock – Epilogue
The artistic transformations these three woman ushered in changed the game of songwriting and performing for everyone who came after them, men and women alike. While they did shatter the glass ceiling, unfortunately it continues to grow back and needs re-shattering all the time. There is still a long way to go to achieve gender equality in the music industry.
As Janelle Monae tweeted recently, "A total of 90.7% of Grammy nominees between 2013 and 2018 were male, meaning just 9.3% were women." Tone-deaf, idiotic comments from men like RIAA President Neil Portnow, saying female artists need to "step up," just show what an uphill battle this will be. Thankfully, we have the vibrancy of underground independent music to lead the way in innovation and gender awareness, as the Grammys aren't even necessarily about music. It's long past time for women's voices in rock to be heard and celebrated equally.
Artwork sourced from album covers.
---
Chris Huff has been a professional singer, multi-instrumentalist, songwriter, and producer for over 20 years. He has worked as a sideman with Peter Yarrow (Peter, Paul, and Mary), Echo and the Bunnymen, Chuck Hammer (David Bowie, Lou Reed), and Tom Kitt (Broadway composer of Next To Normal). Chris also wrote liner notes for David Bowie's Live And Well CD, and has two full-length albums of original music available on iTunes.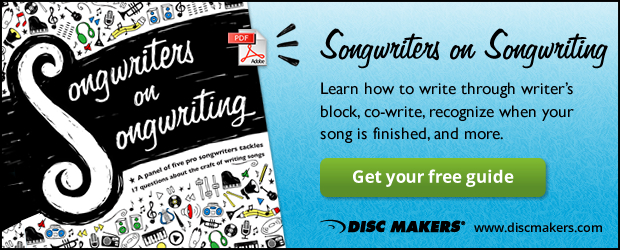 Related Posts
Berry, Domino & Little Richard: Three rock 'n roll pioneers
Anatomy of a Cover Song – Four takes on "Big Yellow Taxi"
Recording with Reverb and Echo – Tips and Lessons from Six Classic Tracks
The song worlds of three musical greats
Ask a songwriter: 5 questions for Rachael Sage