Your song has to be great for you to have a chance at landing a cut with a major artist, and your song demo has to hit the right notes, too.
In "The song pitch: 9 tips for getting your songs heard by major artists," industry expert Peter Coquillard offered advice on how to get that brilliant song you wrote into the hands of – and hopefully onto an album by – a major artist.
A big part of the pitching game is producing the right sort of song demo. Here are some additional tips from Coquillard on how to craft the right song demo for every opportunity.
For pop, do it up
If you're trying to get Demi Lovato or Rihanna to record your next song, make sure your demo recording is as polished and professional as possible.
"When you're pitching pop songs, your competition is what you're hearing on the radio," says Coquillard. "When you send a song off, you want it to be as close to radio-ready as possible." That may mean spending extra time polishing your mix or master – and/or hiring outside engineers to help you give your project the professional polish it needs – but your efforts will be worth it when it comes to the viability of your track.
Match your demo vocals to the artist you're pitching
If you're pitching a song for One Direction, you'll be best served by having your demo performed by a group of young men, rather than having a woman sing it, for example – and vice versa for female artists.
"Not many producers, artists, or A&R guys will listen to a male vocal track and imagine how a female vocal would sound instead," says Coquillard. "Industry people who are really musical might get the idea without a problem, but to increase your chances, have a male vocalist record your demo for a male artist and a female vocalist for female artist pitches."
Should your demo vocalist be a dead ringer for the artist you're pitching? "There are two schools of thought," says Coquillard. "You can either make it sound as close as possible, so the people listening can really hear how the artist would sound on the song, or you can consciously choose to make it sound in the same style, but definitely not the same. If you go with the latter, still make the vocals sound great – the idea is that you just don't want to intimidate anybody. If the demo vocalist is doing an imitation of the artist, it might not leave any room for the artist to interpret the song as his or her own, and your song could end up being rejected because of that."
Which path should you take in your own pitches? Experiment and trust your gut – but make sure your demo vocals at least loosely fit the vibe, and gender, of the artist that you're pitching.
Keep the artist's range in mind
"When labels in Japan send out briefs looking for songs for artists to sing, they indicate that the demo should be in a certain key and have a certain vocal range," says Coquillard. "In the U.S., labels don't do that sort of thing, so when you're putting a demo together, keep a singer's range in mind. Listen to his or her other work and don't send anything that will be too high or too low to be sung comfortably. If you send something with notes that the artist either can't physically sing or would just sound terrible on, the song will immediately get dismissed."
Pitch to DJs
"There are so many electronic artists in the world, many of whom aren't really songwriters per se, but have established brands, tour constantly, and have built-in audiences," says Coquillard. "A lot of those guys will look for basic piano-and-voice demos, produce them out, and put their trademark on them. That whole world represents a great opportunity for songwriters. And when you pitch songs to them, you can get away with sending rougher demos."
Rough doesn't mean sloppy, though. "Don't send anything wonky and make sure that the vocals sound great, even if they're just backed up by guitar or piano," says Coquillard. "If a DJ likes a song, he or she will often just ask for the a capella vocals from the demo and build their own tracks underneath it. It happens all the time."
If you do succeed in having a song that you've written worked on by a big-name DJ, Coquillard advises you should be ready to negotiate part of the song's publishing and accept some sort of featured artist royalty.
"The deals are always different, but some ownership of the master and a percentage of royalties is standard. Regardless of the details, it's a great way to boost your career. If you get three or four songs used by a major DJ, it's another big piece of credibility and a building block towards more of a straight-up pop songwriting career. The DJ stuff crosses over and there's tons of it on the radio."
Invest in sound
For better or worse – whether you're pitching pop, country, metal, or hip-hop – a lot of demos for songs will be judged more on the quality of production than the quality of the lyrics, melody, and song structure.
"Lots of people in A&R these days grew up on SoundCloud and listen for the sonics of the track," says Coquillard. "Their opinions aren't necessarily rooted in melody, lyrics, or song structure the way some other people's are. The song can be incredible, but if the sonics are dated or cheesy, they may dismiss a song right away."
While some of the people you're pitching might be able to imagine interesting ways to use a melody or hook beyond how it's represented in the demo, others will not – so make sure your recording speaks for itself, in terms of production and sound quality, as much as possible. "It goes back to making your demo as radio-ready as possible, regardless of the genre," says Coquillard. "In general, the better sounding the overall track is, the better your chances will be of success."
For more on Coquillard, visit milkhoneyla.com.
---
Disc Makers' regular contributor Michael Gallant's debut trio album Completely received a four-star review from DownBeat magazine and a five-star review from Critical Jazz, which stated: "This, my friends, is the future of jazz. Fresh, invigorating, progressive – there are simply not enough positive adjectives to list here." Learn more, download through iTunes, or purchase through CD Baby. Follow Michael on Twitter at @Michael_Gallant or on Facebook.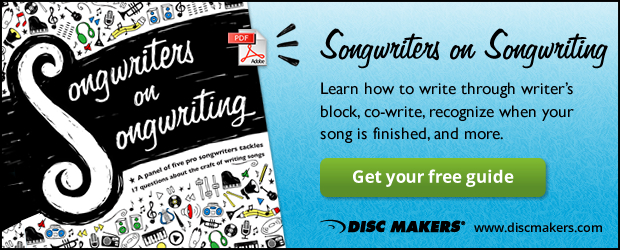 Related Posts
Mailbox money: How cuts can increase your money-making potential
The first steps to pitching your songs: Mailbox money, Part II
Landing a cut can jump-start your music career: Mailbox money, Part III
Are you writing for an audience of one, or one million? Mailbox Money, Part IV
Performing Rights Organizations – a history and overview
How to get the most out of SoundCloud
The people who make music, Part I: Musicians, songwriters, and engineers
Want to make more money with music? Here's How (Part 1).