The "Mentoring for the Modern Musician" podcast sets out to cut the learning curve for musicians in an ever-changing music industry through interviews with industry insiders. Adam and Michael Scharff recently interviewed Keith Hatschek, long-time Disc Makers Blog contributor and author of How to Get a Job in the Music Industry. After years as a performing musician, Keith built his own commercial recording studio before working at the Music Annex, Inc., one of the leading recording studios in the US. Hatschek worked as recording engineer, producer, project manager, Director of Client Services, and Vice President of Sales and Marketing. He also produced albums, soundtracks for film and television, and led the diversification efforts from traditional recording services into duplication and digital audio post production.
Hatschek now serves as Director of the Music Management program at University of the Pacific in Stockton, California. In the interview, Hatcheck connects his own career path to how he teaches students in his Music Management program, encouraging them to hone a variety of skills as they find their place in the music industry. Here's an excerpt from the conversation.
Adam Scharff: Throughout your career you were doing something that everybody has to do these days: keep moving forward. Don't think about what you're doing now as something you're going to be locked into for the next 50 years. You need to go where your talents lead you, work really hard, and look for the next opportunity. Looking back on it, it looks like you laid it all out from the beginning: I'll do this for a while, then I'll get my touring chops in, then I'll get married and settle down… It's just is a brilliant career path.
Keith Hatschek: If only it was a plan! All my musician friends, when I sold my gear and sold the van and rented a warehouse and started working with a carpenter to build a studio, basically thought I was crazy.
Michael Scharff: Of course! They're like, "How can you give up the dream? You're not going to be touring… don't sell all your gear, man. You might get back to it."
KH: That's one thing I talk about in the book. Music careers are oftentimes not straight lines — there are detours, and that's OK, it's healthy. And one of the things I learned when I faced the question of "Do I want to stop performing and work at being a better sound recording engineer?" or "Am I going to be comfortable and happy running the business side of the Annex?" was that I just had to look at it as an opportunity and a challenge. Something new would be personal growth. I knew how to run the board, I knew how to mix an album, but the hours were long, I had a young family, and there were some extenuating circumstances. And it worked out great, because, I'm not going to lie to you, over the next year as I moved to the business side, my salary went up dramatically from being a sound engineer, so that was a nice fringe benefit.
MS: It's funny you should talk about it that way. We talk to clients and artists all the time about following that joy wherever it takes you. If it leads to another area of the music industry, that's fine. You're still musically driven. We have two artists who we work with, one is now an assistant agent at WME and the other is the music director for the biggest rock station in Boston. And both of these guys — when we started working with them when they were in their teens — they wanted to be John Mayer and have that kind of career. And they did what you just talked about, which is learn everything they could on their path, and kept following the path until it presented an opportunity to go one way or the other. And one thing we talk about all the time, is where is that joy?
KH: I couldn't agree with you more, and I think that a different way to look at it is, if one door seems to be closing, you have to be perceptive enough to figure out if other doors around you are opening. And you know, the guys I was playing with stuck with it a little further. They got signed to a deal with Fillmore Records, Bill Graham's young record company, they put out a couple of singles and toured a little bit more, but then they found other things that were personally more interesting to them. I think I just hopped off the bus a year or two before they did. But the thing is, there are so many fulfilling roles out there in the world of entertainment, and that's one thing I try to emphasize in the book — I have this thing I call the 50-to-1 rule. That basically means that for every performer you see on stage — we were just watching Bruno Mars tear it up at The Grammys — for every one of those guys, there are 50 people in that back room supporting them. There are publicists, managers, business managers, attorneys, stylists… I tell my students, if you're on the charts, your music may come and go. It's rare for an artist to be popular for more than maybe three or four album cycles, maybe six or eight years. But those off-stage people, those people have careers that span decades.
Whatever the new popular music is or whatever the new trends are in entertainment, the fundamentals don't change. Once you understand how business really works, and the relationships between talent managers, concert promoters, radio programmers, and artists, writers, and performing rights organizations — once you understand the ecosystem of the business, you can move between jobs and companies and be effective because you take your skill set with you wherever you go. So the spotlight may not be shining on you directly as the artist, but there's some real job security there. And once you've built up your skill set to be able to contribute and make a difference, artists need people around them who can take care of the business challenges.
Most artists, in my experience, don't want to read a 20-page contract: they want an email that summarizes what the five or six points of contention are and whatever has long-term ramifications for their earnings. Whatever you're doing now in music, you're building a set of skills and knowledge that you can use in a variety of settings.
Listen to the entire podcast: "#33, "Keith Hatschek, author of How to Get a Job in the Music Industry. Strap in… Dude knows his stuff!""
---
In addition to their M3 podcast, the Scharff brothers offer several music management/development services. You can purchase the "Video Vault" from their site for $97 with hours of topic specific virtual mentoring. They also offer one-on-one mentoring sessions with artists, offering a variety of services including a career assessment, social presence audit, career crisis counseling, and more. And if you are located in the Northeast, they even offer recording services. Learn more on the m3artist website.
Keith Hatschek is a regular contributor to the Disc Makers Blog and directs the Music Management Program at University of the Pacific. He has also written two music industry books, How to Get a Job in the Music Industry, which just came out in its third edition, and The Golden Moment: Recording Secrets from the Pros.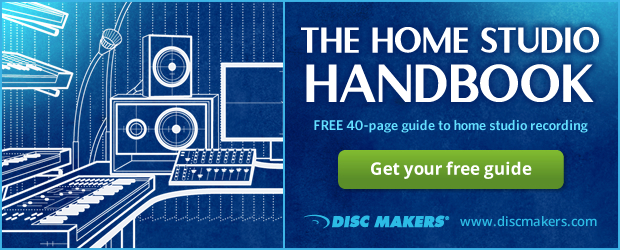 Related Posts
Scott McCormick discusses Brian Wilson with the M3 podcast
Mentoring for the Modern Musician: The Disc Makers interview
What music industry career matches your personality? [Infographic]
Music trends in 2018: hip hop, music streaming, and live concerts
Copyright termination: McCartney, Duran Duran, and the YMCA.