We spoke to a music industry veteran to get 9 tips on how to perfect your song pitch and maximize your chances of major artists hearing – and possibly recording – one of your original songs.
Have you ever written a song that you absolutely love but could never see yourself performing? If so, you're not alone – and you're not alone if you've ever daydreamed about having such songs performed by the likes of Sam Smith, Mariah Carey, Selina Gomez, or any other world-famous recording artist.
The big question is: how do you get there? It's one thing to pen an amazing song and another to convince a major artist to record it – or to even get it heard by the right people in the first place.
Peter Coquillard is a senior executive at Milk & Honey Music, a top Los Angeles-based music management, A&R, and marketing firm. Here are some tips from the industry veteran on how to perfect your song pitch and maximize your chances of major artists hearing – and possibly recording – one of your original songs.
Understand the landscape – and who to pitch
If you're a relatively unknown independent songwriter, unfortunately, plenty of barriers exist between you and having your songs recorded by major artists. "Most labels and A&R departments only want solicited materials from lawyers or managers," says Coquillard, "people they know and trust."
The reason? "Everyone is so worried about getting sued," he says. "They don't want a situation where someone sends a demo of a song to a major artist and then sues because a big song comes out that sounds like that demo, even if the two are completely unrelated. I'm not trying to be discouraging," he adds. "That's just the way it works."
Challenges aside, there are indeed ways into the game for the intrepid and resourceful songwriter. "The best people to approach to get your songs heard are managers," says Coquillard, "and you can often use Google to figure out who those managers are. After that, you can approach the A&R people at an artist's label, an artist's music publisher, and then lawyers and business managers, all the way down the food chain."
Producers, in particular, can be a good target for pitches. "Sometimes artists don't regularly work with the same producers, but if you can infiltrate one of the production camps – either by sending them a song they like or becoming part of a production team – that's a great way to work towards having your songs used by major artists," says Coquillard.
Research before you pitch
Have you written a song that you think is perfect for Lana Del Ray? Before trying to reach her with the perfect song pitch, Coquillard recommends playing detective.
"If you check her label credits, you'll see that Lana co-writes pretty much everything," he says. "Chances are that getting her to cover a song you've written are slim at best."
Instead of admitting defeat and calling it quits, Coquillard recommends a change in strategy. "Try to figure out how to get in the room with her when she's writing music and look for a collaboration," Coquillard says.
Consider co-writes
Co-writing with an artist can be an amazing opportunity in and of itself. "If you're looking to co-write, you have to build the relationship and get in the studio with the artist," says Coquillard. "One way to potentially start that conversation is to take an incomplete song, say you've got a verse or just a chorus, and submit the song as is, leaving space for the artist to put his or her own brand on it."
If you're successful in this, be prepared to share ownership of the song, Coquillard advises, knowing that the end result (i.e. a cut on a major-label release and a potential single) can be worth any percentages and profits you have to share.
Customize your pitches
Standing out is important when you're pitching songs to a major artist, says Coquillard, and finding a common thread to highlight in your outreach is a good way to get there.
"If you know that the favorite singer of the artist you're pitching is Ella Fitzgerald, then drop an Ella reference when you're writing an email to that artist's manager," he says. "Say something that makes their ears perk up. Similarly, if you have a common relationship or friends, if you grew up in the same town or have similar experiences, mention that. All of those things help.
"Music is a people business, a relationship business, so how do you establish relationships? It's the same as in any industry. You build trust and rapport with people, and you have to play your strong cards."
Use the proximity effect to your advantage
"Any time you can put yourself in proximity to an established producer or writer, a halo of credibility rubs off on you," says Coquillard. "That's what you're trying to achieve."
In practical terms, that means viewing every project or collaboration, no matter how big or small, as a stepping stone, something that you can parlay into the next career step – and the next songwriting pitch. "Every bit of credibility and success you can point to along that journey helps you be taken seriously and get your music listened to by the artists, producers, and managers you're looking for," says Coquillard.
Don't lie
This should be obvious, but bears repeating. "When you're reaching out to artists and pitching songs, be honest and use what you've got," says Coquillard. Citing false credits, claiming to be from the artist's hometown when you've never even been there, or creating other fabrications isn't just morally questionable – it's also a risky game that can easily backfire, hurting your reputation, credibility, and career opportunities in the process.
Work through your performing rights organization
Are you a member of ASCAP, BMI, or SESAC? If so, work with them to help open doors.
"What you need are fans and advocates of you and your work, and those guys' job is to be friendly and accessible to all writers," says Coquillard. "They're also well known and well liked by the publishing community. If they make a call for you – 'Hey, this writer is going to contact you and you should check him or her out' – people pay attention, whether it's a call to a producer, manager, A&R department, or anything else.
"Historically, for rising songwriters, I've been a big advocate for PRO membership departments. It can be the first step in the door."
Use social media
"In the last five to ten years, something that's worked, even with some of my biggest clients, is direct messaging people," says Coquillard. "If you're on Instagram or Twitter and you say the right thing, you can get an artist's attention."
Don't be annoying or stalker-ish, he says, but an appropriate level of creativity and persistence can sometimes unlock doors. "If you come up with an interesting enough sentence or pitch, you can reach out to an artist or management directly via social media and make the case for why they should get on the phone with you for five minutes," Coquillard says. "Your goal is to get them to pay attention to you however you can and, ultimately, get your music listened to."
Don't count out SoundCloud
"I'm a little too old to completely understand the SoundCloud universe," says Coquillard with a laugh, "but there are guys in my office who sit there and find incredible producers and writers on SoundCloud, just by doing research. Driving your social media, your SoundCloud profile, that's all stuff that people pay attention to."
Getting plucked from a site like SoundCloud may seem like a needle-in-a-haystack scenario, but it's worth pursuing, Coquillard advises, and building up followers always helps get attention from artists, managers, producers, and labels. "If you have millions of followers, for example, everyone is going to pay attention," he says. "It's increased exposure for whatever you choose to do, and certainly makes pitching songs to artists easier."
For more on Coquillard, visit milkhoneyla.com.
---
Disc Makers' regular contributor Michael Gallant's debut trio album Completely received a four-star review from DownBeat magazine and a five-star review from Critical Jazz, which stated: "This, my friends, is the future of jazz. Fresh, invigorating, progressive – there are simply not enough positive adjectives to list here." Learn more, download through iTunes, or purchase through CD Baby. Follow Michael on Twitter at @Michael_Gallant or on Facebook.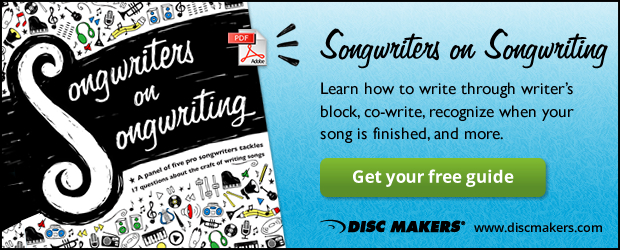 Related Posts
Mailbox money: How cuts can increase your money-making potential
The first steps to pitching your songs: Mailbox money, Part II
Landing a cut can jump-start your music career: Mailbox money, Part III
Performing Rights Organizations – a history and overview
How to get the most out of SoundCloud
The people who make music, Part I: Musicians, songwriters, and engineers
Want to make more money with music? Here's How (Part 1).