Being a performing artist isn't the only way to make money in the music business. Landing a cut can be a way to kick off your solo career, or it could be a way to long-term success as a songwriter.
In "Mailbox money: How cuts can increase your money-making potential," I began a discussion of how you can open new revenue streams by getting other artists to record your songs. In "The first steps to pitching your songs: Mailbox money, Part II," I discussed how you can get your songs to those artists.
In this post, I'll discuss how writing for other artists can open bigger doors for you in the music business — and earn you more fans.
A different door into the same room
If you want to make a living as a music artist, there is no single formula you can follow to get there. You can get industry credibility by putting on killer shows and amassing legion of record-buying fans. You can slay it on a TV show like "American Idol" or "The Voice," then be one of the very few who actually turn that into a successful career a la Carrie Underwood or Kelly Clarkson.
You can also get your foot in the door of the music biz by writing songs for other artists. For example, Bruno Mars wrote hits before he sang hits. He's a writer on B.o.B.'s "Nothin' On You" and Travie McCoy's hit, "Billionaire," and he also co-wrote and produced "F**k You" by Cee Lo Green, to name a few. Lady Gaga started out writing tracks for Britney Spears and the Pussycat Dolls. And going further back… ever heard of Carole King?
Luke Bryan is a country superstar, and his first hit came with "Good Directions," a #1 single for Billy Currington. Before landing a record deal, Brad Paisley found success as a songwriter, penning the top 5 hit, "Another You" for David Kersh and a single for David Ball, "Watching My Baby Not Coming Back." Sam Hunt wrote hits for Kenny Chesney ("Come Over") and Keith Urban ("Cop Car") before his own album launched. Oh, and a guy named Chris Stapleton, currently the coolest guy in Nashville, started off writing hits for artists like Kenny Chesney and Josh Turner, among others.
While these artists were out on the scene playing their own shows, those cuts and hits raised their status in the eyes of the music industry. Now they had something to set them apart from all the other unknown aspiring artists by proving they could write a hit. If they could do that for another artist, perhaps they could do it for themselves. Labels pour a ton of money into launching any new artist. It's simply a safer bet to invest that money in someone who has already proven they can write a hit.
Unknown, but still cool
You might be a relatively unknown artist, but having a few cuts to your credit gives you an instant "cool factor" with fans. You must be legit if Miranda Lambert recorded one of your songs, right?
Also, it gives you something to promote during your shows. Several years ago, back when he was still promoting his debut single, I saw Luke Bryan at a show on Music Row. He sure seemed happy to play his Billy Currington #1, "Good Directions" in that show. It was the only song everyone in the crowd knew. Many of us knew his first single, "All My Friends Say," (it WAS a Music Row crowd, after all), but EVERYONE knew the hit he'd written for Currington. It was a highlight of that show. I'm sure it was a highlight of all those early Luke Bryan shows.
Another example is Thomas Rhett. This up-and-coming country superstar has notched a few #1 records, and he still plays "Round Here" (a hit he wrote for Florida Georgia Line) in his shows. It's a cool moment that surprises many of his casual fans. It also helps reel in any FGL fans in the crowd who may not be sold on Thomas Rhett yet. That's a win-win.
Playing covers is a great way to introduce new fans to your music, but playing a cover that YOU wrote just makes it that much cooler.
Bridging fan bases
Once you land even one cut on a major release, new fans will discover you by finding your name in the album credits of their favorite artist. Or your name may come up in Internet searches for the performing artist. Music discovery platforms like iTunes or Spotify may link the two of you.
And think about this: if you've written a hit for an artist, there's a better chance you'll connect with that artist. That means there's a better chance your music will be complementary and a better chance you may get an opening slot on their show. This opening slot means you get in front of their fans with the opportunity to make them your fans, too.
And even if you don't get an official opening spot, there's always social media. For example, you can run Facebook ads targeting fans of the artist who cut your song that mention how you wrote a song for that artist and also have your own single out. It doesn't guarantee those fans will flock to you, but it sure gives you an edge over other unknown artists, doesn't it?
What if this leads to a better dream?
A life on the road isn't for everyone, especially long-term. Maybe you're on the road because you think it's the only way to make a living making music. But what if you discover a whole new world – one that suits you better?
I've heard more than one interview with former artists saying they're so much happier being able to write every day, spend more time with their families, and play an occasional show to scratch that itch. The songwriter life certainly isn't for everyone, but for some artists, it ends up being a better dream.
And it might just be more sustainable. The clock is ticking for everyone. There aren't a lot of artists who are still killing it on the road in their sixties, or who even want to. But a writer can still write great songs decade after decade.
Take Whisperin' Bill Anderson. He's a country music legend, although most fans these days have no idea who he is. Anderson released seven #1 country singles between 1962 and 1976. That's a great career, no doubt. But Whisperin' Bill really became a legend through his songwriting.
His first cuts came in the late 1950s (again, there's songwriting preceding an artist career), and he has continued to write hits for other artists over the decades. That's right — decades of hits. Some of his more recent notable hits include "Whiskey Lullaby" for Brad Paisley and Allison Krauss in 2004 and "Give It Away," for George Strait, a hit which was named the Country Music Association Song of the Year for 2007. And Bill Anderson is still writing songs and getting cuts today.
Today's homework
Try writing a song for another artist. I don't mean you have to actually get the song to that artist or get it recorded. Just write it as if you could get it directly to that artist. And don't just go for the biggest artist you can think of, write for an artist who is a good musical match for you. See how it feels. Did you hate it? Was it liberating? And remember, this is YOUR song. You don't have to show it to anyone if you don't love it.
---
To BE a pro songwriter, you need to THINK like a pro songwriter. The FREE ebook, Think Like A Pro Songwriter, will transform your thinking, your songwriting, and your success. Get it today at www.GiftFromBrent.com.
Brent Baxter is an award-winning hit songwriter with cuts by Alan Jackson, Randy Travis, Lady Antebellum, Joe Nichols, Gord Bamford, Ray Stevens, and more. He's written a top 5 hit in the US, a #1 in Canada, and a top 10 in Texas… so far. He teaches songwriters how to write like a pro, how to do business like a pro, and he connects them to the pros through his websites, SongwritingPro.com and Frettie.com. He also produces "The CLIMB" with fellow Disc Makers' Blog contributor and music-industry pal Johnny Dwinell.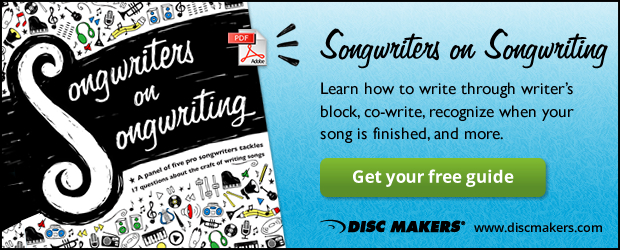 Related Posts
Mailbox money: How cuts can increase your money-making potential
The first steps to pitching your songs: Mailbox money, Part II
Are you writing for an audience of one, or one million? Mailbox Money, Part IV
3 steps to get your songs in music libraries
How to submit your songs to music blogs, record labels, radio, and press
The people who make music, Part I: Musicians, songwriters, and engineers
Marketing music? Where is the traffic coming from?
Want to make more money with music? Here's How (Part 1).