There's nothing wrong with big, noisy rock, but here's a perspective from three guitarists who use their instruments to create a vibe rather than flex their muscular musical chops every chance they get.
I learned to play guitar in the wild and woolly 1980s. Eddie Van Halen was the king of the hill and most guitarists' hair was larger than their pedal collections. While I did learn parts of "Eruption" from Guitar World magazine and my high school band had two Van Halen tunes in our repertoire, the guitarists who really caught my ear and inspired a long-term passion for music were cut from a very different cloth. In an era when flash and fretboard pyrotechnics were the order of the day, the ones who reeled me in were exactly the opposite.
Employing a melodic approach to the instrument, these influential guitarists mostly used clean tones and complemented their songs with their playing, and their influences often came from outside of rock 'n roll or from ignored parts of the rock pantheon in the 1970s race for guitar machismo.
There's nothing wrong with big, loud, noisy, ugly rawk, but I'd like to offer an alternative, more melodic perspective from some excellent musicians who used their guitars to express more of a feeling and vibe rather than flex their muscular musical chops every chance they got.
Jerry Garcia
It's easy to be disdainful of the Grateful Dead and Deadhead culture, but I'd like to leave all of that extra stuff aside and focus on the musical value of the most recorded guitarist in history: Jerry Garcia.
If every note you'd ever played live were stored on a cassette or digital file somewhere, would they all be good? It's remarkable how much great playing was captured when you consider the volume of the recorded archives of the Grateful Dead. Garcia's heroin habit certainly contributed to some disastrous performances, but the man had a touch like no other on his main instrument.
Garcia's praises have been sung by a lot of surprising people: Greg Ginn and Henry Rollins of Black Flag, Lee Ranaldo of Sonic Youth, Joe Satriani, the Meat Puppets, Pavement… not to mention the list of players you'd not be surprised to hear praising him, like John Mayer, Trey Anastasio, Warren Haynes, and Joe Bonamassa.
One of the defining moments of my guitar education was the guitar solo in "Touch of Grey." It was one of the first solos that caught my attention that wasn't doing the Van Halen thing. There are other Garcia solos I admire more now, but "Touch of Grey" was a top 10 hit and was on the radio constantly for a period of time. My reaction was twofold: "Wow, you can do that? You can just play a little melody and call it a solo?" and "I could probably play that." It stood out as extremely different in tone and style, and drew attention to itself for its beauty rather than its speed.
Garcia began his musical life as a bluegrass banjo player — his banjo and pedal steel guitar playing were recognized as world-class by his peers — and it informed his approach to the guitar. Along the way, he was an acoustic guitar folkie, a Stones/Chuck Berry rock 'n roller, a participant in Stockhausen-like experimentalism, a John Coltrane/Ornette Coleman-inspired soloist, and a country chicken picker. He traversed this varied musical terrain deftly, while also staying relatively grounded and consistent in his style and tone. Garcia's tone came mainly from his touch: he used very heavy picks and medium-gauge strings to make sure, in his words, that the tone was "coming from him."
Some lessons we can learn from Garcia's playing are:
1. The importance of dynamics in conveying musical expression. Garcia wasn't afraid to be soft and tender when the song required it, nor was he afraid to rip out bursts of notes and be aggressive. I saw him take a fiery solo on "All Along the Watchtower" backing Dylan in 1987. Tough tune to cover in the footsteps of Hendrix! But Garcia made it his own while somehow retaining Hendrix's fire. Likewise, he could be extremely sensitive and poignant on slow ballads like "Stella Blue."
2. Retain your own sound while incorporating vast influences. I think what makes Garcia a fascinating player is that he stays true to his core sound while navigating myriad influences, styles, and musical ideas. Like his idol Bob Dylan, Garcia has both the blessing and curse of always sounding exactly like his own unique self no matter what instrument he picks up. But the unpredictability of where his next notes are coming from and where the next solo is going to take us always keeps the music interesting, and that can be attributed to the broad range of his influences.
3. Be fearless. Jerry Garcia was never afraid to follow the music into strange and dissonant places. He once described the other members of the Dead as "so anti-authoritarian that if you tell them what to play, they will actually play the opposite just to antagonize you." Being in a band like that constantly forces you to react spontaneously, and Garcia — the anti-leader — often pushed the music one way or another depending on his reaction to what was going on around him. His commitment to what he was doing forced his recalcitrant bandmates to take notice, and he was never afraid of any direction the music might take. Fearlessness is a key trait for an improviser.
Some great Jerry Garcia guitar solos for you to listen to:
And some pedal steel gems:
---
Richard Thompson
Richard Thompson came to prominence as the lead guitarist for the folk-rock group Fairport Convention. Billed as England's answer to The Band, Fairport rooted themselves in the folk music of their native country while also acknowledging American influences (covering Bob Dylan in French, for example). Thompson's fluid and unique guitar work was a major factor in propelling Fairport into mainstream success in the UK and was the reason they got their first record deal. He left Fairport in 1970 to pursue a solo career, which evolved into a partnership with his wife, Linda Thompson. They released several incredible records as a headlining duo until their separation in 1981. Thompson has been a solo artist since, with occasional collaborations.
Thompson is lauded for both his acoustic and electric playing, and his most popular song, "1952 Vincent Black Lightning," is a solo acoustic number which showcases his virtuoso folk fingerpicking. Indeed, it's his British folk connection that makes Thompson unique in his generation. Noticing that his peers were all obsessed with the blues and BB King-style string bends (à la Clapton and Hendrix), he went in a different direction and immersed himself in the music of his indigenous British Isles. He is not immune to American music; he has covered everyone from Hank Williams Sr. and Chuck Berry to Britney Spears and Prince. But his roots lie in the traditional Celtic, Scottish, Irish, and English music often played on the bagpipes and fiddle. His translation of this onto the electric guitar is one of his most important contributions to the lineage of the instrument, although his virtuoso abilities are truly on the acoustic. He describes himself as an "acoustic player playing electric" in multiple interviews. Thompson's electric Stratocaster tone is thinner than most, but also very clean and precisely articulated; he uses light strings in order to execute James Burton-like country bends and often plays with his fingers or a hybrid combination of picks and fingers.
Thompson first caught my ear through a review of Shoot Out the Lights in Rolling Stone on one of their greatest album lists. The blurb had also mentioned an endorsement by Peter Buck of R.E.M., so I tracked down the record and was immediately struck by the guitar sound. Here was another clean tone soloist, using chorus but not a lot of distortion, focused on expression in the context of the song rather than flexing his chops. Thompson also seemed very different to me in that he was rocking out (the title track, "Don't Renege On Our Love," "Wall of Death") but not in a Mixolydian-mode, bluesy way like other guitarists.
Some lessons we can learn from Richard Thompson:
1. Be open to unusual influences. One of Thompson's most interesting albums is called 1000 Years of Popular Music. Asked by Playboy magazine to compile a list of his top 10 songs of the millennium, he was the only participant who went back to the year 1000 for some of the oldest-known English-language songs. Between Celtic folk, American rock 'n roll, his experimental foray with French Frith Kaiser Thompson, and the medieval songs that comprise the 1000 Years project, Thompson keeps himself open to whatever influences stoke his musical fires. Like Garcia, he also has a naturally unique, individual sound; the multiple influences from a variety of sources keep his musical choices interesting.
2. Put the song first. Every Richard Thompson guitar choice is made in service of the song. He says in interviews that he wants the solo to tell an instrumental story alongside the vocal story and that in his recorded arrangements, ideally the two would be telling a story together. "If a solo is played," Thompson says, "my preference is that it's not shouting out at you or showing off. Rather, it's just part of the fabric of the song." For someone with such immense technical prowess, it's very inspiring to see the restraint.
3. Swim against the current. The choice to be an electric guitarist influenced more by Celtic reels than the blues was bold and daring in 1967 Britain. Want to be different and unique and craft your individual artistic voice? Go the opposite way from everybody else. Figure out the unexplored artistic terrain and put on your musical hiking shoes. Tying your explorations to something you are authentically passionate about will ultimately have the most resonance for other people as well. Your passion will ignite their passion.
Some great Richard Thompson acoustic guitar playing to get you started:
And some electric gems:
---
Peter Buck
It is perhaps unusual to discuss R.E.M. from a technical perspective as they were partially a band who learned their instruments for the sole purpose of being a band. The rhythm section — Mike Mills and Bill Berry — had played together for a number of years, but Michael Stipe and Peter Buck completely started from scratch learning how to sing and play guitar respectively as they went along. Their chemistry as a unit was explosive; they became immediately popular in the area around the University of Georgia, were able to hoof it out on the road in the South playing whenever and wherever, eventually getting signed to IRS Records. Like Michael Buckley's R.E.M. biography notes, "For the first half of their career, they sold no records. For the second half of their career, they were the biggest band in the world."
In focusing on melody and guitar playing, Peter Buck's style and approach couldn't be more contrary to that of Eddie Van Halen, the king of guitar playing at the time. But while Buck may not have known how to play before he was in a band, he had a vision of who he wanted to be. Strapping on a Telecaster and then a Rickenbacker, he basically created an entire movement of jangle rock: melodic, arpeggiated chords relying heavily on open strings with a clean tone that could switch on a moment's notice to aggressive punk/Velvet Underground-like strumming. Later on, Buck also created the once ubiquitous mandolin part for "Losing My Religion" and explored acoustic guitar as a way of creating texture and atmosphere on later R.E.M. songs. Buck used heavy strings on his electric (similar to Pete Townshend) and very light picks; his classic Beatlesque tone (Rickenbacker through a Vox AC 30 amp) comes mostly from his gear and setup, although Buck's sensitivity of attack and focus on dynamics are key contributions.
I found out about R.E.M. through a mutual friend and purchased Fables of the Reconstruction. Luckily, the very next week, the tune "Can't Get There From Here" was transcribed in Guitar magazine, so immediately I began to approach Peter Buck from the perspective of learning his guitar parts. That song, I discovered later, is completely atypical of Buck's playing, but if you place it into the arc of his long recording career, there isn't much that is "typical" Buck: he is always trying to stretch himself and add different textures and ideas to the song. Like before, I had a dual lightning bolt moment with Buck of "you can play like that?" and "I could play that!" This was even more solidified when I saw R.E.M. live in 1986. I was amazed at how aggressive and raw they were, yet so melodic and tuneful at the same time. It was a combination that stimulated my imagination and changed my life. I also remember the Jimmy Page/Van Halen-loving guitarist from my high school band commenting how beautiful the simple guitar solo from "Flowers of Guatemala" was, so perhaps mine wasn't the only life changed.
Some lessons to be learned from Peter Buck:
1. Be part of a whole. It's no surprise that Buck is a huge fan of both Richard Thompson and Jerry Garcia. Having technical limitations does force you to serve the song, but Buck also realized that R.E.M.'s strength came from the interaction between all four participants. So not only was he trying to do justice to the material, he was very conscious about "staying in his lane" and making sure the sound created was the strongest combination of the four people making it. This involved not having a musical ego, being willing to collaborate, and having the foresight and vision needed to see what the strongest possible choices were in the musical moment.
2. Be a lover of music. Peter Buck worked in a record store. His musical taste was exceptionally broad for someone in the late '70s; he loved punk, the classic rock of the '60s and '70s, free jazz, pop music like ABBA, the Grateful Dead, and everything in between. Buck's distinct sound was not based on a naturally unique tone or touch like Garcia and Thompson, but his wide taste in music allowed him to make interesting musical choices.
3. Vary your approach. "Be subtle in your innovations," as Johnny Marr (of the Smiths) says in his "10 Ways to Avoid Being a Guitar Hero." Buck spent most of the '80s in his position as guitar anti-hero eschewing guitar solos. However, he did eventually go there on tracks like "Flowers of Guatemala" from Lifes Rich Pageant, "Stand" from Green, and backwards on "What's the Frequency, Kenneth?" from Monster. From album to album, and even from song to song, Buck takes a different approach depending on the material. This added significantly to the variety of the R.E.M. catalog. The guitarist who didn't use pedals or effects until 1985 has some very interesting explorations with tremolo and distortion later in his career. And his biggest commercial success came playing mandolin, not by design but simply because that's what suited the song. Being open to varied approaches and aware of the importance of keeping things fresh is an important facet of creating the best music possible.
Some Peter Buck / R.E.M. music to get you going:
Image sourced from Shutterstock (editorial use only).
---
Chris Huff has been a professional singer, multi-instrumentalist, songwriter, and producer for over 20 years. He has worked as a sideman with Peter Yarrow (Peter, Paul, and Mary), Echo and the Bunnymen, Chuck Hammer (David Bowie, Lou Reed), and Tom Kitt (Broadway composer of Next To Normal). Chris also wrote liner notes for David Bowie's Live And Well CD, and has two full-length albums of original music available on iTunes.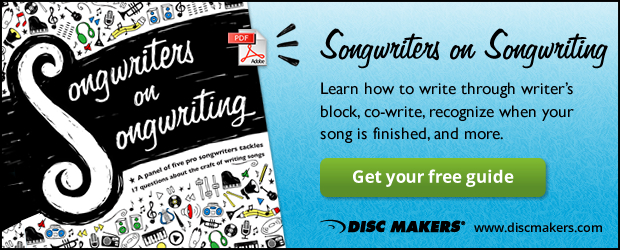 Related Posts
Subverting song structures: Roy Orbison and Kendrick Lamar
Things I learned being a fan of David Bowie
Why Bob Dylan is important to songwriters
Tom Petty saved rock n' roll from the '80s
The song worlds of three musical greats