Here are some tips for prepping for an audio mix from multi-Grammy Award winner and Audio School Online creator, Ken Lewis.
Last August, Disc Makers published "Tips from a veteran mixing engineer," which offered advice on how to work with an audio mixing engineer to maximize your chances of getting a great-sounding track at the end of your collaboration. When it comes to actually prepping your song and notes to deliver to your mixer, though, there's a host of seemingly small, but very important steps that can help set your mixing engineer up for success.
Here are tips from multi-Grammy Award winner and Audio School Online creator, Ken Lewis.
Provide a rough mix (it doesn't have to be perfect)
"It's not always a prerequisite, but whenever I'm given a rough mix to a song I'm being asked to work on, something that guides me to the essence of what the artist is looking for, that is hugely helpful," says Lewis. "I always listen to a rough mix several times before I start working myself. It answers a lot of basic but important questions for me."
There's always going to be something unexpected and inspiring in a rough mix. "Maybe a shaker is at a certain level of volume that's perfect, the lead vocal is dripping wet with reverb in a really cool and unusual way, or there's a nice slapback delay on something," Lewis says. "As a mixer, having that rough mix starts giving you ideas and getting you up to speed on what you're listening for and where to take it."
It may be intimidating to send a rough mix that you put together in your bedroom using GarageBand to a top mixing pro like Lewis, but there's no need to shy away from the task. "Nobody's judging you on the quality or expertise of your rough mix," he says. "I want to vibe with the rough mix and have some basis to understand how this puzzle gets pulled together before I start pulling up the individual puzzle pieces. It's not about how good or professional the rough mix sounds."
Provide options (when appropriate)
Did you like a certain type of distortion on your guitars or modulation on your kick drum, but think the mixing engineer might be able to take the same idea and do something even cooler?
"Give me two folders of files," says Lewis, "one with the files wet and the other with them dry. Tell me to listen to both and pick what I want to work with. Even if I decide to work with the dry, unaffected version, having the effected version can really help me improve on what you've already done – just because you've already put an effect on a track doesn't mean I can't take that track even further."
Include important automation and effects
"When you're an artist or producer, you've been living with your song for maybe a month or more, whereas I, as a mixer, am going to live with it for a day," says Lewis. "If you discovered particular automation moves or effects that you really liked during that month and you're happy with what you have, why on earth would you undo that work and expect your mixer to magically know how and why to redo it – not only as good as you already had it – but better?"
Lewis' advice: Leave on any effects like distortion or reverb, or automation moves like volume fades or panning, that you feel improve the sound of the song. Note: this does NOT include instances where you feel even mildly ambivalent about the results.
"If you're in a situation where you're telling me you put on a compressor because you heard that you're supposed to and you don't really understand why it's there, get rid of it. But if you have a certain filter, distortion, or even EQ that you like, keep it in. As long as it's not handcuffing me, it's great to have."
Remove what you do not want to use
Take the time to weed out elements that don't add to your track, or even actively distract from it. Are there extraneous floor creaking noises in between verses on the lead vocals or an alternate take of the guitar solo that you have muted and stashed on some random track? Cut away all the fat so your mixer has a clear idea of what to work with.
"I've gotten Pro Tools sessions with eighty tracks and seven of them are muted," says Lewis. "How am I supposed to know for sure whether to use those seven tracks or not? Do they have automation? Figuring those sorts of things out slows down the whole process. The more I have to hunt through things, the less creative I can be."
Provide thorough notes – and be active in the process
Are you in love with the way certain harmonies play together at the end of each chorus on your rough mix? Do you want your guitars to slam on the bridge but don't quite have the mixing chops to pull the effect off yourself? Do you want your vocals treated so they evoke the same vibe as Kendrick Lamar, Adele, or any other well-known artist? When it comes to communicating with your mixer, make sure he or she knows all of this, and be as focused and specific as possible.
"Whoever is handling the mix, whether it's the artist or producer, bears a marked amount of responsibility in how that mix goes," says Lewis. "Your job is to help guide the process, and finding the balance between giving good guidance and allowing enough creative freedom is the real challenge. It's never a good idea to just throw things at the mixing engineer and say, 'you're better than I am at this, so redo everything and have fun!'"
Don't hold back when it comes to sharing notes and ideas of any sort for the mix, Lewis recommends. "I'm good at being a chameleon and figuring things out, but don't expect me to be a mind-reader. I get people asking me all the time why I didn't do this or that, why I put the choir in the back or didn't use a certain phase effect on the bass. They may have thought it was obvious, but if they didn't communicate it to me, I may have heard the track differently. It's really important to be clear about what you hear, what you like, and what you want."
Though it may seem counter-intuitive, for Lewis, more guidance often means greater freedom to be adventurous when he's mixing. "If you want to empower your mixer to try things that could really be game changers for the song, let the engineer know what's important up front," he says. "If I take a risk and you love it, great. If you hate it, we'll revise it. Try to keep the mindset of collaboration and revising a mix until it's right. That's a much better approach than going for the safest mix possible, which is also going to be the most boring."
For more on Ken Lewis, visit audioschoolonline.com.
---
Disc Makers' regular contributor Michael Gallant's debut trio album Completely received a four-star review from DownBeat magazine and a five-star review from Critical Jazz, which stated: "This, my friends, is the future of jazz. Fresh, invigorating, progressive – there are simply not enough positive adjectives to list here." Learn more, download through iTunes, or purchase through CD Baby. Follow Michael on Twitter at @Michael_Gallant or on Facebook.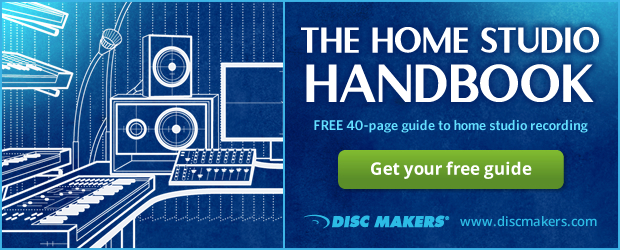 Related Posts
Tips from a veteran mixing engineer
Producing great hip hop vocals
Mixing rap vocals to cut through the music track
Audio mixing fundamentals with engineer Graham Cochrane
Seven things to consider when shopping recording studios