As the music industry continues to evolve, I've identified three music trends to keep an eye on in 2018 that are helping to reshape popular music.
These music trends include: 1) the continued dominance of hip hop-influenced music on the mainstream pop charts, 2) the ongoing growth of music streaming as the leading form of music consumption, and 3) new security challenges for live music and touring artists.
Hip hop, ya don't stop
A comparison of the most popular artists from 2012 versus 2017 provides the clearest example of the sea change that has occurred on the mainstream pop charts: hip hop-influenced artists and producers now largely rule the charts. Here is a chart showing the most streamed artists of the first half of 2017, compiled by Statista.
With the exception of Ed Sheeran, every artist on this list — and especially the top three, Drake, Future, and Kendrick Lamar — are firmly rooted in hip hop. Did you notice the scale is measured in billions of streams, not millions? With music streaming now representing the nation's most popular avenue to listen to music and discover new artists, fans are utilizing a variety of subscription and ad-supported services, including Spotify, Apple Music, and YouTube, to access a different mix of music than five years ago. Here's the Billboard list of the ten most popular artists for 2012, by chart position. Notice that six of the Top Ten artists were pop stars in 2012, versus only one, Ed Sheeran, for the first half of 2017.
In part, this shift is due to the fact that with free, ad-supported music streaming access, younger listeners now make up a significant part of the audience base and their preference for more urban, hip hop sounds are making a dramatic difference in today's charts.
Mobile and video apps
The genre of music that is most popular isn't the only shift that we are experiencing. To understand how music consumption preferences are shifting from the era of downloads and physical product, here's a graph that shows the most popular mobile music and video apps for the same period, the first half of 2017, based on the monthly mobile reach of the most accessed entertainment apps. (Graph courtesy of Statista.)
YouTube is the leader by a wide margin, with 63% of all mobile users accessing entertainment content monthly through that app. At the end of 2017, 95 of the Top 100 most watched YouTube videos of all time were music videos. Luis Fonsi and Daddy Yankee's smash 2017 hit, "Despacito," is the current top dog, having earned more than 4.6 billion views. Rounding out the top six on this chart, Apple Music comes in a distant second to YouTube in mobile access, followed by a range of other music apps, plus Netflix and a few other popular video sites.
For songwriters and musicians, the takeaway here is that even though music streaming payouts are marginally better from paid subscription services such as Apple Music, Spotify Premium, and Google Play Music, the dominance of YouTube as the go-to music streaming platform means that its impact on what music is most popular is significant.
Unfortunately, YouTube is the lowest paying site when it comes to compensating music creators. A January 2017 survey by Edison Research found that 84% of music listeners in the 12-24-year old age group used YouTube during that month to listen to music. And this demographic is increasingly skewing toward urban, hip hop-influenced sounds as younger listeners continue to vote for their favorite artists with their clicks and streams.
Further evidence of this shift to urban music preference is also reflected on the backstage side of the music business. Just look at the list of this year's 60th Grammy finalists, the slate made up of artists chosen by the Recording Academy's voting members. According to Randy Lewis in the LA Times, "there was not a white male among the album-of-the-year nominees (Lorde being the sole female), while the record and song-of-the-year nominations included the first ever Spanish-language song — 'Despacito' by Puerto Rican musicians Fonsi and Daddy Yankee — to be recognized in four marquee categories."
Hip hop artists dominated the overall Grammy nomination count, with Jay-Z leading with eight overall nominations and Kendrick Lamar with seven. Bruno Mars is next with six, while Childish Gambino, Khalid, producer/songwriter NO I.D., and SZA each earning five nominations. Even though in years past there were a few famous gaffes in the Grammy selection process (who could forget the year Jethro Tull beat out Metallica for "Best Hard Rock/Heavy Metal Recording"?), more recently, the Grammy awards have proven to be a fairly reliable bellwether for what types of music are trending with America's mainstream listeners.
Streaming growth continues
While the much anticipated public offering for Swedish-based streaming giant Spotify has yet to materialize, the company's steady growth in paid subscribers continues to bode well for the future of a larger overall income stream for recorded music in the coming years. As the RIAA 2017 mid-year stats verified, streaming revenues now make up 62% of all recorded music income.
The biggest driver of growth was the nearly one million new paid subscribers gained per month over the first half of 2017, resulting in a total haul of $1.7 billion in estimated retail value. This figure includes discounted subscribers such as the $4.99 Spotify Student program and the similarly priced Pandora Plus offering. With Spotify boasting more than 60 million paid subscribers globally and Apple Music now above 30 million paid subscribers worldwide, it seems that continued growth for the subscription-based model is at hand. This graph shows the dramatic growth of U.S. paid music subscribers. (Source: RIAA, 1H 2017 report.)
However, the future of streaming as a profitable avenue for artists and songwriters still has not materialized other than for those artists such as Future, Drake, and Lil Uzi Vert, whose hits are streamed millions of times a month. Furthermore, a 2015 Billboard interview with Ed Sheeran and his manager suggests they see the rise in Sheeran's music streaming as a gateway they can utilize to get casual fans to buy concert tickets, which is still the most profitable aspect of the business for Sheeran. I've written earlier about the discrepancy between how much money streaming services pay to record labels and how little of that money actually gets to individual songwriters and performers who are not at the top of the charts.
This dialog about equity for artists and writers in the age of streaming still has a long way to go, and at present, it seems that music publishers and our music industry guilds — such as the aforementioned Recording Academy, Songwriters Guild of America, and National Music Publishers Association (to name a few) — are our best hope to advocate for a more equitable distribution of streaming income. Make it a point to get involved in one or more of these organizations and let your voice be heard on this important issue.
Storm clouds in live entertainment
The live music industry has continued to exhibit steady growth, and projections now show the anticipated size of the U.S. concert industry as growing annually to $12 billion by 2021. And while the reunited Guns N' Roses worldwide tour has been making headlines, raking in more than $152 million in ticket sales so far, two factors are casting shadows and may represent challenges for the live music sector looking ahead. These include the frustration that fans increasingly feel as more and more concert tickets are only available via scalpers or "secondary market" sources such as StubHub, and secondly, concerns over club and concert security after the tragedies in the U.S. and overseas.
Ticket sales
Let's start by looking at trends in overall concert ticket sales using data from Pollstar. Their 2017 Mid-Year report showed 3.5% growth in ticket sales reported by the Top 50 worldwide tours over the same six-month period in 2016, rising to 23.4 million tickets sold. The average price for a ticket actually declined from $87.51 to $84.40, only the second time in the past eight years that ticket prices have trended downward. And while fans may have some joy over that fact, the reality of trying to purchase high-demand tickets is that more often than not, a great number of available tickets sold at face value end up in the hands of scalpers, or the secondary marketplace, which results in fans paying significantly more than face value for the most popular shows.
An in-depth report in the UK newspaper The Independent on Iron Maiden's efforts to eliminate scalping pegs the global market for secondary ticket sales as approximately $8 billion, including music, sports, musicals, etc. In the article, Iron Maiden manager Rod Smallwood determines that the best way to defeat the opportunistic scalpers, who use high-tech bots to snatch up many of the available tickets within seconds of their going on sale, was to move to a "paperless" ticketing model. Fans must bring the credit or debit card with which they initially purchase their tickets to the day of show and use it, along with a valid photo ID, to gain access to the concert. Other artists, including Miley Cyrus, Bruce Springsteen, and Red Hot Chili Peppers, have also used the paperless approach with good results. One downside is that fans cannot easily resell their tickets in the event of not being able to attend the show.
One of the problems with secondary ticket sales is that once a show is sold out, the price for tickets skyrockets as much as 3 to 10 times the original face value. Take Adele's sold out 2016 shows in St. Paul, MN, which had original face value for tickets at $39-147. Once the show was sold out, which happened in minutes, tickets began being offered for $700-850 on secondary sites such as StubHub. This happened even though Adele reportedly limited access to the best 3,000 seats in the house to a paperless-only purchase plan. As initial demand died down, secondary tickets settled back down into the $500 range. So die-hard fans were faced with spending more than $1,000 for a pair of tickets to see one of the world's most popular artists. Not to mention Adele, her manager, and the concert promoter may or may not see any of the extra money collected for such a purchase. You can read more in this extended report which compares resale tickets available for both Adele and Beyoncé's sold out Twin Cities 2016 concert appearances.
The whole world of secondary ticketing is shrouded in secrecy, with some reports stating that artists and managers sometimes make backroom deals with ticket brokers to offer high-demand tickets on the secondary market and then share in the often huge windfalls that result. Some managers, including Irving Azoff, have suggested it's time the music industry took a page out of the airlines' playbook and move to a dynamic pricing model and require original purchaser ID at all major concerts to curtail price gouging of fans on the secondary market.
Still, lack of transparency is only one problem that results from ticket scalpers controlling a large slice of ticket inventories. Another example comes from Casey Lowdermilk, the Assistant GM of Another Planet Entertainment, who helps manage San Francisco's historic Bill Graham Civic Auditorium, which has a capacity of 7,000. On a call to discuss the concert industry with students in my Music Industry Forum last fall, Lowdermilk recounted a recent EDM show he was working at which literally dozens of fans showed up with printouts from bogus tickets they had purchased on a secondary ticket selling website.
"Each fan had the exact same ticket and every time one of them came up to the door for scanning, we had to tell them their ticket had already been used to enter the venue," Casey told my students. Disappointed, the fans had no recourse but to go home frustrated and notify the reseller they had been ripped off by someone reselling the same ticket over and over again to the sold-out show. While sites such as StubHub generally offer a refund in such instances, the disappointment and expense of traveling to a show with friends only to find out you can't get in leaves a bad taste.
To help counter this alarming trend, ticketing behemoth Ticketmaster just this year launched its new Verified Fan program, an opportunity for regular concertgoers to secure tickets at face value pricing, plus the usual ticket fees, as an alternative to the risky and pricey secondary market. By registering to become part of the Verified Fan program, a few weeks before the sale date for a concert, fans become part of a queue which may be chosen to be offered access to tickets by Ticketmaster. In a company-released statement, the claim has been put forward that Ticketmaster's Verified Fan has reduced the number of tickets being snapped up by bots for resale by 95%.
While the skeptic may view this as simply a way to gauge pre-show demand and adjust ticket prices accordingly, I'd rather pay a few dollars more to the original concert promoter's ticketing partner and get an authentic ticket than take the risk on buying a greatly-inflated ticket from a secondary source with no idea whether the artist will ever see a nickel of the extra fees. Still, the jury is out, as this report from MarketWatch explains. So it looks like reducing the secondary market is very much still a work in progress.
Concert security
2017 marked two of the most horrendous acts in recent music industry memory. In Manchester UK on May 22, a post-concert crowd for Ariana Grande was devastated by a bomb placed at the exits resulting in the deaths of 22 fans. Then, on October 1, the audience of the "Route 91 Festival" in Las Vegas was attacked by a lone gunman resulting in 59 deaths and more than 520 injuries. While both of these acts were tragic and are causing concert promoters to spend more time and energy improving security measures, it should be noted that both instances happened outside the direct control of each of the respective concert promoters. So it's likely that no amount of security personnel or on-site metal detectors would have prevented either of these instances. When combined with the earlier incidents at the Bataclan Theater in Paris in 2015 (89 dead) and the Pulse Nightclub in Orlando (49 dead) in 2016, it's clear that music venues may be targeted by those wishing to do harm.
Club and concert managers are redoubling efforts to take every practical measure to ensure fans are safe and well-looked-after when they go out, whether it's at a club or an arena. And it's important to note that concert promoters work very closely with law enforcement to make sure every reasonable precaution has been taken. One tactic is to move the first point of security check farther away from the actual venue in the case of arenas and stadiums. This results in a larger buffer zone around the venue and the patrons inside.
Fans can play an important part in improving concert security by being aware of those around them and informing security of anyone acting strangely. And remember, there is a lot of security on-site that cannot be seen by the casual eye, from closed-circuit video cameras to undercover security staff who have been trained on what to look for to help maintain order and maximize fan welfare.
Last year, an estimated 36 million Americans attended a live music concert or event. Use common sense and look to help out fellow concertgoers when you can, whether it's saving a place in the food line while someone hits the restroom or taking time to thank the staff and crew after the show for their efforts to put on a safe and memorable event. After all, we're all in the music business together.
---
Keith Hatschek is a regular contributor to the Disc Makers Blog and directs the Music Management Program at University of the Pacific. He has also written two music industry books, How to Get a Job in the Music Industry, which just came out in its third edition, and The Golden Moment: Recording Secrets from the Pros.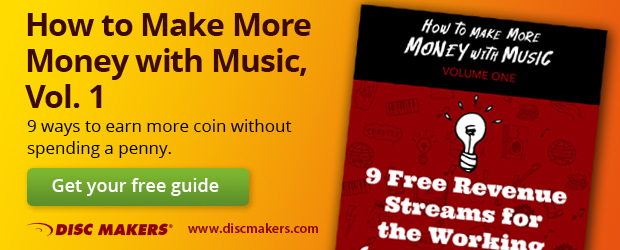 Related Posts
Music streaming 2016, Part 2: the complex revenue equation
Music streaming 2016, Part 1: the current streaming landscape
Can radio boost your music career? Pt. 1: Commercial vs. non-commercial radio
Can radio boost your music career? Pt 2: Non-commercial radio and indie music
Summer Music Festivals: Four tragic stage collapses lead to deaths and injuries (2011)