Excerpted from the new book, Spinal Tap: The Big Black Book (Backbeat Books). Published on the Disc Makers Blog with permission from the publisher. Special offer for Disc Makers Blog readers: Get $5 OFF Spinal Tap: The Big Black Book! Go to Backwingstore.com and use the promo code DISCMAKERS at checkout.
From the book's press release: "Prettier than Poison, less hygienic than Mötley Crüe, deffer than Def Leppard, and braver than Bon Jovi, SPINAL TAP is THE greatest band EVER! They are better than those bands combined, times eleven-then multiplied by a million more and raised to the power of Hanoi Rocks plus Ratt. The numbers do not lie! Yes, when it comes to metal done heavy and loud, all you need are Hubbins, Tufnel and Small . . . and Shrimpton, Savage, Pepys, Childs, Pudding, etc. Now, for the very first time between non-satin sheets, SPINAL TAP: The Big Black Book offers fans the unique opportunity to dive deep into a cherished moment in time when all that mattered was a filthy power chord progression, ceaseless lyrical innuendo, and grubby long hair shampooed by the gods of metal and conditioned by the angels of mercy."
The 1970s: The Rise of Tap?
Following the disaster(s) that impacted the success of sophomore album We Are All Flower People, and the revolving door(s) of keyboardists and management dismemberment that defined their early period, Spinal Tap entered the 1970s as a new beast, untamed, and ready to play LOUD.
The 1970s was a dreadful decade. For everyone. Vietnam. Hippies. Death of Hippies. Watergate. The Beatles break-up. Floppy disks. VCRs. Pocket calculators. Dead Elvis. Margaret Thatcher. Hosepipe bans. It was just a really shitty time to be alive. And then along came Spinal Tap.
Spinal Tap's core trio – Smalls, Tufnel, St Hubbins – became a dominant gust of wind to be reckoned with in the 1970s releasing an album every single year throughout the decade. Critics may say what they want about England's loudest band, (and they did, regularly) but you "cannot fault their prolificness, no matter how much you want to," wrote one journalist in 1979. Ten albums in ten years is not a not trivial matter to be scoffed at, even though the albums themselves were scoffed at independently.
Starting with Brainhammer in 1970 and climaxing, rather messily, with Shark Sandwich in 1980, the decade saw Spinal Tap reach their highest peak (Intravenus de Milo goes gold, in sales) but also saw them plunged to their lowest low (Intravenus de Milo goes platinum, in returns). With each successful album of diminishing returns, the band always aimed high to make sure they reached the lowest common denominator, usually white American teenage boys.
During the middle of the decade, manager Glyn Hampton-Cross and keyboardist Ross MacLochness left the group to "pursue other, better, interests." "They were fired," noted Nigel bluntly. One member they couldn't fire was drummer Eric "Stumpy Joe" Childs, he left of his own accord after choking to death on someone else's vomit. But for every player who left the group, or died, a new member came along. Viv Savage, Ian Faith, Peter "James" Bond, Mick Shrimpton and tambourinist Jeanine Pettibone all joined the band. And left it. While members came and went during this decade, the one thing that remained consistent was the general lukewarm dissastification of the group's output by critics and fans alike.
While Spinal Tap albums never set the charts alight, in a qualitive or quantative way, their constant touring of North America and Europe, their bread and butter, always put food on the table for the band and cold sore cream on their lips. No one went hungry. Not even salaried players Viv Savage and Mick Shrimpton, who only had a half-vote in band decisions, and had to survive financially on merchandise sales only. Though this ended up being worth more than song royalties come the mid-1970s.
Despite the decade doing a number two on Tap's dream to have a No.1, it was their drunk and horny male fans at their gigs who, as always, were happy to see the cheapest band on the tour circuit, and cheer at the songs they knew. Even if their record label, Megaphone, had stopped answering the band's calls, the fans were (sometimes) always there for them.
It was Megaphone who, in 1968, made the blossoming Spinal Tap's dream come true. They offered the band a three-figure recording contract (negotiated down from four) and offered the group all the facilities that any struggling record labels can offer: a paltry advance to record an album, a press officer to sweep any scandals under the rug and van-based transportation to travel from show to show.
Sadly, this dream was not to last and the Megaphone dream turned to soured cream before becoming a full-on night terror, with the end of the decade collapsing into a heap of acrimony, litigation and a lot of name-calling between the two.
There were long-lasting successes though. In 1977, David met the love of his life, and future Tap tambourine player and manager, Jeanine Pettibone. Although, that also ended in acrimony, litigation and a lot of name-calling too.
Brainhammer (1970)
A new decade, a new album, a new Spinal Tap. Moving away from the harmonious acoustic folk-pop and proto-acid-prog rock of the concept album, We Are All Flower People, and live album, Silent But Deadly, Tap's return to the studio hit the decade with all the shock and awe of a hammer to the brain.
With the songwriting trio of Tufnel, St Hubbins and Smalls now in place, it wasn't long before Tap's musical craftsmenship coagulated into something new. With the 1970s came a new sound, a new form of musical expression, a new way to make tons of money. Heavy metal, as it had been coined had arrived, and Tap were keen to exploit the simplicity of the genre, as well as the trend for a new type of stage costume: Spandex.
Brainhammer's recording process was long and tiring remembers Glyn Hampton-Cross, the band's long-time producer and former friend. "I stuck with the band for as long as I thought they might make some money," he recalled in 1977. "But it was around the recording of Brainhammer that I remember thinking that Spinal Tap were simply polishing turds."
It was Hampton-Cross that pushed Spinal Tap into a more metal sound, believing that by replicating the trend for loud guitars, screaming vocals and earache inducing drums would disguise Tap's lack of innovation, while also making money from the rich, white teenage males who, in America at least, were all the rage and most likely to have the disposable inheritance to lap up this new genre. Hampton-Cross wasn't wrong – heavy metal was a money-spinner for several bands in the 1970s. And, for Tap too. Their prolific run of ten albums in ten years made them the biggest band of the decade, in relation to volume of songs recorded, rather than album sales. Hampton-Cross was pivotal at this stage of the band's career, a fact not lost (although mis-remembered) by David: "Glyn was a very interesting bloke. He used to work as an office boy, or a sort of runner, at Megaphone, where we released our first releases. We got to know him. There was a time when it looked he was going to be the head of Megaphone itself, but it didn't work out. He wound up just being head of A&R and he did most of our production as the Thamesmen all the way through Spinal Tap. We then parted ways, mostly because he was more interested in a different kind of sound. But he was a nice bloke."
Featuring the semi-hit singles, "Big Bottom," "Swallow My Love" and "Lie Back and Take It," Brainhammer didn't do much to improve Spinal Tap's reputation as songwriters, however it greatly improved the band's reputation as "England's Loudest Band," a title they were keen to live up to spectacularly after the release of 1969's Silent But Deadly. So when they asked Marshall amplifiers to produce a signature series of amps exclusively for the band, Marshall dutifully accepted. Nigel's request to have the numbers on all the band's amps go one louder – all the way to eleven – was agreed to, despite the bemusement of many of Marshall's technicians. "We thought ten was loud enough," said one. This one-notch louder became the band's trademark volume. Whereas other electric guitarists during this time became revered for creating new and exciting tones from their guitars, it was Nigel who brought the volume. Sadly, Nigel now suffers from severe tinnitus in both ears – and eyes – which is apparent when you speak to him in conversation. "Nigel's not exactly university material, as you know," recalled David. "But people mistake his slow mind for a lack of intelligence, but that's not fair. His lack of intelligence is predominantly down to the sheer volume of white noise that pans between his ears and eyes."
Brainhammer wasn't a complete loss commercially. "Big Bottom" created seismic waves on FM radio and become a solid-gold Tap classic, selling almost three thousand units in its first three months.
Despite garnering a large amount of stinging criticism from the burgeoning feminist agenda that was currently sweeping mainstream US media, the band remained unfazed, and consistently rejected any sniff of a claim of sexism (not to be confused with sexy-ism).
The feminists got their way (again), and "Big Bottom" sagged in the charts, reaching only No. 35. A victory for women, but also for Spinal Tap, who were happy simply to have a Top 40 hit under their belts. And we'd all agree that that's where "Big Bottom" belongs.
Excerpts and images published with permission of the publisher.
---
Special offer for Disc Makers Blog readers: Get $5 OFF Spinal Tap: The Big Black Book (and get the book for nearly half off the MRSP)! Go to Backwingstore.com and use the promo code DISCMAKERS at checkout.
---
Spinal Tap: The Big Black Book, isn't just a book – it's an educational artifact! Inside this coveted collectible, you'll find:
Priceless, removable SPINAL TAP memorabilia, including promo posters, the Stonehenge Napkin, ticket stubs, and a Smell the Glove album cover!
A scratch-n-sniff card that captures the sights, sounds, and smells of a hardworking rock band on the road!
Iconic photographs of the band and rockumentary filmmaker Marty DiBergi!
Tracklists from every epic record!
"Tap Up Close" profiles of band members as you've never seen them before (except for you, Gregor, and it was just that once)!
About the Author
Wallace Fairfax (Clitheroe, England) was not only the first British journalist to interview Spinal Tap after the band's triumphant first gig at London's Music Membrane in 1966, he was also the very first person to buy its debut album. In 1971, Spinal Tap members invited Wallace to travel with them around the word to document their rise to the top. At somewhere around the middle, in 1972, Wallace left the rock 'n' roll lifestyle behind for a "proper job" (his wife's words). Since then, Wallace has remained Spinal Tap's greatest friend, and fan, hence the band's asking him to write this book.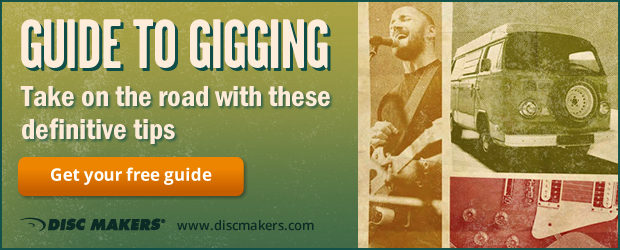 Related Posts
Preparing to perform live
Prince before the Revolution
The Super Bowl halftime show is the weirdest gig on Earth
In the studio with Michael Jackson
Quincy Jones' tools for success