"Should my band play gigs for free?" has been asked a million times. Is any gig worth playing for free? Is it better not to play at all?
Some free gigs can get you exposure, but does free exposure make a difference?
Before you can answer this question once and for all, you need to determine what it is you really want. That begins with you figuring out who you are.
That sounds like an arbitrary question. "We're a band! That's who we are." But, what kind of band are you? Are you an original band or a cover band? What are your goals? Do you want to be a new music icon, a full-time working cover band, a part-time party band?
What do you want to do with your music? As simple as this question is, most bands never answer it.
Set your goals
You need to have a clear understanding of what you want if you intend to get it. If you don't know what to ask for, you'll never get it. If you don't know what your goals are, you'll never reach them. If you can't tell me what your current musical goal is in two seconds, you lack direction.
Maybe your goal is to be a bona fide rock star. That's great, but you don't become The Rolling Stones without thousands of big and small accomplishments beforehand.
The climb up Mt. Everest takes two months – not inluding the years of planning and training. It takes overcoming many obstacles along the way. You have to be prepared. You have to be flexible to the conditions. Each day on the climb has many goals. You also have to have a clear path. Without these you risk ending up as another lifeless dot on the mountain.
Accomplishing a big goal like becoming a full-time gigging musician (not to mention being a rock star) is the same. You have to weather many storms. You have to pay your dues, and you have to have a map of where you want to go.
What does being a "rock star" look like to you? Map out your daily life as if you were already there. Maybe you're content playing in a weekend cover band. Set a short term goal of what you want your band to be. You'll have more fun and waste less time.
Assuming you know your big goal (rock stardom, weekend warrior cover band, etc.), choose what you'd like to accomplish in the short term.
Pick a short-term goal
I want more gigs.
I want more exposure.
I want to sell more merchandise.
I want my band to just sound awesome.
Now let's decide if you should take or pass on a free gig
Let's break down each short-term goal.
1. You want more gigs.
If you want more gigs, you need be flexible and ready to play free shows at first. Use this chart to start the decision process.
| Question | Should you play? |
| --- | --- |
| Is this venue a place you want to play at again for pay? | Yes? Play the free gig. |
| Can you leverage the experience to book other shows? | Yes? Play the free gig |
| Is this a one-time event? | Need more info. (Who will be in attendance? Who else is playing? |
| Will it cost you money to play? | Pass (unless there is some seriously compelling reason to do it). |
2. You want more exposure.
The answer here is simple and should be a no-brainer. If you want exposure, you will be available at a moment's notice and be willing to play for free any day of the week.
There will be gigs you can't make, but you should willing to accept opportunities that comes your way for you and your band. The more you play, the more eyes and ears are on you and the higher your chances of being successful. Now, if you're a death-metal band and this is an event to launch a children's playground, you may want to reconsider, but if your target audience is even part of the expected audience, put it on your calendar.
3. You want to sell more merchandise.
Selling more merchandise is right in line with wanting more exposure. If you want to sell more merchandise, you need to be out there performing at every opportunity.
I got paid almost nothing at one of my last shows. I opened up for surf/blues rocker Gary Hoey. There were only 200 people in the theater. I sold hundreds of dollars in CDs. I didn't have t-shirts or anything else to sell. (Note to self: always bring more merch!)
More importantly, now I have a ton of fans I didn't have before.
If you want to sell more merchandise, you gotta play for free when opportunities come up. More people equals more money.
4. You want to make your band sound the best that it can.
Years ago I played a show in front an Atlantic Records A&R rep. She just happened to be visiting a friend in the same city and by dumb luck chose the club we were playing at.
I was so beside myself. I thought, "This is it. I need to talk to her. I need her to get us signed." I appeared so desperate that it makes me cringe even now when I think about it.
She could have easily just brushed me off, but she offered some real advice. She said, "You guys sound good, keep it up."
What?
It was disappointing not to be signed to a record deal on the spot, but she offered an unbiased opinion of our band. She didn't say we sucked, but she didn't say we were awesome. We were lukewarm. She said we need to keep plugging away and tighten up our sound and act.
It all makes sense. Tighten up your act… sound awesome… play more gigs… attract attention… sell more merchandise… then record labels will want a piece of the action.
Conclusion
There are a lot more things to consider regarding where you are in your career and the status level of any live show, especially ones you might be playing for free, but for any band looking to build a name for itself, whether aspiring rock star or local cover band, you should seriously consider taking the free gigs that come your way. Especially if it's on a large stage with a potentially large crowd. You can't beat the feeling of playing a big show in-front of a great audience.
Establish your short-term goals and determine if the gig fits into your plan. You can't climb Mt. Everest tomorrow. You need a plan and you need to work your way up. The same goes for taking your band to the next level.
Have you ever played a gig that was totally worth playing for free? Let me know in the comments. I'd love to hear about it.
---
Download my free guide that reveals a simple seven-step system you can use to get more gigs.
---
Craig Kelley is the main gigmaster @ GigFaster.com. He recently released his eighth album, Live at Sellersville Theater and has supported GRAMMY award winning artists including Rick Derringer, Kenny Wayne Shepherd, Gary Hoey, Joan Jett, Fuel, and many others.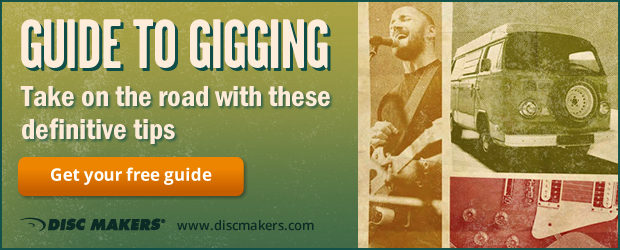 Related Posts
How to book high exposure music gigs as an independent artist
Expand your audience with opening act and support slots
The Indie Artist's Guide to Gigging: Booking Strategies
Five ways to get more gigs
Are you building a music career or just filling the calendar?
How to develop short, mid, and long-term music career goals